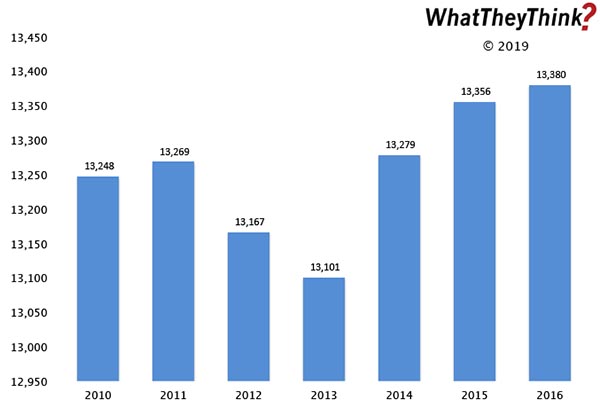 Two weeks ago, to complement our Commercial Printing Establishments tracker, we began looking at businesses on the print-/media-buying side of things, starting with NAICS 5418 (Advertising, Public Relations, and Related Services). This week, we drill down into 54181 (Advertising Agencies).
In 2010, there were 13,248 establishments in NAICS 54181. By 2016, after a dip in the mid-2010s, they had increased to 13,380, a net gain of +1.0%. Agencies have been in a changing position lately. A lot of marketers are bringing their marketing efforts (including advertising) in-house, and many have supplanted traditional (or even digital) advertising and marketing efforts with social media, which is often handled by public relations firms (sometimes in conjunction with agencies, sometimes not). At the same time, a lot of advertising and marketing has become project-based, rather than client-based. And we can't ignore the fact that a lot of the old advertising venues—TV, print publications—are themselves being supplanted. Streaming services such as Hulu and Netflix are largely commercial-free. It is now an odd fact of life that it's possible to see more commercials when one goes out to the movies than when they stay home and watch TV.
These establishment counts are based on data from the Census Bureau's County Business Patterns. These data, and the overarching year-to-year trends, like other demographic data, can be used not only for business planning and forecasting, but also sales and marketing resource allocation.
The four-digit NAICS 5418 is divided into the following sub-categories (which we will be looking at individually in future installments of this series):
54181 Advertising Agencies
54182 Public Relations Agencies
54183 Media Buying Agencies
54184 Media Representatives
54185 Outdoor Advertising
54186 Direct Mail Advertising
54187 Advertising Material Distribution Services
54189 Other Services Related to Advertising
A substantial number of creative/media-buying establishments are freelancers, who are not tracked by County Business Patterns, but by Non-Employer Statistics. We will be looking at freelancers in future installments of this series.