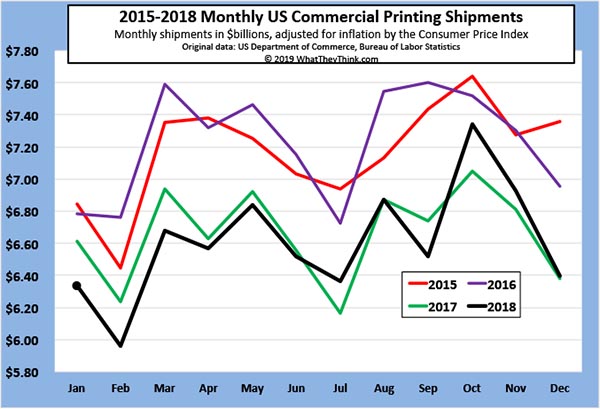 We expected December 2018 shipments to come in lower than November—and they did—but we had hoped that they would be above December 2017 shipments—and they are. But, wow, just barely: $6.40 billion in December 2018 vs. $6.38 billion in December 2017 (all adjusted for inflation). We're going to call it a win, perhaps a photo finish, as they say in sports. We won't demand a recount, though, as they say in elections. (Well, actually, there willbe a recount; these numbers are likely to be revised, as they always are, in the coming months.)
A bit disappointingly, though, as a whole, final shipments for 2018 came in at $79.3 billion, not quite surpassing 2017's $79.9 billion, but we did come pretty darn close. We got off to a slow start last year, and it wasn't until mid-year that shipments really began to perk up. And couldn't quite make up that lost ground.
Still, all things considered, 2018 wasn't a horrible year for the industry. Also remember that these figures—like any aggregate industry data—are averages, and that there are some extremely successful businesses in tis industry. We also can't discount the fact that some successful "print" businesses may not classify themselves in NAICS 323 any longer.
Has the industry turned a corner? Will things continue to improve in 2019, or are we just getting our hopes up? Well, our 2019 Printing Business Outlook report hits our eStore on Monday, where we say goodbye to 2018 and welcome 2019. Spoiler alert: we don't expect a dramatic reversal of fortunes, either macroeconomically or industry-wide.