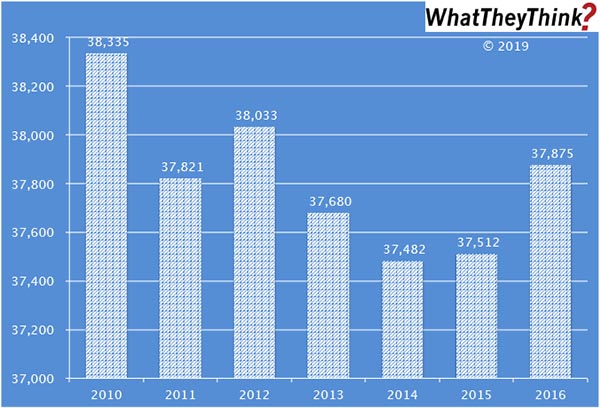 Since we established our Commercial Printing Establishments tracker last year, we have been looking at establishments and employees in NAICS 323 (General Commercial Printing), as well as the more granular sub-categories. This week, we are going to turn our attention to businesses on the print-/media-buying side of things, starting with NAICS 5418 (Advertising, Public Relations, and Related Services).
In 2010, there were 38,335 establishments in NAICS 5418. By 2015, they had declined to 37,512, but rose a year later to 37,875, for a net loss over that six-year period of -1.2%. This is a very broad industry classification, comprising a disparate bunch of business types, each of which has its own unique dynamics. NAICS 5418 is divided into the following sub-categories (which we will be looking at individually in future installments of this series):
54181 Advertising Agencies
54182 Public Relations Agencies
54183 Media Buying Agencies
54184 Media Representatives
54185 Outdoor Advertising
54186 Direct Mail Advertising
54187 Advertising Material Distribution Services
54189 Other Services Related to Advertising
A good number of these categories have been growing (ad agencies, PR agencies) while others have been shrinking (direct mail advertising). Those creative/media-buying categories that have been growing are those that handle the widest variety of media for clients—especially social media (as you may recall from our employment discussions, public relations establishments have been seeing the greatest growth in employees, and it's increasingly PR agencies that do social media management).
These establishment counts are based on data from the Census Bureau's County Business Patterns. These data, and the overarching year-to-year trends, like other demographic data, can be used not only for business planning and forecasting, but also sales and marketing resource allocation.
We should also point out that as we investigate the creative/media-buying establishments, a substantial number of these are freelancers, who are not tracked by County Business Patterns, but by Non-Employer Statistics. We will be looking at freelancers in future installments of this series.