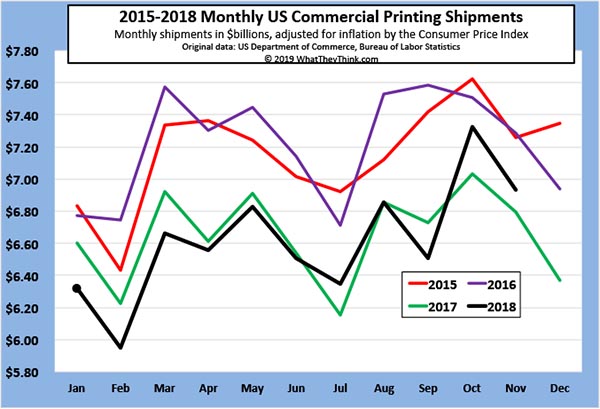 Now that the Government shutdown is over (for now), printing shipments are again being updated, which is a bit of a mixed blessing. Shipments for November 2018 were down from October—but we expected that—but higher than November 2017—which we had been hoping for. In keeping with the new seasonality, November is a comedown after October's peak. We should expect, then, that December will be another decline, but if we can stay above December 2017, we can call it a win.
We continue to make up ground: on a year-to-date (January-to-November) basis, 2018 comes in at $72.8 billion, while 2017 January-to-November shipments came in at $73.4 billion (all dollars adjusted for inflation). We started 2018 slow...can we make it up in the last month of the year? Can we finish the year stronger than last year?
Help us feed the data beast! Our 2019 Business Outlook Survey is still open. If you're a print business owner or manager, tell us what you think. Take our survey here.