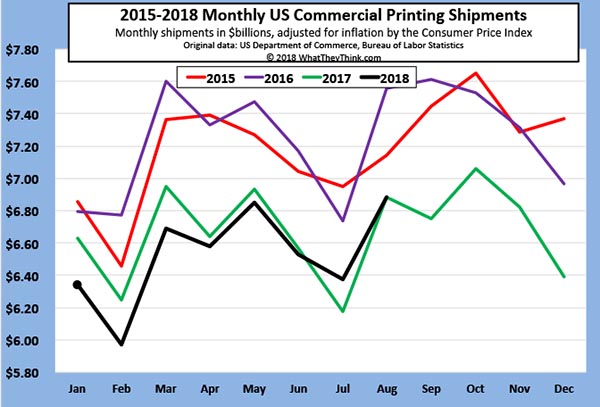 Shipments were up from July, as is the seasonal pattern, and August was the second time since 2016 that shipments for the month exceeded those of a previous year—and it's the second month in a row. You gotta admit: we started this year pretty badly, but we had a pretty good summer. Still, two data points do not a trend make: what will September bring? Can the industry keep its momentum into the autumn—or are we headed for a fall?
We still have some ground to make up: On a year-to-date (January to August) basis, thus far 2018 comes in at $51.91 billion in current dollars, $52.22 adjusted for inflation. By way of comparison, in 2017, January-to-August shipments came in at $51.38 (current dollars) or $53.02 (inflation-adjusted).
Based on what we have seen in the profits data, small and mid-size printers are doing well while their larger brethren are doing poorly, despite efforts to consolidate. In the process, the nature of industry shipments is changing to more specialty items and more digital production. Because total shipments are still dominated by large printers, total shipment patterns mask the significant changes and successes being experienced by many print businesses of lesser size.
Some of the recent changes in traditional shipment patterns may be due to the bullishness of small businesses, especially via their purchases of digital specialties such as wide-format printing and other promotional and service items. The National Federation of Independent Businesses (NFIB) Optimism Index has been very strong in recent months, setting a record high in 2016 and remaining strong, as the economy continues its near-decade-long expansion, unemployment is at record lows, and inflation remains tame.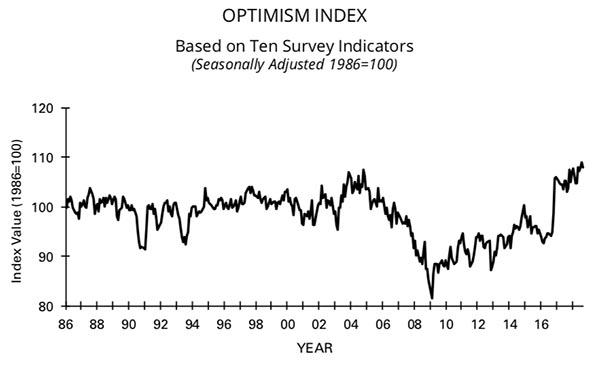 Source: NFIB
These businesses are thus not averse to spending on higher-end marketing and promotional materials (i.e, print). It's when the economy goes south that the "Internet is free" attitude takes over.