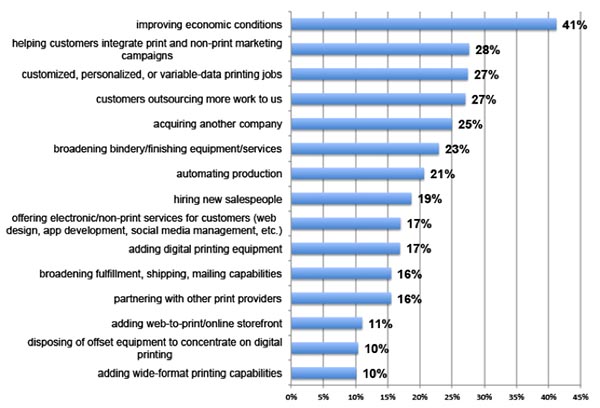 Some unusual items have taken precedence in our opportunities list., but one of them is not"improving economic conditions"—at 41%, it again tops the list and is up from 30% last year.
Moving into the number two spot, and up one percentage point to 28% of respondents, is "helping customers integrate print and non-print marketing campaigns." This is, after all, what we mean by "marketing services." (The best way of effecting this is by "selling marketing automation services" which, alas, is down at 8%. So there's still a bit of education required.)
Down two slots and down three percentage points to 27% is "customized, personalized, or variable-data printing jobs," which is tied with "customers outsourcing more work to us," which is up three percentage points. There is so much print and other marketing-related work that end users can do themselves (a lot of which was brought in-house years ago), so print service providers are looking to be able to take those tasks back away from them and let them focus on their core businesses. Or that's the hope anyway.
***
WhatTheyThink's Printing Forecast 2018 report provides detailed analysis of the most recent Print Business Outlook Survey, the latest industry economic data and macroeconomic trends, as well as industry and cultural technological trends to look out for in 2018.