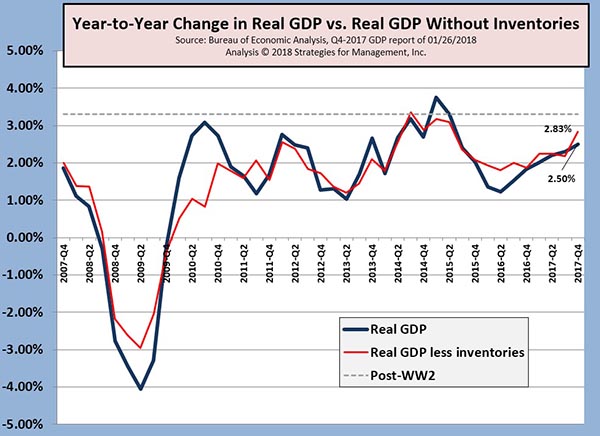 The first report of fourth quarter GDP was a disappointing +2.6%. Sources such as the Atlanta Federal Reserve's GDPNow and the New York Fed's Nowcast were for a stronger reading. Inventories are a major factor in the volatility of GDP data, and excluding that data, the economy neared those estimates, producing a much better +3.2% rate compared to Q3. This was the final quarter under the previous corporate and personal tax rates.
From analysis of other data it is very likely that businesses, especially private and small businesses, were accelerating their expenses and delaying their revenues to take advantage of the 2018 tax rates. Expenses have greater value under high taxation, and revenues have greater net value under low taxation; such is the distortion that tax changes cause on a temporary basis. We have always preferred to look at GDP on an year-to-year basis, and the chart shows a strengthening economy since the beginning of 2016, finishing 2017 at +2.5%, and +2.8% without inventory factors. Both figures are below the post-WW2 average of about +3.3%.
The fourth quarter GDP data will be revised at the ends of February and March, with another revision as part of a multi-year revision at the end of July.