In a clear case of dealing with a two-handed economist when asked about economic conditions, the Bureau of Economic Analysis increased their estimate of fourth quarter GDP to +1.4%. The initial report was +0.7%, and then it was revised to +1.0%, and now it is +1.4%. They were off only by $100 billion from the first report, greater than the size of the printing industry, just to add some perspective about how big the US economy is.
We have been tracking GDP on a year-to-year comparison basis, with and without the distorting effects of net inventory changes. The chart should show lines in perfect alignment, but positive expectations about the future promote the building of inventory, and negative expectations can create drawdowns. Except over the long term, it is hard to judge if changes in net inventory are the result of a misassessment of demand. Because positive net inventory increases GDP (and negative GDP decreases it), you can get a sense of underlying GDP growth by removing it from the calculation. Real GDP on a year-to-year basis with net inventory grew at a +2% pace, and without inventories is at +1.6%. This implies lower GDP in the next quarter as that imbalance is corrected.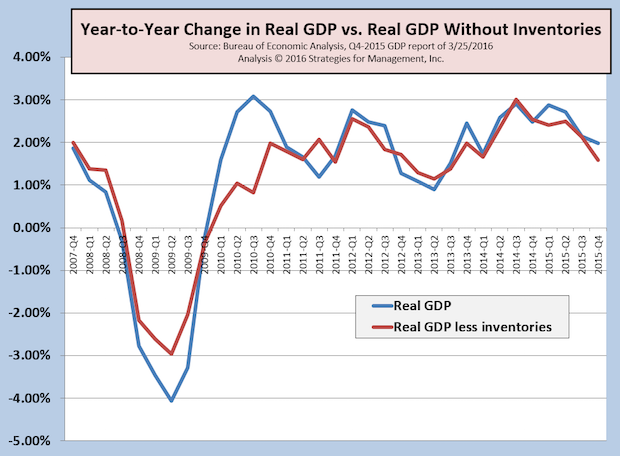 That correction might be in relation to orders for durable goods, which yet again showed a negative comparison to the prior year. For about a whole year, durable goods orders have declined. A decrease in orders usually results in a downward inventory correction and reduced GDP because of it.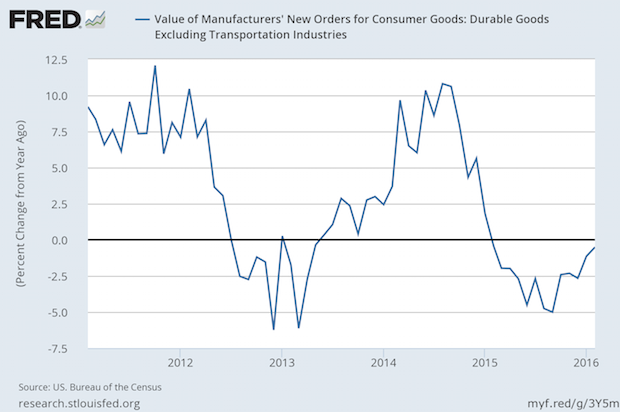 The Atlanta Fed's GDPNow just gave an indication of a very sub-par Q1-2016 report. That is, the economy has been sub-par for quite a long time, showing no signs of reaching the post-WW2 +3.4% average. After a few weeks of indicating that the Q1 report would maintain an average in the +2% range, recent economic updates sent the estimate to a paltry +0.6%.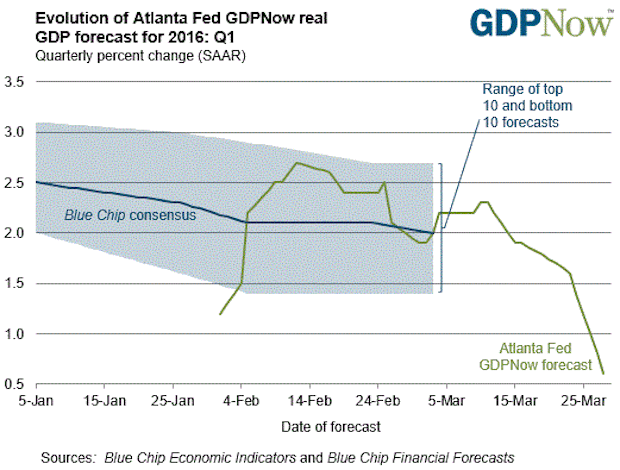 GDPNow will be updated Friday, April 1. That day sees the release of the monthly employment report and the ISM Manufacturing Index. That day is likely to have a higher than usual level of reports of revised economic analysis. Major investment and economic forecasters have been reducing some of their 2016 forecasts.
We will release the latest printing shipments report and our very own recovery indicators next week.