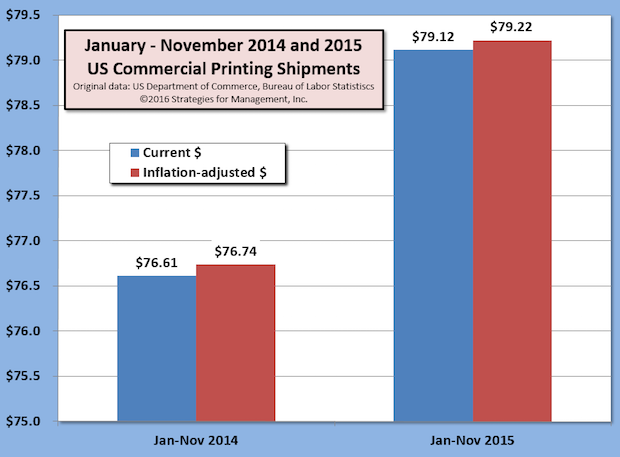 US commercial printing industry shipments are up for 18 consecutive months in current dollars compared to the corresponding month of the prior year.
Because inflation is low, this is one of the best growth periods the industry has had in almost twenty years.
The Commerce Department data show that current dollar printing shipments for November 2015 were $7.27 billion, +3.4% compared to 2014, and +2.8% adjusted for inflation.
The industry has now registered nine months of shipments more than $7 billion. This is the longest number of months greater than the $7 billion level since the ten month period of March to December of 2010.
The 12-month-moving-total of inflation adjusted shipments is $86.3 billion, the highest level since January 2012. Inflation-adjusted shipments are growing at a rate better than US real GDP, which is likely to end 2015 in the +1.8% range when the fourth quarter report is released at the end of January.
The commercial printing industry has contracted since the late 1990s, so it's been a while to have a year with growth through its entirety. For the last 12 months (December 2014 to November 2015), the +3.2% growth rate for inflation-adjusted shipments is the best industry growth rate since the twelve month period ending September 1996.
Since 1993, the average monthly comparison to the prior year has been +0.4% but -1.8% when adjusted for inflation. For the last 12 months, +3.4% in current dollars and +3.3% after inflation.
Why isn't the reversal of fortune getting more coverage and acknowledgement?
This chart shows how rare it is for current dollar commercial printing to exceed GDP. Both data series are in current dollars. The blue line (shipments) does not rise above GDP (red line) very often. Note also the volatility of monthly shipments compared to GDP. Don't read too much into that: GDP is a combination of hundreds of industries with different seasonal patterns, and GDP reporting is designed to smooth out changes due to those seasonal patterns, and is always reported as an annualized figure.