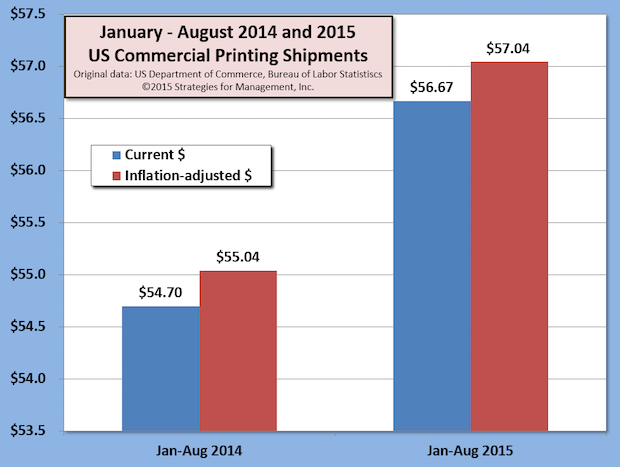 US commercial printing industry shipments are up for 15 consecutive months compared to the same month of the prior year. The Commerce Department data show that current dollar printing shipments for August 2015 were $7.28 billion, +3.2% compared to 2014, and +3.0% adjusted for inflation. The chart shows 2015 shipments through August as up +$2 billion compared to 2014.
The industry has now registered six months of shipments more than $7 billion. This is the longest number of months greater than the $7 billion level since the ten month period of March to December of 2010.
July shipments were revised upward by $34 million.
The 12-month-moving-total of inflation adjusted shipments is now greater than $86 billion, the highest level since March 2012. Inflation-adjusted shipments are growing at a rate slightly better than US real GDP.
Though the industry has contracted since the late 1990s, the +3% growth rate in the 12-month-inflation-adjusted shipments is the best industry growth rate since 1996.