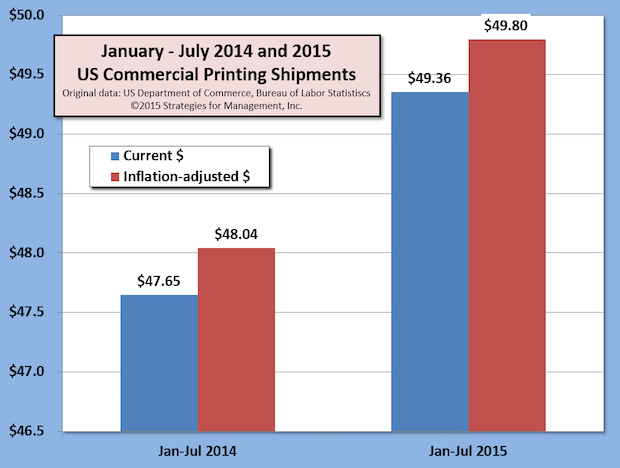 US commercial printing shipments were nearly $7.04 billion in July, a $392 million increase (+4.9%) on a current dollar basis compared to 2014. This was the strongest July since 2008. This is the fourteenth consecutive month of increased shipments when compared to the prior year. On an inflation-adjusted basis, the last 13 of 14 months have had increases. Adjusting for inflation, shipments were up $318 million, +4.7%.
The last 12 months are running at an annual rate of $86 billion, up +2.6%, slightly above the recent rate of full-year real GDP growth. If the current monthly comparisons continue their average pattern, it is likely that the industry will finish 2015 at $87 billion. That would be a +3.1% increase for the year, and the best annual growth rate since 1995.
The size of the commercial printing business is 40% smaller than it was at that time after adjusting for inflation, but it would be a notable and refreshing reversal of fortune nonetheless.
From anecdotal evidence, and personal observation, it appears that weak and disinterested companies have exited the market, much of the irrelevant equipment has been purged, and the remaining companies are offering more savvy products and capabilities that are more suited for modern communications strategies.