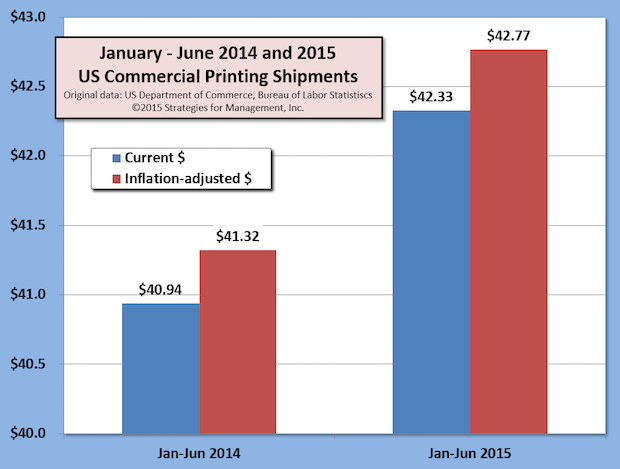 US commercial printing shipments are up about +3.5% for January to June compared to the same period in 2014.
The industry has been restructuring, as employment continues to decline. Usually employment and shipment levels move together in a tight range if not almost in lockstep. As noted in our analysis of the top printing states, the average number of employees per establishment has been rising there, a sign of consolidation.
At the same time, the industry has been changing the range of products that it offers to reflect shorter runs, smaller sizes, and less frequency of traditional product, a new range of products base on digital printing, and activities that mesh well with digital media.
These shipment levels are still about -2% compared to 2013, but bouncing higher from 2014 levels is an encouraging sign, especially when the overall economy has been weak. The inflation-adjusted growth rate for this period compared to the prior year exceeds real GDP by almost a full percentage point. That's the best news the printing business has generated in a long time.