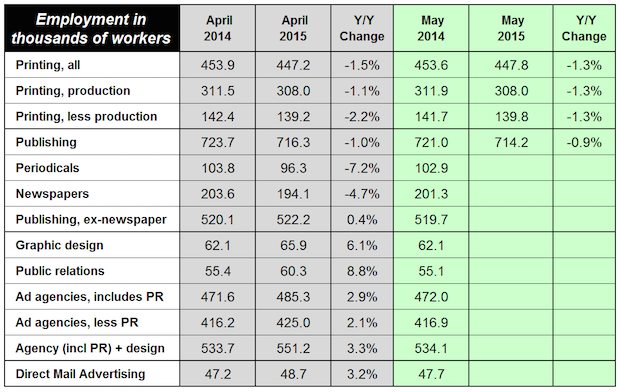 In spite of recent strength in US commercial printing industry shipments, employment is still on a downward path. The industry seems to becoming more efficient, somewhat from better management, and somewhat from consolidation as weak establishments are aborbed or exit the market.
Compared to April, however, the Bureau of Labor statistics estimates that employment increased by about 600, which is common compared for May in recent years. The April public relations employment was very strong compared to the prior year and is up +8.8%.
When PR employment is excluded from ad agency employment, the number of employees in agencies is still up +2.1%. The employment data have always reflected the changes in the media market as well as the strength in the economy. Though the economy is slow, advertising agencies have reinvented themselves and are very active in social media and digital media production.