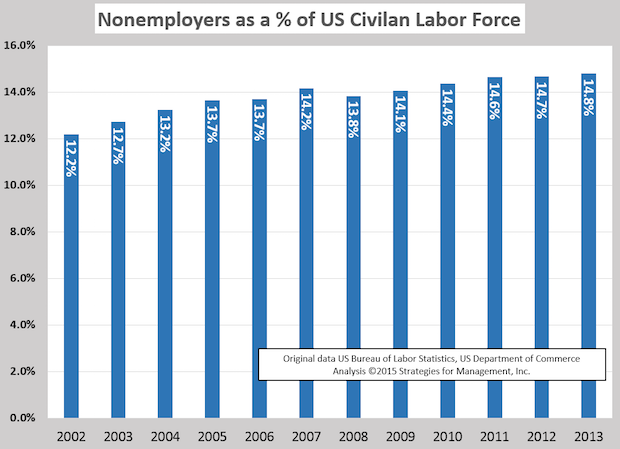 The Commerce Department released its "Nonemployer Statistics" data for 2013, showing that these businesses increased to 23 million since 2012, and by 30%, three times the rate of population growth, since 2002. Let's call them "microbusinesses." They are now more than one in seven of the workforce. I have written about the data in some detail in a blogpost, but have some additional comments here.
Fifty years ago, Peter Drucker wrote about the "knowledge worker," those workers who deal with data and make decisions based on those data. This can range from a manager on a shipping platform or a CEO. We are now immersed in information technology for business and for our free time. It is easier than ever to have a portion of our workforce working at home or working in the field without having to return to a base of operations called an "office." That same technology allows more people to run businesses individually wherever they may be. Independent workers and sole entrepreneurs are increasing in their portion of the workforce. They now represent a larger portion of the workforce than in recent history.
While some of the microbusiness might be workers displaced in the housing crisis and recession, more workers than ever are choosing the flexibility of working on a freelance or independent basis than before. This is especially true of millennials who have grown up surrounded by personal technology and have an expectation of a flexible worklife or a worklife that is part of their social interactions. These microbusinesses are not always entrepreneurial, but choose a profession or course of work that provides this independence. Many of them can be great resources for printers, especially as a resource for digital media skills. The trend of growth in this area is likely to continue its slow march higher as technology improvements and the social nature of work continues to change.