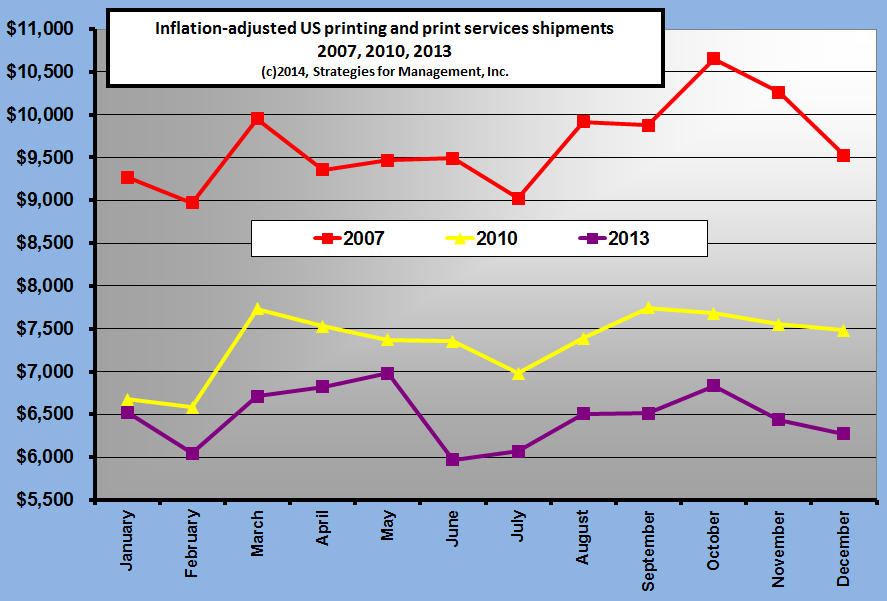 The chart shows how the seasonality of printing shipments have changed. The top line is 2007; the recession did not start until December of that year. More important, however, is that was the last year before significant adoption of social media. Facebook and Twitter were nothing. Today they have a combined stock market capitalization of $190 billion. Holiday retail printing is clearly evident in the shape of the line.
The 2010 pattern shows a much different pattern. Shipments were down, the absence of a holiday printing surge is noticeable. Tablet computing made its first appearance in 2010.
The bottom line is 2013, which shows end of year printing being lower than the beginning of the year. The idea that May is the biggest month of the printing year is confusing to me. From my data investigations it's not that anything special happens in May, it's just that May has declined at a lesser rate than other months.
The lines reflect the media shift away from traditional print. While it was happening, big printing company management kept running their businesses with the assurance that the end of the year would always be big. When that stopped happening, they tended to blame economic factors, and not the media shift. The changes in the importance of end-of-year printing were seen well before 2007, but no one seemed to take note. Eventually, in 2009 and 2010, the realization seemed to finally sink in.
How the patterns will continue to evolve is not really known. In 2013, the first six months of the year were -2.2% compared to 2012 on a current dollar basis, and down -5.1% for the second half.