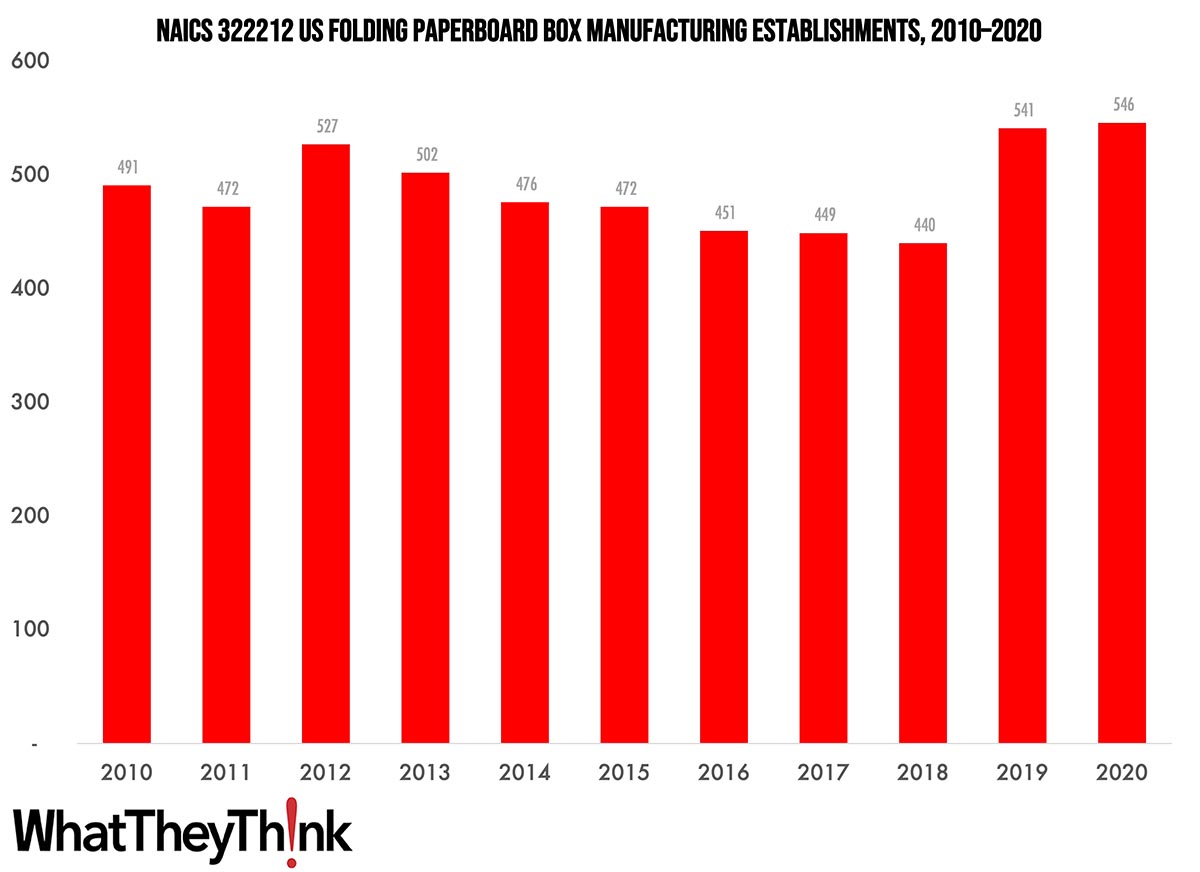 Our Friday data slice'n'dice look at the latest edition of County Business Patterns has been looking at the converting industries. As 2020 began, there were 1,086 establishments in NAICS 322211 (Corrugated and Solid Fiber Box Manufacturing). This category saw a net decrease of 20% since 2010.
The Bureau of the Census definition for this business classification:
This U.S. industry comprises establishments primarily engaged in converting paperboard (except corrugated) into folding paperboard boxes without manufacturing paper and paperboard.
In this category, digital printing of folding cartons is becoming common, accompanied by laser die-cutting to handle shorter runs. The growth of small boutique and craft businesses—such as microbreweries—has been fueling demand for high-quality, shorter-run packaging materials, especially folding cartons. At the same time, ecommerce driving demand for more and newer types of cartons, and is changing demand for different sizes—for example, cartons that are shipped to consumer vs. shipped to retailer. We are also starting to see "smart packaging," which incorporates some kind of (often) electronic functionality for tracking or security purposes.
Establishments in this category are larger than we usually see in the printing and publishing industries. Small folding paperboard manufacturers (1 to 9 employees) account for only 10% of all establishments, while large manufacturers (50+ employees) account for two-thirds of establishments.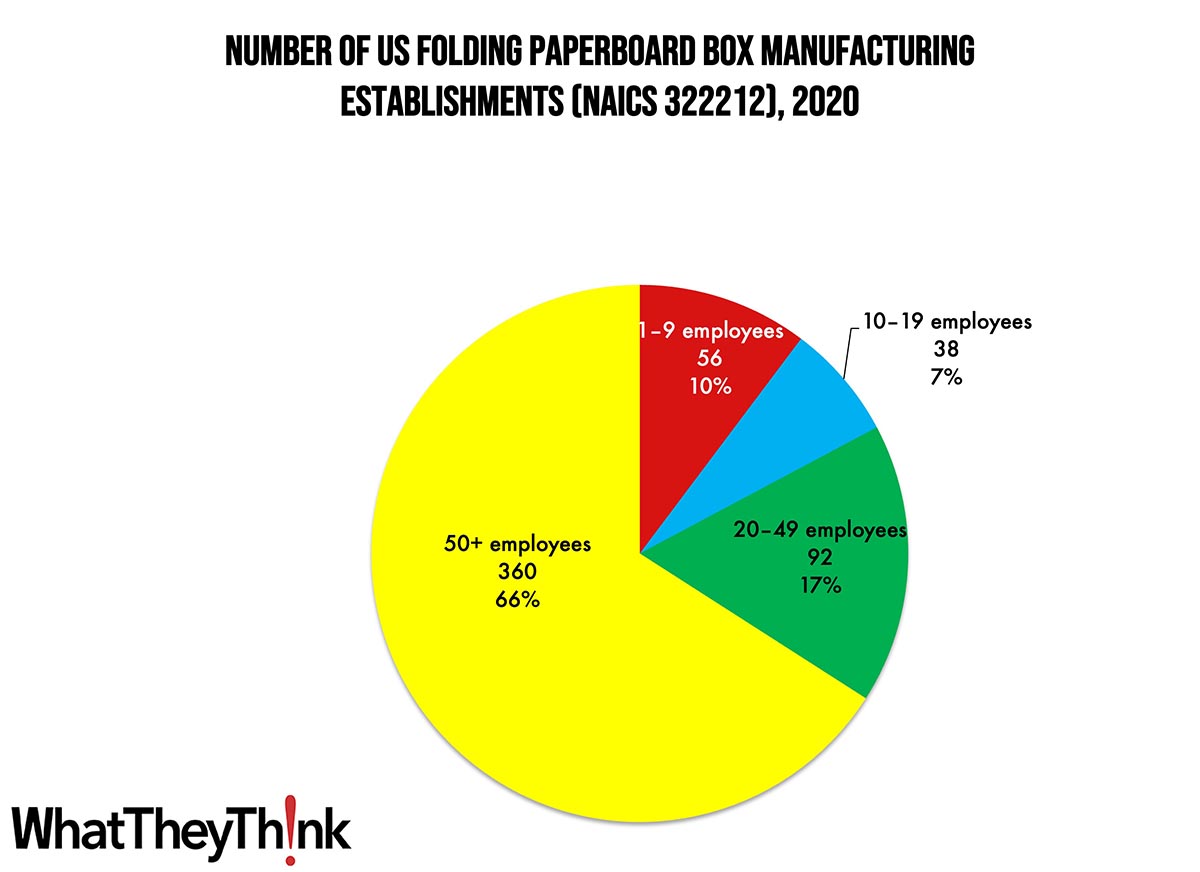 These counts are based on data from the Census Bureau's County Business Patterns. Every other week, we update these data series with the latest figures. These counts are broken down by printing business classification (based on NAICS, the North American Industrial Classification System).
Next up, we'll continue through the converting NAICS categories:
322219 Other Paperboard Container Manufacturing
32222 Paper Bag and Coated and Treated Paper Manufacturing
32223 Stationery Product Manufacturing
32229 Other Converted Paper Product Manufacturing
322291 Sanitary Paper Product Manufacturing
322299 All Other Converted Paper Product Manufacturing
To clarify what is included in the 2020 CBP, establishment counts represent the number of locations with paid employees at any time during the year. If an establishment existed at any point during the year, it would be included in the CBP count of the number of establishments for 2020 CBP. Thus, businesses lost during the COVID pandemic won't be accounted for until the 2021 CBP.
These data, and the overarching year-to-year trends, like other demographic data, can be used not only for business planning and forecasting, but also sales and marketing resource allocation.
This Macro Moment…
Yesterday, the Bureau of Economic Analysis released its advance estimate of Q1 2023 gross domestic product (GDP):
Real gross domestic product (GDP) increased at an annual rate of 1.1 percent in the first quarter of 2023, according to the "advance" estimate released by the Bureau of Economic Analysis. In the fourth quarter, real GDP increased 2.6 percent.
The increase in real GDP reflected increases in consumer spending, exports, federal government spending, state and local government spending, and nonresidential fixed investment that were partly offset by decreases in private inventory investment and residential fixed investment. Imports, which are a subtraction in the calculation of GDP, increased.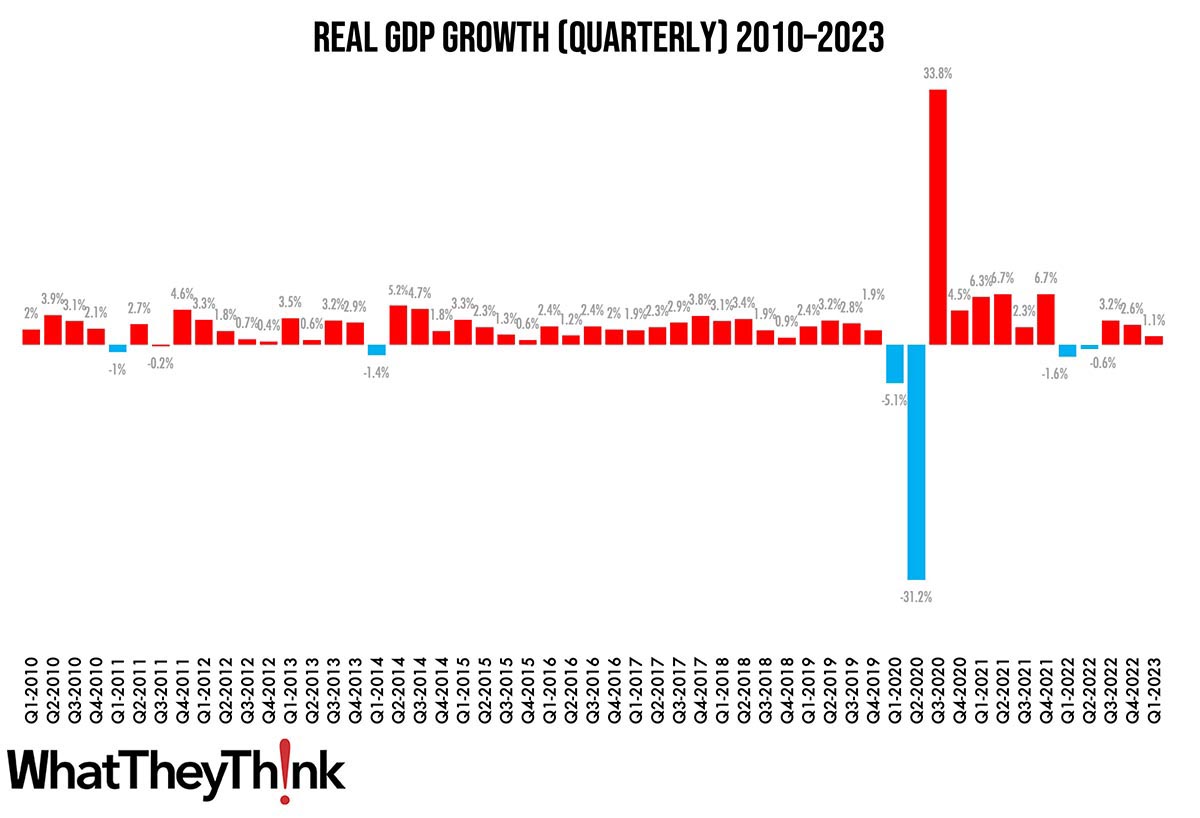 Source: Bureau of Economic Analysis
That was a bit below expectations, as economists had been anticipating ~2.0% growth for Q1. On the plus side, consumer spending was up, but higher interest rates helped offset it by reducing business and housing investment. Still, it does represent the third straight quarter of GDP growth and more closely resembles 2018/2019 before the pandemic threw everything into chaos. Adds the New York Times:
Consumers, however, have proved resilient in the face of both rising prices and higher borrowing costs. Inflation-adjusted spending rose at a 3.7 percent annual rate in the first quarter, up from 1 percent in the prior period. Consumers have been buoyed by a strong job market and rising wages, which have helped offset high prices.
There still appears to be no real reason to worry about a recession…yet?