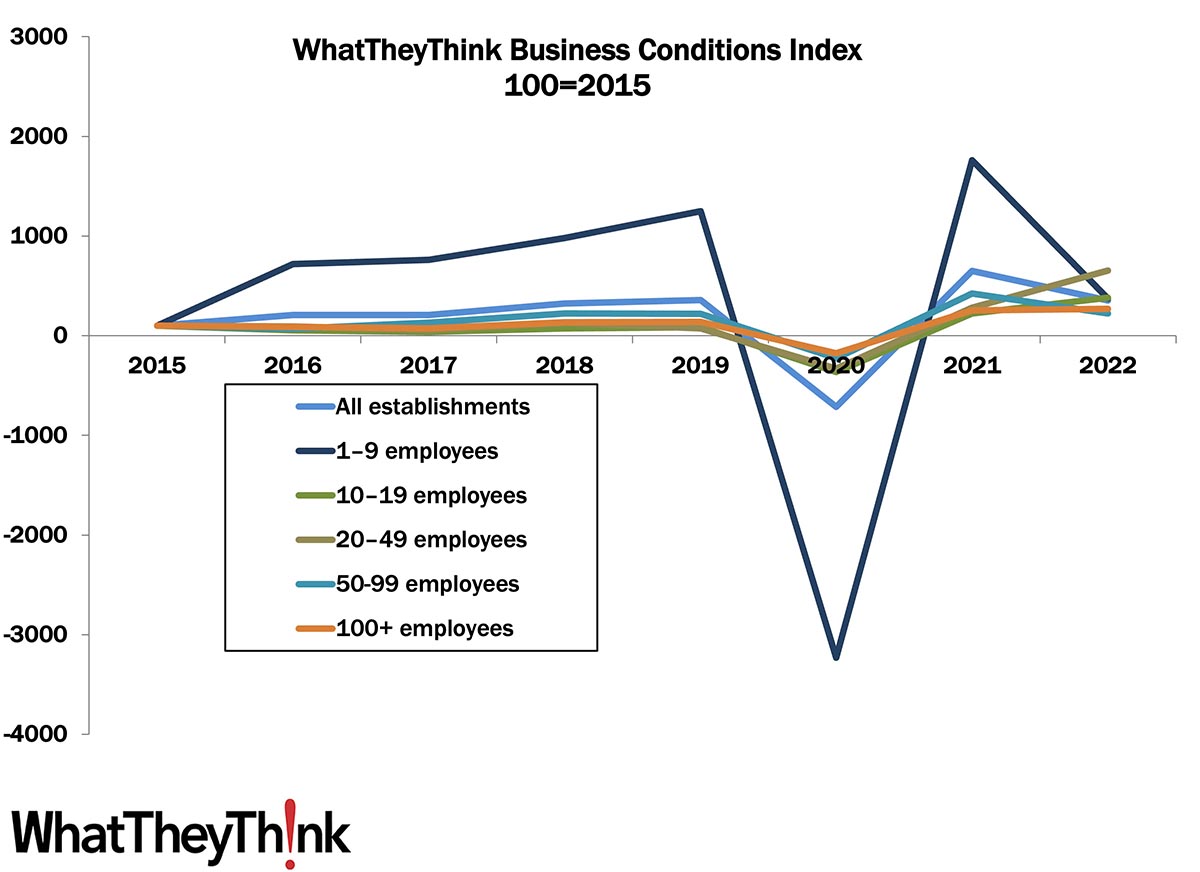 Our Fall 2022 Print Business Survey is now closed (big thanks to everyone who filled it out!) and we are digging into the numbers. Our preliminary look at business conditions shows that overall revenues dropped a bit in 2022 vis-à-vis 2021, although not for everyone. Shops with 10–19 employees performed above average, and shops with 20–40 employees also saw a revenue rise compared to 2021. The largest print businesses (100+ employees) were also up a bit. The two size categories that saw revenue declines from 2021 were the smallest (1–9 employees) and those with 50–99 employees.
We indexed business conditions to 2015, the first year we began these regular surveys. Until 2020, 2015 was the gold standard for a pretty lousy year for the industry, so it had been easy to see improvement in the subsequent years. The "tale of two cities" gap between large and small shops had been looking pretty apparent, although 1–9-employee firms appear to be a city unto themselves, leading the pack by far at least in terms of revenues—and then plummeting even more dramatically in 2020, rebounding just as dramatically in 2021, and falling almost as dramatically in 2022. 2020 and its immediate aftermath were outlier years (hopefully the last of them) so we should look at 2022 as something of a return to normalcy, and not view a slight drop in BCI as anything to get overly alarmed about.
In a normal year, smaller print businesses are able to transition to new products and technologies much more nimbly—or with more agility—than larger businesses. And, given that they are, for the most part, all-digital shops, that helps them adapt to a changing product mix, as well as keep overhead low. And while all of these things were what helped many print businesses transition to new kind of products and services during the pandemic, smaller shops didn't always have the resources to do so, and even a modest disruption in their shop volume and cashflow caused great hardship for these businesses. Although there were few pandemic-related effects in 2022 (aside from people continuing to get sick), there was the unholy trinity of post-pandemic challenges that businesses had to deal with: the difficulty with getting supplies (mostly paper) and the cost of those supplies, employment-related challenges, and inflation.
Now that the survey is complete, we are beavering away on our Print Business Outlook 2023 special report, which should be available in January, so keep an eye out for it.