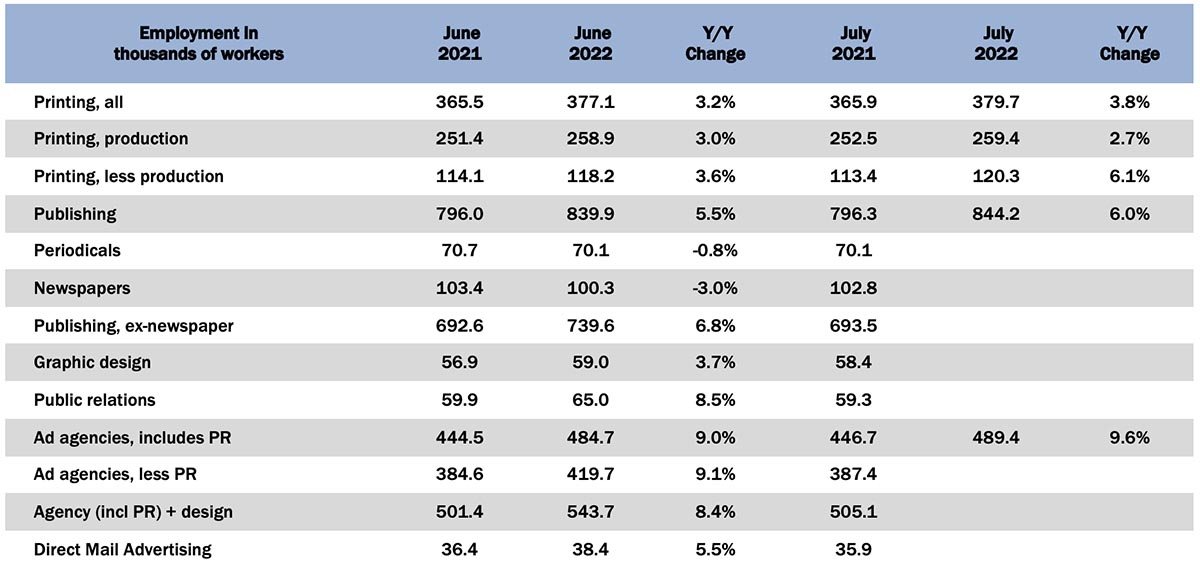 The industry's attempts at recruiting production staff are succeeding, albeit modestly, and mostly in the "carpeted area" of the plant: in July 2022, all printing employment was up 0.7% from June, with non-production employment up 1.8% and production employment up 0.2%.
Publishing employment had been up a strong 2.5% in June, but has ebbed to 0.5% in July—newspaper publishing has been a drag on overall publishing employment; in June, if we back out newspapers, employment was up 3.2%.
Digging into the specific publishing segments (the reporting of which lags a month), employment is a mixed bag: from May to June, periodical publishing employment was up 0.6%, while newspaper publishing employment was unsurprisingly down 1.2%.
The creative markets were also a bit of a mixed bag. Graphic design employment was down 0.2% from May to June, ad agencies (less PR) were up 1.5%, and public relations—which had been down 0.6% in May—was up 1.6% in June. Direct mail advertising employment see-sawing for the past year but in June 2022 was up 0.8%.
As for July employment in general, said the BLS in their August 5 report:
Total nonfarm payroll employment rose by 528,000 in July, and the unemployment rate edged down to 3.5 percent, the U.S. Bureau of Labor Statistics reported today. Job growth was widespread, led by gains in leisure and hospitality, professional and business services, and health care. Both total nonfarm employment and the unemployment rate have returned to their February 2020 pre-pandemic levels.
…The change in total nonfarm payroll employment for May was revised up by 2,000, from +384,000 to +386,000, and the change for June was revised up by 26,000, from +372,000 to +398,000. With these revisions, employment in May and June combined is 28,000 higher than previously reported.
So the general employment situation has been better that we all thought
The labor force participation rate ticked down from 62.2% in June to 62.1% in July, and the employment-to-population ratio ticked up from 59.9% to 60.0%. The labor force participation rate for 24–54-year-olds increased from 82.3% to 83.4%.
The July employment report exceeded economists' expectations, and the unemployment rate is the lowest it's been in 50 years. The August employment report comes out later this morning. We'll see what happens…