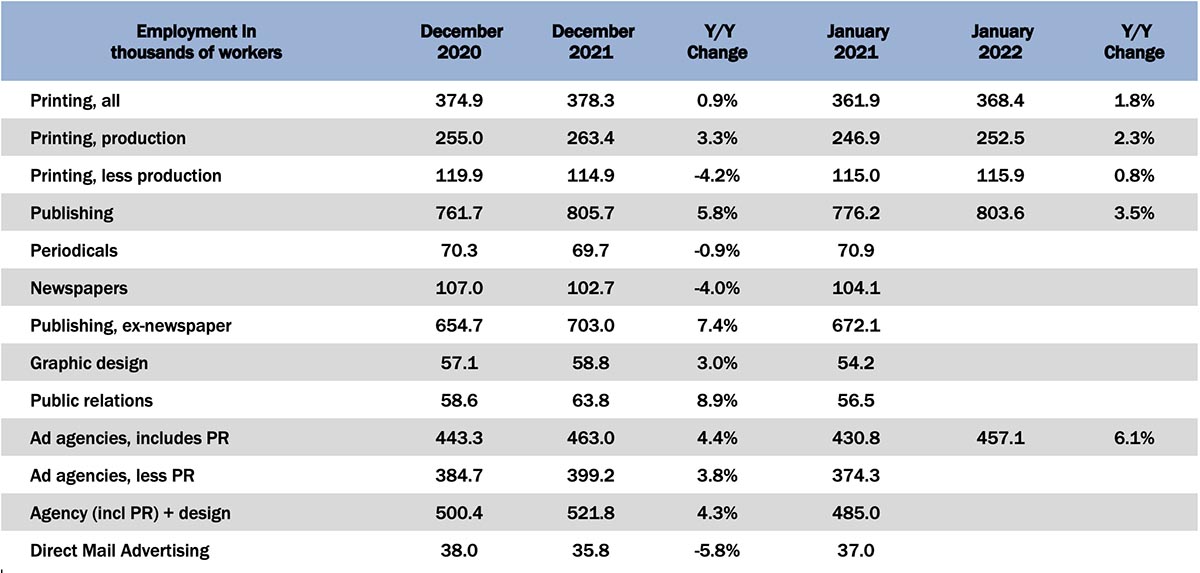 In the past, when we have reported low employment numbers for the industry, we've typically interpreted it as the industry simply not hiring. Since 2020, however, we're more of the opinion that the low rates we have been seeing throughout 2021 are simply due to print businesses not being able to find employees. Although we have been seeing record low unemployment rates in the economy in general, not all industries are recovering from the pandemic at the same rate.
As we enter 2022, in January, all printing employment was down -2.6% from December, with production employment down -4.1%, which is the steepest one-month drop we've seen since the nadir of the pandemic. Non-production printing employment offset that a bit by being up a modest +0.9%.
Publishing employment had been improving slightly over last summer, took a turn for the worse in the fall, and general publishing employment declined -0.2% from December to January. Digging into the specific publishing segments (the reporting of which lags a month), things started looking dodgy as the fall began but became a bit of a mixed bag as winter wore on: from November to December, periodical publishing employment grew +0.7%, although newspaper publishing employment declined -1.1%.
The creative markets were doing a little better. Graphic design employment was down -0.2% from November to December, but ad agencies were up +1.1%—with public relations (+2.1%) the big contributor there. In August, direct mail advertising employment was up and down all year (it was up +4.8% in September), but ended the year down -2.7% in December.
In the general January employment report, said the BLS in their February 4 report:
Total nonfarm payroll employment rose by 467,000 in January, and the unemployment rate was little changed at 4.0 percent, the U.S. Bureau of Labor Statistics reported today. Employment growth continued in leisure and hospitality, in professional and business services, in retail trade, and in transportation and warehousing.
The labor force participation rate increased from 61.9% in December to 62.2% in January, and the employment-to-population ratio increased from 59.5% to 59.7%. The labor force participation rate for 24–54-year-olds rose a scosh from 81.9% to 82.0%, the highest it's been since January 2020, when it was 83.1%, which in turn had been the highest since January 2007 (83.4%).
At the same time, November and December payrolls were revised up by a total of 709,000.
Overall, the employment situation in general is exceptional, but, as we said earlier, not all industries and segments are faring equally well.