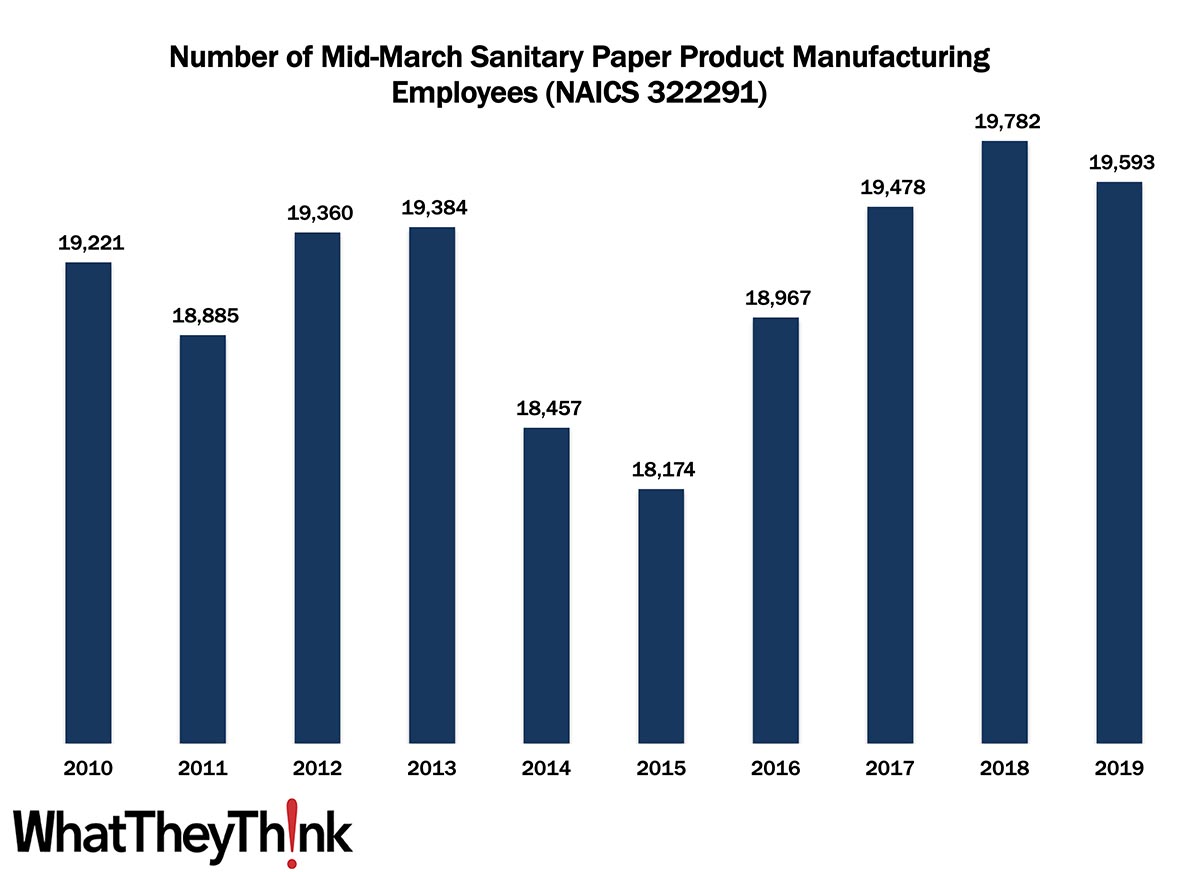 According to County Business Patterns, in 2010, there were 19,221 employees in NAICS 322291 (Sanitary Paper Product Manufacturing establishments). This NAICS category bounced up and down over the course of the 2010s, ending with 19,593 employees in 2019.
The Bureau of the Census definition for this business classification:
This U.S. industry comprises establishments primarily engaged in converting purchased sanitary paper stock or wadding into sanitary paper products, such as facial tissues, handkerchiefs, table napkins, toilet paper, towels, disposable diapers, sanitary napkins, and tampons.
The sanitary paper product market is a mature one, with few truly new products coming to market and few avenues for growth. The market is dominated by a few very large manufacturers with little room for newcomers. Products are broadly divided into "consumer" and "commercial and industrial," the latter of which is intended for schools, hospitals, or offices. These products also tend to be "non-discretionary," in that there is very little that will stimulate (or depress) usage/sales, save for a particularly bad cold/flu/allergy season, perhaps. (Although not reflected in this current data, the 2020 pandemic and the shift from commercial to consumer demand did disrupt the supply chain for items like toilet paper.)
We have one more four-digit NAICS to look at before we return to NAICS 323:
322299 All Other Converted Paper Product Manufacturing
This Macro Moment
Says the Bureau of Labor Statistics:
The Consumer Price Index for All Urban Consumers (CPI-U) increased 0.5 percent in December on a seasonally adjusted basis after rising 0.8 percent in November, the U.S. Bureau of Labor Statistics reported today. Over the last 12 months, the all items index increased 7.0 percent before seasonal adjustment.
Increases in the indexes for shelter and for used cars and trucks were the largest contributors to the seasonally adjusted all items increase. The food index also contributed, although it increased less than in recent months, rising 0.5 percent in December. The energy index declined in December, ending a long series of increases; it fell 0.4 percent as the indexes for gasoline and natural gas both decreased.
The index for all items less food and energy rose 0.6 percent in December following a 0.5-percent increase in November.
Mind you, this reflects prices compared to what they were a year ago. Inflation has persisted a bit longer than most economists had been expecting, but there is evidence that inflationary pressure is starting to ease up slightly, although the expectation now is that it will persist perhaps into the middle of 2022. A few days ago, Fed Chair Jerome Powell indicated that the Fed was prepared to raise interest to help combat inflationary threats.
"If inflation does become too persistent, if these high levels of inflation get entrenched in our economy, and in people's thinking, then inevitably that will lead to much tighter monetary policy from us, and it could lead to a recession, and that would be bad for workers," Mr. Powell said.