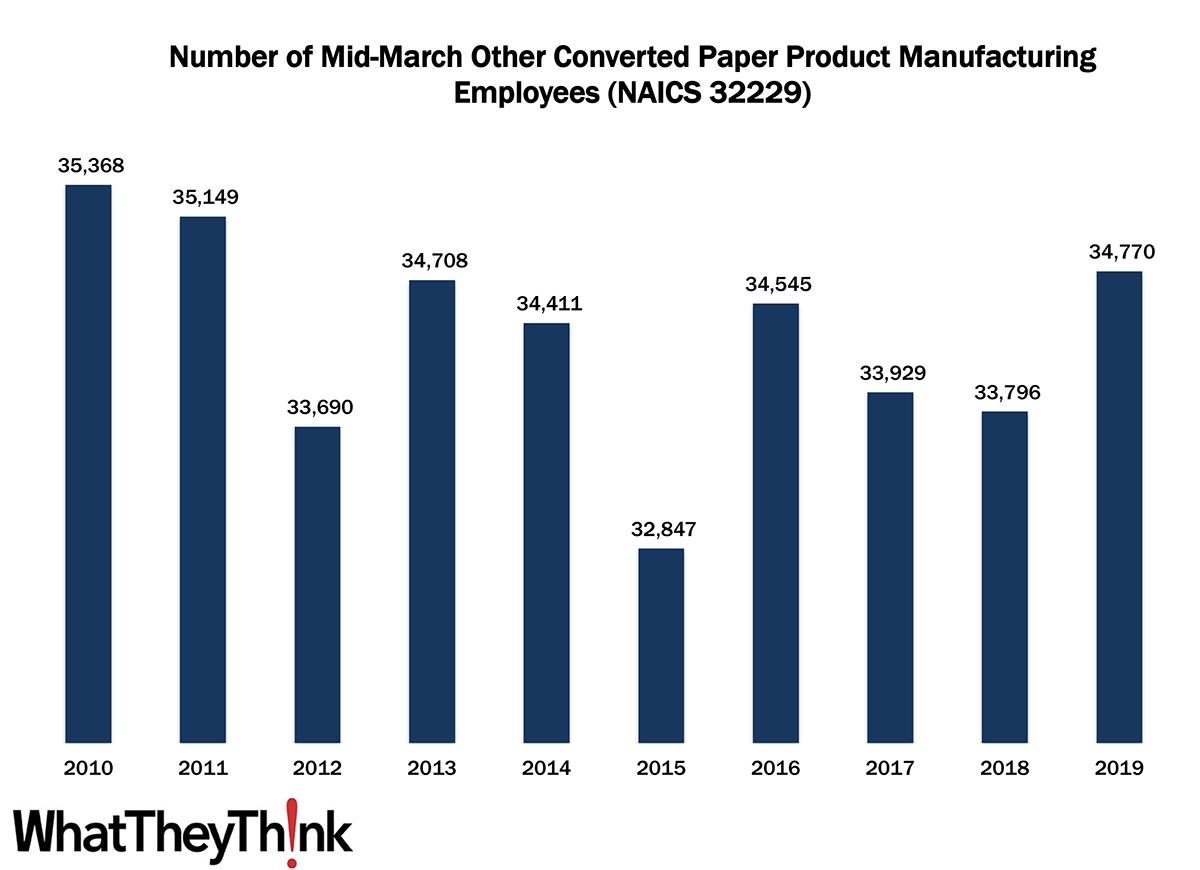 According to County Business Patterns, in 2010, there were 35,368 employees in NAICS 32229 (Other Converted Paper Product Manufacturing establishments). This NAICS category bounced up and down over the course of the 2010s, ending with 34,770 employees in 2019.
The Bureau of the Census definition for this business classification:
This industry comprises establishments primarily engaged in (1) converting paper and paperboard into products (except containers, bags, coated and treated paper and paperboard, and stationery products) or (2) converting pulp into pulp products, such as disposable diapers, or molded pulp egg cartons, food trays, and dishes. Processes used include laminating or lining purchased paper or paperboard.
Since this category includes various kinds of food packaging, trends in this packaging category will depend upon trends in the types of food they contain. For eggsxample, in the case of egg cartons, egg consumption was increasing and creative egg packaging is an uncracked market, said the American Egg Board around the time of the later data points in this series. Different birds—hens vs. ducks vs. ostriches—lay different size eggs, which packaging needs to accommodate. Opportunity exists for better egg carton design—and this is perhaps a bit off-topic here—but the AEB advises against using images of cooked eggs to avoid "alienating" consumers who dislike a particular egg preparation method (scrambled vs. sunny side up, e.g.).
At the same time, competition from foam-based food trays and cartons is substantial, at least in 2018–2019, although biodegradability/sustainability works in paper-based trays'/carton' favor. There has been increased demand for food trays/packaging (take-out, restaurant leftovers, school and cafeteria use, etc., e.g.), but is moving in foam's direction. But then increase of municipal bans on foam takeout containers can work to paper's advantage.
Over the course of the decade, there have been some upheavals in types of packaging that fell in and out of favor, affecting the companies in this sector.
The 3222 four-digit NAICS comprises a variety of different converted packaging types, and over the next several months, we will continue looking at them in turn, including:
322291 Sanitary Paper Product Manufacturing
322299 All Other Converted Paper Product Manufacturing
This Macro Moment
What is going on macroeconomically? The two data points that have received the most coverage lately have been inflation and employment. With inflation running as high as it has been lately (up to 6.2%), that means, for print businesses, supplies and other consumables are more expensive, but it also means that if your sales are up 6% over last year, your sales really aren't up at all. And it also plays into the employment situation: if you give an employee a 4% raise hoping to keep them from leaving, you've essentially given them a pay cut. But how much of this inflation spike is a temporary anomaly as we recover from the pandemic and how much will end up being permanent remains to be seen.
On the other hand, the employment situation has been quite robust. As we reported last week, the October jobs report saw US companies add 531,000 jobs in October and even if the November jobs report, released last Friday, was a slightly disappointing 210,000, the previous months were revised up—September by 67,000 and October by 15,000, for a total of 82,000. We have no reason to assume that the November jobs number won't be revised up in subsequent months as well.
To gauge the overall state of the economy, the Federal Reserve publishes what is known as the "Beige Book" (aka "Summary of Commentary on Current Economic Conditions"), which is issued eight times a year. The Beige Book compiles more or less anecdotal information on economic conditions in each of the 12 Federal Reserve districts. Not quantitative, it is based on conversations with bank and branch directors and interviews with key business contacts, economists, market experts, and others. It is published as a prelude to Federal Open Market Committee meetings.
You can read the whole thing here, particularly the reports from your Fed district, but here are some selected comments. Note that it is based on information compiled before November 21, 2021. Some highlights:
Overall Economic Activity
Economic activity grew at a modest to moderate pace in most Federal Reserve Districts during October and early November. Several Districts noted that despite strong demand, growth was constrained by supply chain disruptions and labor shortages. Consumer spending increased modestly; low inventories held back sales of some items, notably light vehicles. Leisure and hospitality activity picked up in most Districts as the spread of the Delta variant ebbed in many areas. Construction activity generally increased but was held back by scarce materials and labor. Nonresidential real estate activity increased widely, while residential real estate activity grew in some Districts but declined in others. Manufacturing growth was solid across Districts, though materials and labor shortages limited expansion. High freight volumes continued to strain distribution systems. Energy activity was generally higher, growth in professional and business services varied widely, and demand for education and health services was largely unchanged. Loan demand increased in almost all Districts, though some reported declines in residential mortgages. Agriculture saw improved financial conditions overall and rising land values. The outlook for overall activity remained positive in most Districts, but some noted uncertainty about when supply chain and labor supply challenges would ease.
Employment and Wages
Employment growth ranged from modest to strong across Federal Reserve Districts. Contacts reported robust demand for labor but persistent difficulty in hiring and retaining employees. Leisure and hospitality and manufacturing contacts reported an uptick in employment, but many were still limiting operating hours due to a lack of workers. Contacts in several other sectors also noted labor-related constraints on meeting demand. Childcare, retirements, and COVID safety concerns were widely cited as sources that limited labor supply.
As for the whole prices issue:
Prices
Prices rose at a moderate to robust pace, with price hikes widespread across sectors of the economy. There were wide-ranging input cost increases stemming from strong demand for raw materials, logistical challenges, and labor market tightness. But wider availability of some inputs, notably semiconductors and certain steel products, led to easing of some price pressures. Strong demand generally allowed firms to raise prices with little pushback, though contractual obligations held back some firms from increasing prices.
One thing worth mentioning is that, on Wednesday, PIA MidAmerica hosted a webinar in which they presented the results of their annual Wages & Benefits Survey, and one thing they discovered was that print businesses have generally received very little pushback from customers when prices were increased to help cover increased costs, be it from supplies and/or labor. So that's a bit of good news. Naturally, some customers are more ornery than others, and there may be contracts in place that preclude price increases, but that's the general consensus.
As we have seen, though, things can change in the proverbial "New York minute" so in six months we may be in a completely different economic environment, all the more volatile with the Omicron variant—and new COVID cases in general—on the rise.
We need your help! It's time for our 2021 Business Outlook Survey, the results of which will be used to develop our 2022 Printing Outlook report. Please take a few minutes and fill out our survey. Thanks!