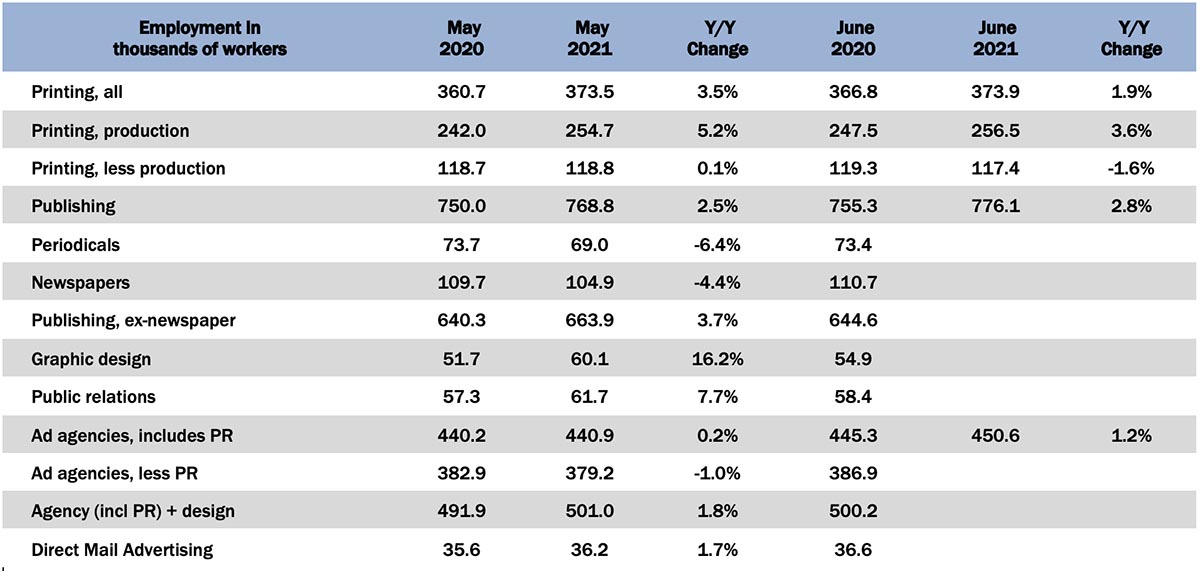 June continued the very gradual upward trend in employment—overall printing employment was up +0.1% from May and production employment up +0.7%, although non-production printing employment continued its downward trajectory, coming in -1.2% from May.
Publishing is on the uptick, at least when it comes to periodicals. General publishing employment was up +0.9% from May. Digging into the specific publishing segments (reporting lags a month), from April to May, periodical publishing employment grew +4.4% and newspaper publishing employment dropped -0.9%, a continued drop from the previous report.
The creative markets are faring a bit better, but employment growth was more sluggish in May than it had been in April: graphic design employment was up +0.7% from April to May, ad agencies up +0.2%, and PR was only up +0.5% (compared to +2.7% from March to April). Direct mail advertising employment was up +2.8% from April to May—who would have expected them to be the bright spot in this report?
In the general June employment report, said the BLS:
Total nonfarm payroll employment rose by 850,000 in June, and the unemployment rate was little changed at 5.9 percent, the U.S. Bureau of Labor Statistics reported today. Notable job gains occurred in leisure and hospitality, public and private education, professional and business services, retail trade, and other services.
They say "little changed" but that is actually a slight increase.
Still, in June the year-over-year change was 7.919 million jobs—not bad when you consider how badly employment had crashed in April 2020.
Some other quick hits from the June report:
The labor force participation rate was unchanged at 61.6%.
The employment-to-population ratio was unchanged at 58.0%.
The 25-to-54 participation rate increased from 81.3% in May to 81.7% in June.
The number of persons working part time for economic reasons decreased from 5.271 million in May to 4.627 million in June. This is close to its pre-pandemic level.
The June report was above the general consensus among economists (assuming there is ever a consensus among economists) and April and May figures had been revised up. It's notable that the sectors seeing the biggest gains are those that had been shut down the most during the pandemic—leisure and hospitality, public and private education, etc. Whether we're headed for another shutdown remains to be seen, but for now we can be cautiously optimistic, as can those print businesses that saw work from these verticals languish for most of the past year and a half.