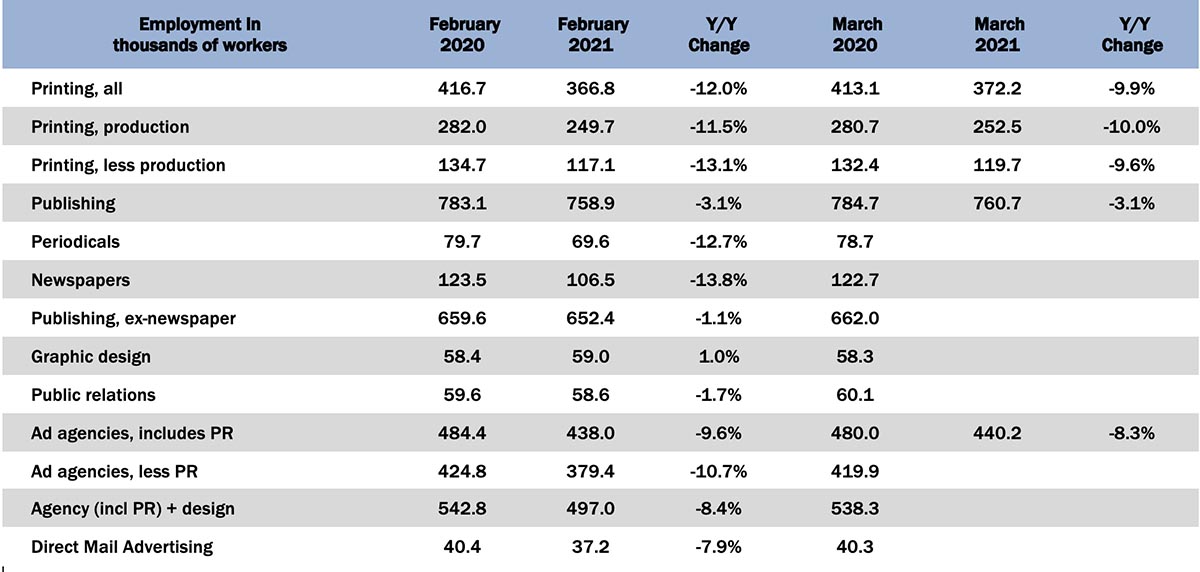 Recent employment figures had been in a bit of a holding pattern. Since the fall, we had only been seeing very modest (generally <1%) month-to-month increases and decreases in the various industry employment categories. March seems to have taken a slight upward turn— printing employment was up +1.5% from February, production employment up +1.1%, and non-production printing employment up +2.2%. Chalk it up to an improving economy, the stimulus bills passed earlier this year, and rising vaccination rates and businesses reopening.
Publishing is still languishing employment-wise: general publishing employment was up +0.2% from February. Digging into the specific publishing segments (reporting lags a month), we're still in the winter stasis: from January to February, periodical publishing employment was only up +0.4% and newspaper publishing employment up +0.2%.
The creative markets are faring a bit better: graphic design employment was up +2.8% from January to February, ad agencies up +1.4% (and up +1.5% if we back out PR) and PR was up +1.2%. Direct mail advertising employment was virtually unchanged from January to February.
As for overall US employment, said the BLS in their April 2 report:
Total nonfarm payroll employment rose by 916,000 in March, and the unemployment rate edged down to 6.0 percent, the U.S. Bureau of Labor Statistics reported today. These improvements in the labor market reflect the continued resumption of economic activity that had been curtailed due to the coronavirus (COVID-19) pandemic. Job growth was widespread in March, led by gains in leisure and hospitality, public and private education, and construction.
The unemployment rate in February had been 6.2%.
Some other bits of good news in the March employment report:
The labor force participation rate increased from 61.4% in February to 61.5% in March.
The employment-to-population ratio increased from 57.6% to 57.8%.
The 25-to-54 participation rate increased from 81.1% to 81.3%, while the 25-to-54 employment population ratio increased from 76.5% to 76.8%.
Employment numbers for January and February were revised up.
April employment figures come out later today, and should show improvement over March.