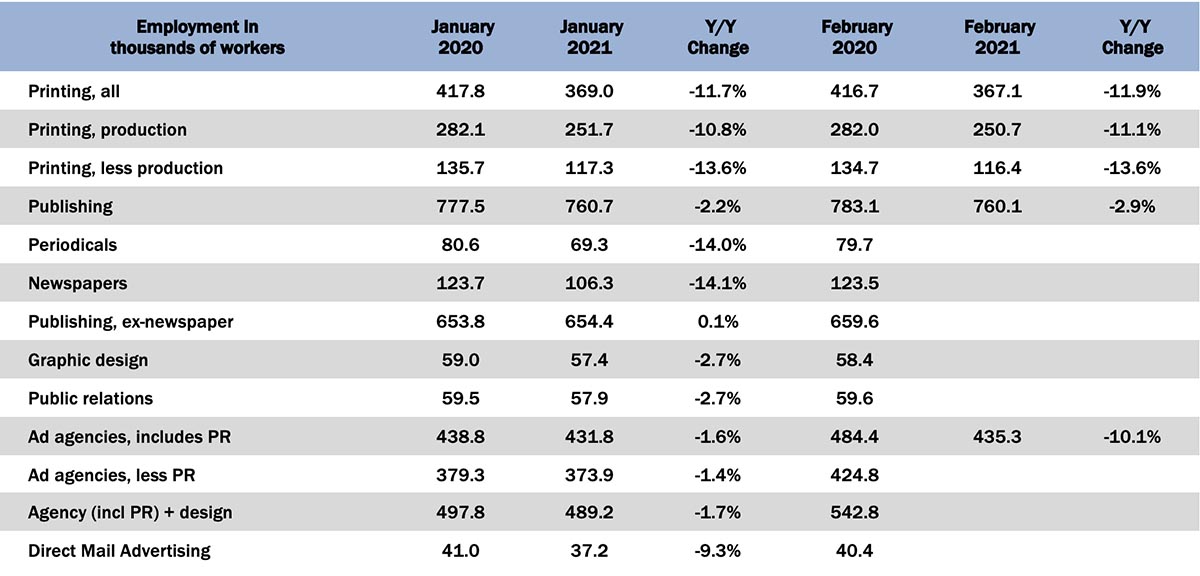 Recent employment figures have been in a bit on a holding pattern—and this is probably a good thing. Since the fall, we have only seen very modest (generally <1%) month-to-month increases and decreases in the various industry employment categories. All printing employment was down -0.5% from January, production employment down -0.4%, and non-production printing employment down -0.8%. General publishing employment was down -0.1% from January.
The publishing and creative markets are also continuing to be in a bit of a stasis, although there are some drops that are higher than we had been seeing in the late fall/early winter. From December 2020 to January 2021 (publishing and creative market employment reports lag by a month), periodical publishing employment dropped -1.4%, newspaper publishing dropped -0.7%, graphic design ticked up +0.5%, ad agencies were down -2.6%, PR agencies were down -1.2%, and direct mail advertising was down -2.1%.
As for overall US employment, said the BLS in their March 5 report:
Total nonfarm payroll employment rose by 379,000 in February, and the unemployment rate was little changed at 6.2 percent, the U.S. Bureau of Labor Statistics reported today. The labor market continued to reflect the impact of the coronavirus (COVID-19) pandemic. In February, most of the job gains occurred in leisure and hospitality, with smaller gains in temporary help services, health care and social assistance, retail trade, and manufacturing. Employment declined in state and local government education, construction, and mining.
They add:
The change in total nonfarm payroll employment for December was revised down by 79,000, from -227,000 to -306,000, and the change for January was revised up by 117,000, from +49,000 to +166,000. With these revisions, employment in December and January combined was 38,000 higher than previously reported.
Some other notes:
The 25-to-54 participation rate was unchanged in February at 81.1%, while the 25-to-54 employment-to-population ratio increased to 76.5% from 76.4% in January.
People working part time for economic reasons increased in February to 6.088 million from 5.954 million in January.
148 million workers have been unemployed for more than 26 weeks.
Many economists—including Fed Chair Jerome Powell—believe the headline unemployment number (6.2%) dramatically underestimates the situation. Powell said:
After rising to 14.8 percent in April of last year, the published unemployment rate has fallen relatively swiftly, reaching 6.3 percent in January. But published unemployment rates during COVID have dramatically understated the deterioration in the labor market. Most importantly, the pandemic has led to the largest 12-month decline in labor force participation since at least 1948.5 Fear of the virus and the disappearance of employment opportunities in the sectors most affected by it, such as restaurants, hotels, and entertainment venues, have led many to withdraw from the workforce. At the same time, virtual schooling has forced many parents to leave the work force to provide all-day care for their children. All told, nearly 5 million people say the pandemic prevented them from looking for work in January. In addition, the Bureau of Labor Statistics reports that many unemployed individuals have been misclassified as employed. Correcting this misclassification and counting those who have left the labor force since last February as unemployed would boost the unemployment rate to close to 10 percent in January.
That said, as vaccinations continue apace and more businesses and geographies open up (especially as the weather improves into the spring), the employment situation—and the economy in general—will hopefully get better.