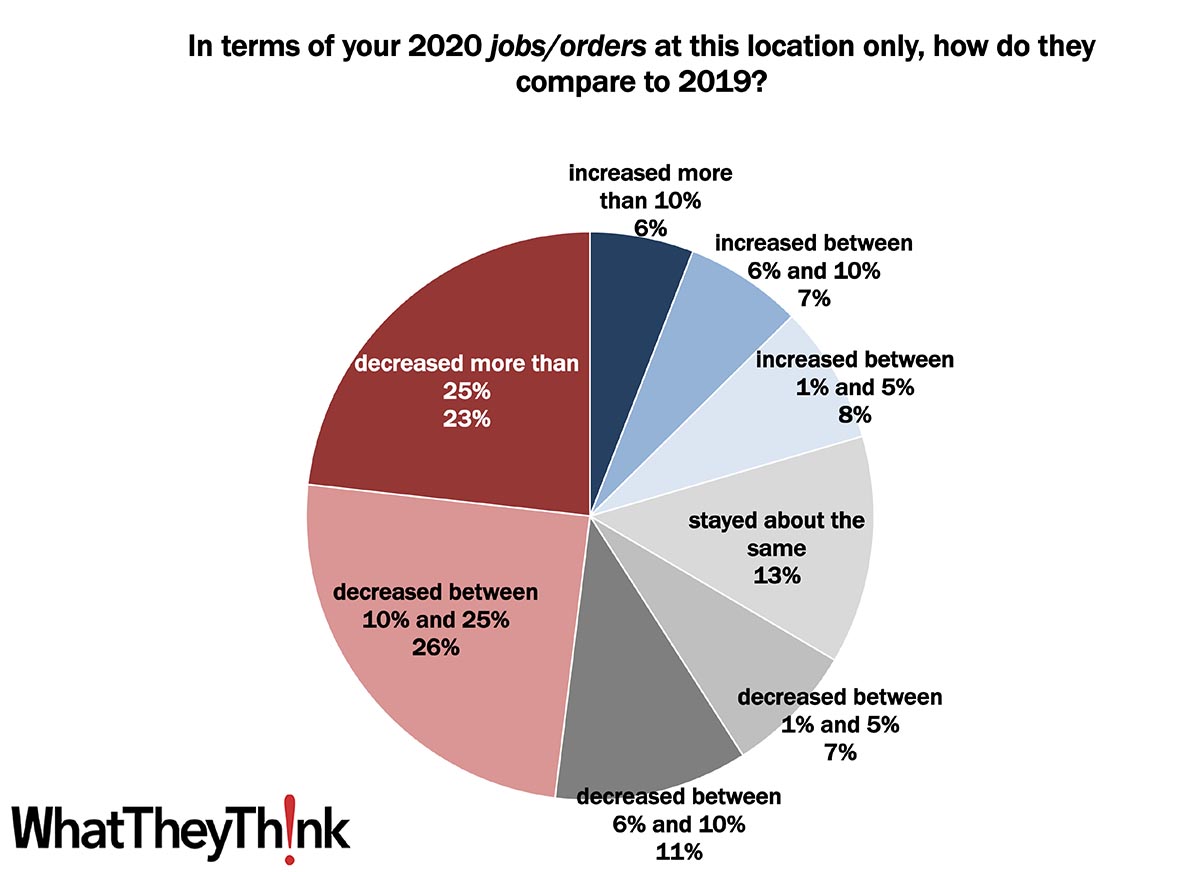 In October and November 2020, WhatTheyThink's Business Outlook Survey asked print business executives and owners about their 2020 business conditions, business challenges, biggest perceived opportunities, and investment plans. We also asked about respondents' opinions of virtual events, as well as their 2020 hiring plans. The results of this survey—and much much more—are included in WhatTheyThink's Printing Outlook 2021 special report. We have been providing some top-level findings from that report.
Specifically, print industry jobs/orders dropped -10.8% from 2019 to 2020, compared to +3.6% from 2018 to 2019. Whether jobs dropped a little, a lot, completely, or even at all during COVID was largely a function of the primary verticals a particular shop served and even what part of the country it was located. Overall, two-thirds of respondents said that jobs/orders declined, 23% of them said it was by more than 25%. One-fifth (21%) said that jobs/orders increased, while 13% said they stayed about the same.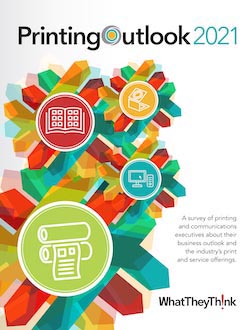 Pre-pandemic, we had noted in previous outlook reports that there had been a disconnect between revenues and jobs, reflective of the fact that pricing was a perennial concern, which new applications such as wide-format and display graphics only complicated. In 2019, we had seen some progress in resolving this issue, but the pandemic has only exploded the issue again, and not just because new products were hard to price properly, but many jobs were done gratis (like PPE, et al.) or financially distressed clients were given breaks or discounts, and other changes to normal pricing. We expect this to be a short-lived phenomenon.
Get the Full Report
The complete Printing Outlook 2021 report includes all our survey data broken down by establishment size, as well as industry statistics from third-party sources, extensive macroeconomic commentary, industry trends to look for in 2021 and beyond, and our industry forecast to 2030. The report can be purchased in our eStore at https://store.whattheythink.com/downloads/printing-outlook-2021/.