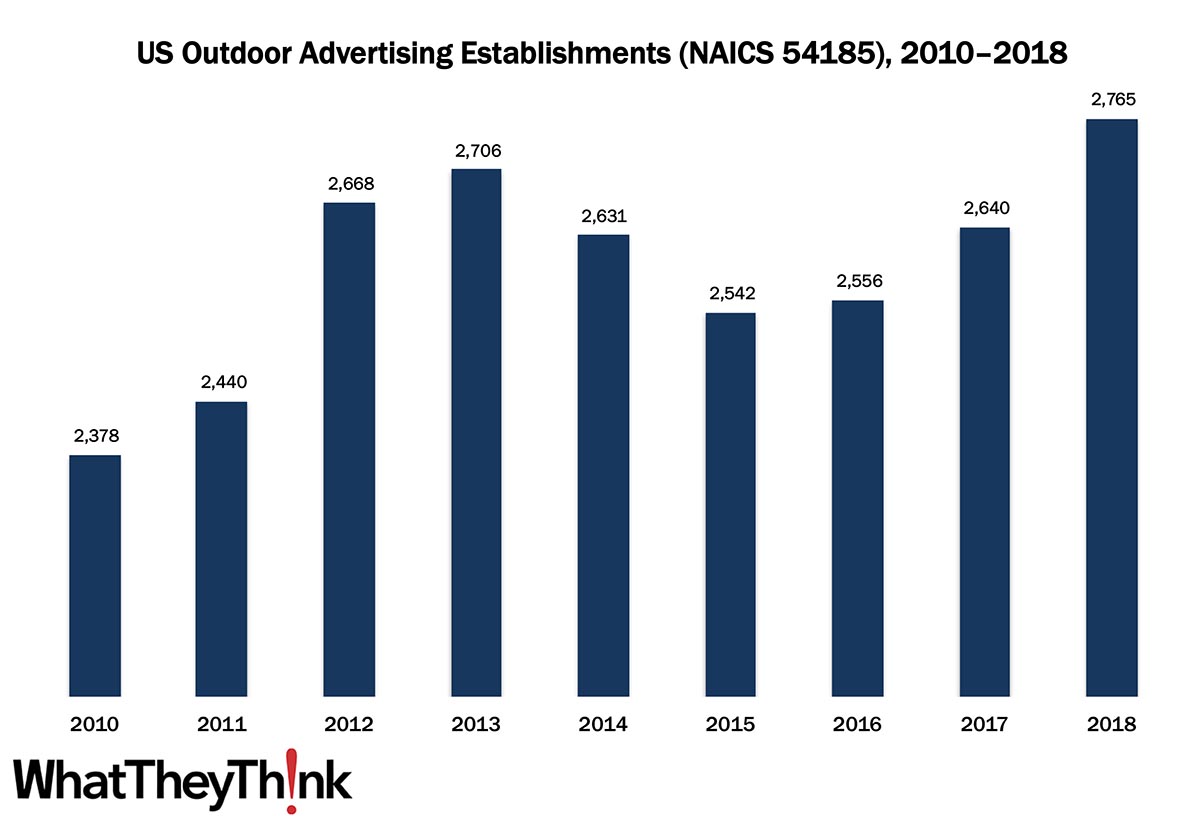 The Census Bureau defines NAICS 54185 as:
establishments primarily engaged in creating and designing public display advertising campaign materials, such as printed, painted, or electronic displays; and/or placing such displays on indoor or outdoor billboards and panels, or on or within transit vehicles or facilities, shopping malls, retail (in-store) displays, and other display structures or sites.
This category was originally called "Display Advertising," and was renamed "Outdoor Advertising" in 2012, although the description has remained the same.
In 2010, there were 2,378 establishments in NAICS 54185 (Display Advertising). In 2012, there was an increase in establishments—possibly the renaming of the category dragged in some businesses that had been identified elsewhere, and/or it could very well represent the surge of wide-format printing shops, as it was around that time that wide-format printing became a substantial opportunity for businesses, and some of them may have specialized enough in display/outdoor advertising to have ended up here. Establishments peaked in 2013, and then started a two-year decline as the lingering Great Recession thinned out the new herd of outdoor advertising shops. Shops then started increasing again, driven by advances in and demand for dynamic digital signage (DDS) and other electric/electronic signage, as well as construction booms that drove the need for signage. Establishments peaked in 2018 at 2,765 establishments.
These counts are based on data from the Census Bureau's County Business Patterns, which now include 2018 data. Throughout this year, we will be updating these data series with the latest figures. Census Bureau reports include other data, as well, such as number of employees, payroll, etc. These counts are broken down by publishing business classification (based on NAICS, the North American Industrial Classification System).
These data, and the overarching year-to-year trends, like other demographic data, can be used not only for business planning and forecasting, but also sales and marketing resource allocation.
The next segment in our data slice'n'dice series will include one final "creative" market:
54186 Direct Mail Advertising
Over time, we will be adding additional data from County Business Patterns, such as number of employees, payroll, and similar information for additional business classification of relevance to the graphic communications industry.
This Macro Moment
Last week, the Bureau of Labor Statistics released its August employment report and "Total nonfarm payroll employment rose by 1.4 million in August, and the unemployment rate fell to 8.4%"—in July, the unemployment rate was 10.2%. The BLS attributes this improvement to an increase in temporary Census workers, as well as increasing economic activity as businesses reopened. ("Notable job gains also occurred in retail trade, in professional and business services, in leisure and hospitality, and in education and health services.")
This is about what economists were expecting.
Some other data points of note in the employment report:
The Labor Force Participation Rate increased +0.3 percentage point to 61.7%.
The Employment-Population ratio increased +1.4 percentage points to 56.5%.
3% of employed persons teleworked because of the coronavirus pandemic, down from 26.4% in July.
And to round out the current employment situation, yesterday, the Department of Labor released weekly initial unemployment claims, which were unchanged from last week at 884,000 (last week's claims had been revised up from 881,000).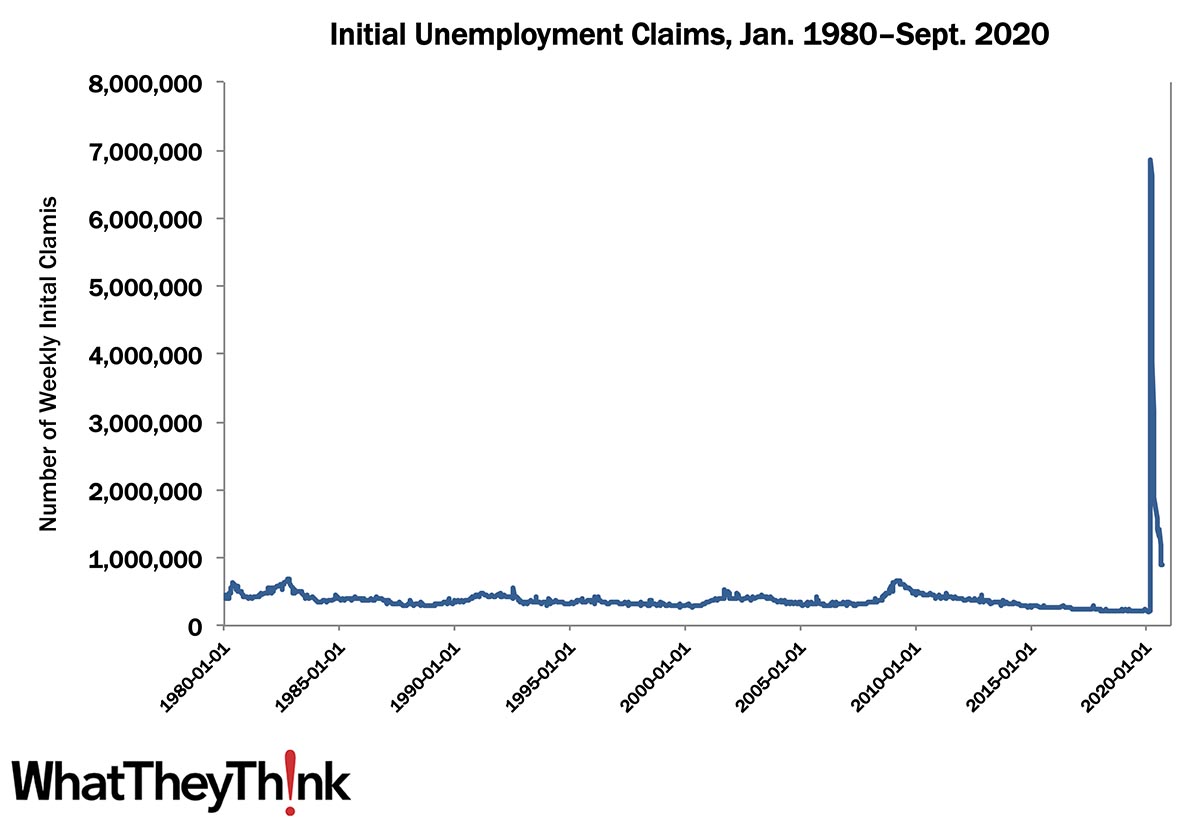 New claims remain under 1 million—if that's the bar we're now setting—but Calculated Risk points out that,"This was the 25th consecutive week with extraordinarily high initial claims." CR also points out that "This does not include the 838,916 initial claims for Pandemic Unemployment Assistance (PUA) that was up from 747,993 the previous week."
Even worse than initial claims are continuing unemployment claims, which increased to 13,385,000 last week from 13,292,000. Yes, more than 13 million.
So the employment situation is not great.