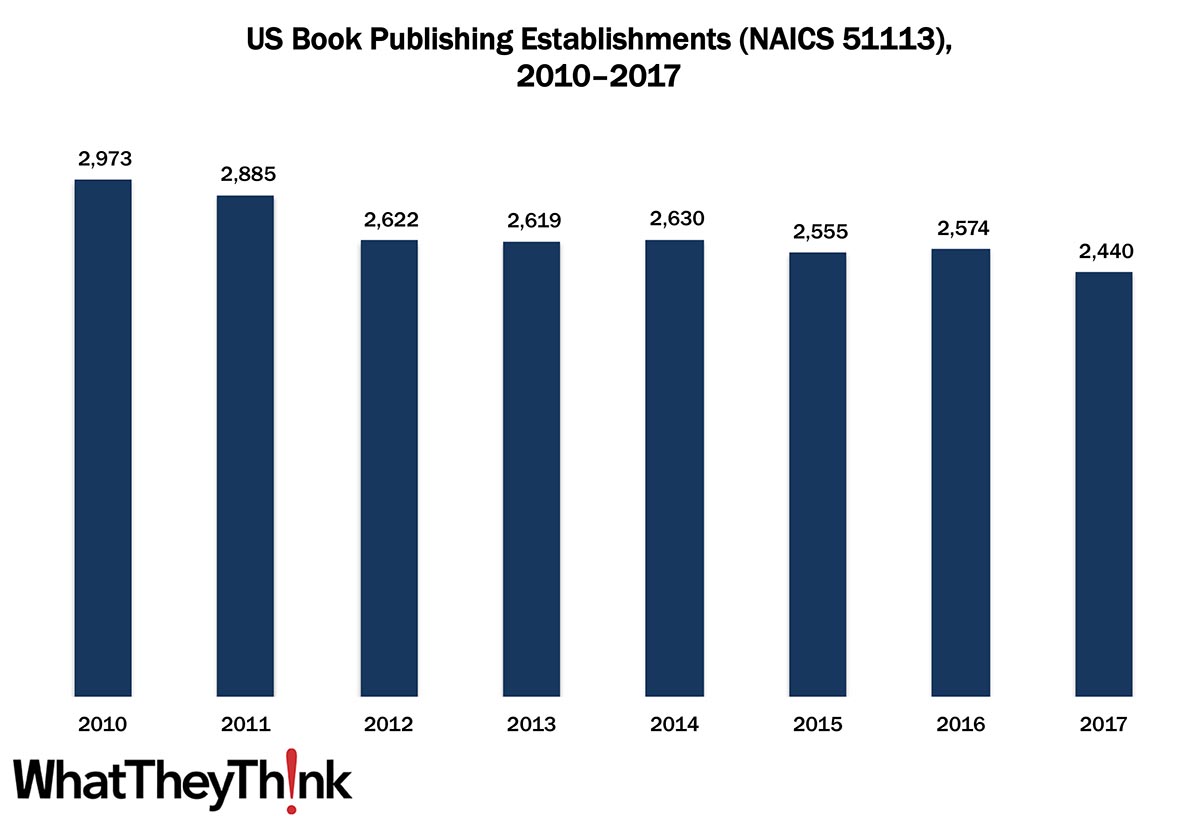 In 2010, there were 2,973 establishments in Book Publishing (NAICS 51113); by 2017, that number had dropped to 2,440. We'll look at Non-Employer Statistics* at another time, but it's worth noting that in 2016 there were an estimated 7,977 small or self publishers in this category. Technology enablers such as electronic publishing, on-demand book production, and e-commerce through companies like Amazon (Createspace) have led to a growing specialty publishing market. When you factor in the ease of creating and publishing ebooks (which are often given away or sold for only a token amount as more of a self/business promotion strategy or tie-in to a speaking gig), some, perhaps many, "book publishers" may not classify themselves as such.
These counts are based on data from the Census Bureau's County Business Patterns. Throughout this year, we will be updating these data series with the latest CBP figures. County Business Patterns includes other data, as well, such as number of employees, payroll, etc. These counts are broken down by publishing business classification (based on NAICS, the North American Industrial Classification System):
511 Publishing Industries (except Internet)
5111 Newspaper, Periodical, Book, and Directory Publishers
51111 Newspaper Publishers
51112 Periodical Publishers
51113 Book Publishers
51114 Directory and Mailing List Publishers
51119 Other Publishers
511191 Greeting Card Publishers
511199 All Other Publishers
These data, and the overarching year-to-year trends, like other demographic data, can be used not only for business planning and forecasting, but also sales and marketing resource allocation.
Every other week, we will be breaking these establishment data down in different ways. Over time, we will be adding additional data from County Business Patterns, such as number of employees, payroll, and similar information for additional business classification of relevance to the graphic communications industry.
* "Non-Employer Statistics" is where the Census Bureau tracks freelancers, sole proprietorships, and other small businesses or individuals. For our purposes, these include graphic designers, small agencies, and small or self publishers.