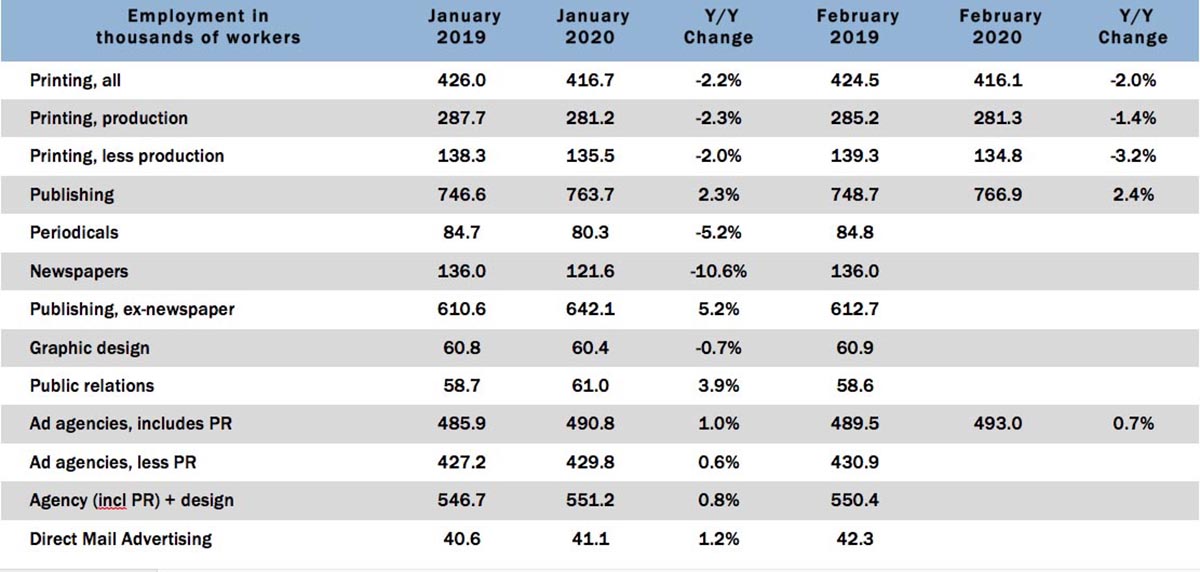 February 2020 employment numbers from the Bureau of Labor Statistics came out last week, and overall printing employment was virtually unchanged from January (-0.1%). On a year-over-year basis, it was down -2.0%. Interestingly, production employment was up +0.04% from January to February—although year-over-year was down -1.4%—while non-production employment was down -0.5% from January to February—and year-over-year was down -3.2%. The employment situation has become rather fraught; with unemployment as low as it is (the headline unemployment rate is 3.5% as of the latest report), businesses in general—and in our industry in particular—are having a tough time finding and retaining workers, and not just for production but all across the enterprise.
Elsewhere, publishing employment was up +0.4% from January to February, and up +2.4% year-over-year. Newspapers again continued to take a hit employment-wise: down -10.6% from January 2019 to January 2020. Periodicals were not as bad, with a -5.2% decline in employment from January to January.
The creative markets, as is the fashion, are doing better than printing and publishing, and even direct mail was up +1.2% January/January.
The traditional hotspot, public relations, had been becoming less of a hotspot in recent months, but PR employment was up +3.9% from January 2019 to January 2020. (PR employment had been up +6.7% from March 2018 to March 2019, a level of employment growth in PR has not been repeated since, although January's +3.6% is a recent high.) Among agencies, employment was up +1.0%, and if we back out PR, agency employment was up +0.6%. Graphic design employment was down -0.7%.
Automation may be a solution to the problem of finding elusive employees, and things like web-to-print and online storefronts can alleviate the demand for sales people.
Of course, as we write this, we are in the middle (or, some think, at the beginning) of the coronavirus crisis, which is roiling the global economy, accelerating recession fears, threatening layoffs, cancelling/postponing events, and stimulating demand for remote working and telecommuting. How this all plays out remains to be seen, of course, so the next few employment reports may start getting a bit rocky.