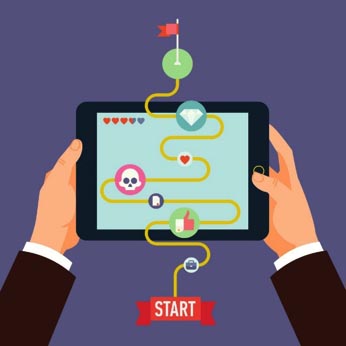 The acquisition of Endo Networks by AGI Partners' portfolio company Impact XM brings interactive technology to the company's services. These include design and production of trade show exhibits, event spaces and branded environments. The acquired company uses technology in the form of graphically-enhanced tablets, PCs, and monitors to attract (or in Endo's term, "intercept") attendees, engage participation through contests, gifts, and coupons, and entertain with participatory games (or via what Endo calls "gamification"). The Endo technology solutions are being bolted-on to the Impact XM platform which describes itself as an "Experiential Marketing Agency" producing trade show exhibits, sponsored event environments, and shopping venues that combine bold graphics and technology to tell stories on behalf of their clients.
This is the second add-on transaction for Impact XM, backed by AGI Partners, having in July of 2017 acquired Atlantic Exhibits which specialized in trade show exhibits, museum, and corporate interior design and build services. Impact XM itself was formed when AGI Partners acquired New Jersey-based Impact Unlimited in 2015 and merged it with its existing portfolio company Aura XM.
As an integrated provider of technology-based branded environments, the Impact XM platform hits all of "GAA's four D's of value," the factors that we believe drive higher enterprise values in today's market for print-centric graphic communication companies. The company's offerings include Design, combined with Data services, are focused on retail Display output (i.e. wide format) and are produced primarily utilizing Digital printing technologies. With all four D's combined in one platform, Impact XM looks like a home-run in the making. (For our prior thoughts on the retail display segment see The Target Report – January 2016).
Wide Format and Display Printing
Wisconsin-based Great Northern, a custom manufacturer of temporary and semi-permanent in-store displays that promote products in retail locations, has acquired United Displaycraft. The acquired company, located in Chicago, designs and manufactures metal, wire, wood, and printed permanent in-store displays. United Displaycraft also brings interactive technology and digital printing to its new owner.
West-Camp Press, located in Westerville, Ohio, announced the acquisition of grand- and large-format printing company CSP Graphics. The acquired company, based in Cleveland, is the official preferred display graphics partner for the Cleveland Browns and the team's stadium. The acquisition is the second for West-Camp in seven months, having last summer acquired American Colorscans in Columbus, Ohio. Originally a color separator, back when such companies still existed, American Colorscans evolved into a large format screen printer and grand format digital printer.
AlphaGraphics Seattle, a full-service commercial printer with four retail locations and a central production hub located in a stunning location on the Puget Sound right next to the Olympic Sculpture Park and a few short blocks from the Space Needle, acquired Stella Color. The acquired company specializes in wide-format printing.
Not all is rosy in wide-format printing, however. At the lower end of the market, companies serving the high-volume, low-margin segments such as food and grocery are facing pricing pressure. Run quantities are being reduced as retailers close locations and strive to compete with online sellers. Windsor Marketing Group, located in north central Connecticut, filed for Chapter 11 bankruptcy in January, less than a year and half after finally completing its massive 250,000 square foot facility.
Printing Equipment
Deal activity remains brisk for companies that produce equipment used in the printing and paper processing industries (see The Target Report – September 2017). Fujifilm Holdings announced the acquisition of Xerox Corporation, the venerable US-based inventor and one time world-leader in toner-based printing machines. The disappearance of Xerox as an American icon comes almost exactly one year to the date after Xerox split itself in two, spinning off the business outsourcing company it acquired in 2009. That acquisition arguably never quite fit the document-centric Xerox, and may very well be responsible for the company's eventual failure to remain an independent force in the digital printing industry that it effectively created. In a rather convoluted transaction, Fujifilm Holdings is selling its Fuji Xerox joint venture to Xerox, then acquiring a controlling interest in the newly combined entity, after which it will be renamed Fuji Xerox.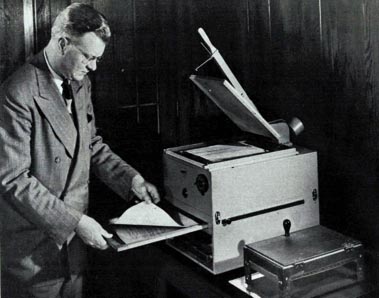 Chester Carlson, inventor, with the first commercial Xerox machine, Fortune magazine, 1949 (note the hotplate used to fuse the toner to the paper).
Muller Martini, based in Switzerland, announced the acquisition of the perfect binding and related bookbinding machinery business of longtime rival Germany-based Kolbus. The business taken over by Muller Martini will remain in the same town as Kolbus, with all engineering talent and other employees to be located in a separate plant from their former colleagues. Kolbus will retain its case-binding and packaging equipment business, as well as its foundry operation that dates back to 1775.
Bell and Howell, a portfolio company of private equity fund Versa Capital Management, strengthened its position in the mail processing industry with the acquisition of Gunther International. The acquired company manufactures high-volume, high-page-count intelligent mail inserters with software designed to guarantee integrity of the processed mail.