Do you ever wonder why you get stuff from Amazon in such outsized boxes? At least now they are using air-filled plastic packing instead of those environmentally unfriendly Styrofoam peanuts. But really.
All of that may be about to change for some eCommerce companies. On a recent visit to Shutterfly's Shakopee MN facility, I saw the next generation of corrugated packaging in action. The company was running a new offering from Italian company CMC Machinery, called CMC CartonWrap.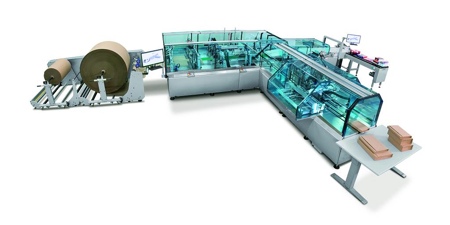 In many fulfillment and third-party logistics (3PL) operations, companies stock a variety of corrugated box sizes and styles for shipping, manually selecting the right size for each pack, including the right preprinted box, and filling extra space with paper, inflated plastic or other materials. We've all seen it. Sometimes the boxes are preprinted, such as those you get from Amazon. In other cases, blank boxes are used with labels. Boxes are manually assembled and filled, a process that is not efficient or automated, and leaves open the opportunity for human error. And with dimension-based pricing now common in shipping, the size of the box matters even more these days.
In peak seasons, like the one we have just been through, larger companies must add people to meet demand. At Shutterfly, production employment nearly doubles during peak season. According to a Fortune story, Amazon planned to add more than 120,000 temporary workers during the 2016 holiday season in the U.S. alone.
We may see a completely different story next holiday season if CMC Machinery has anything to say about it. CMC CartonWrap is an impressive piece of machinery, as you can see in this video. Blank or preprinted corrugated is fed into the system from one side, and the materials to be packed from the other. The system knows the dimensions of the product(s) to be packed and cleverly wraps a box around it that fits just right, with no packing materials or fillers; no need for a human to retrieve, assemble and fill the right sized box. Boxes can be as thin as one inch. And the system can pack 1,000 boxes per hour!
In an option due to be available in February, which the company calls "Packvertizing," 8.7" inkjet print heads are mounted at the end of the line to enable full color printing on the box. "Imagine that you are packing photo books," said Craig Hall, CMC's Area Manager for the U.S. and Asia. "As part of the ordering process, the consumer could select an image from the photo book to be printed on the outside of the box for the ultimate in personalized packaging." Packvertizing also offers numerous other opportunities, including eliminating the need for preprinted corrugated board, making it easier for 3PL organizations to pack materials from a variety of different companies on the fly, and the obvious labeling, logistics codes and more. Hall suggests that CMC CartonWrap has the ability to bring transpromo and augmented reality to boxes, making them interactive. "Imagine you receive a package for your birthday," he says, "and it is able to sing Happy Birthday to you!" Printing on the box can also link to product manuals, chain of custody information, or even back to the retailer's web site to encourage incremental spending for items "you might also like." All of those things become instantly available, according to Hall.
"Not only does CMC CartonWrap make the packing process more efficient," Hall commented, "but it also has significant cost and environmental benefits, reducing labor, material and transportation costs and the overall carbon footprint. With eCommerce in the U.S approaching 10% of retail sales and growing at double digits, that's a lot of boxes our system can affect. And, of course, its utility goes beyond eCommerce to other shipping needs as well."
As of the end of 2016, Hall reported that CMC has installed 35 of these systems worldwide, and he expects that number to grow significantly in 2017. So keep an eye on those boxes you receive for some significant changes in 2017 and beyond!