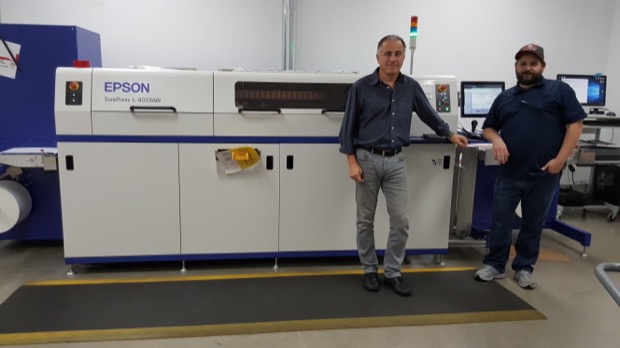 Carlos Garmendia (left), president, Graphic Image Label, with press operator Brandon Buckley at the Epson SurePress L-4033AW
As co-owner and president of a high-value-added label printing company, Carlos Garmendia knows how to recover every cent of his investments in digital production equipment.
He ran his first digital press for seven years until the time came to replace it with a late-model device that can print more color on a wider range of substrates. The new machine, an inkjet web press from Epson, will take over nearly all of what Garmendia used to produce on the older printer—which he still has work for, and which he intends to keep in operation for as long as it suits his needs.
The same hard-working future is in store for the Epson SurePress L-4033AW digital press at Graphic Image Label. Its installation has enabled a major expansion of business for the company, which specializes in short runs of self-adhesive labels for wine, craft beer, gourmet foods, health and beauty products, electronics, and industrial applications.
Founded in 1992, the company initially served customers in the U.S.-Mexico border region from its plant in Ensenada, Baja California. The Epson press is the technical centerpiece of a new facility in Chula Vista, CA, from which Graphic Image Label can cater directly to clients in the San Diego area.
The definition of "short run" can vary from label shop to label shop. At Graphic Image Label, it usually means jobs of 5,000 to 8,000 linear feet in full color with a variety of high-end finishing techniques applied. Substrate versatility is a must, as the visual appeal of a label on a bottle of wine or beer always depends as much on the surface being printed as on the inks and special effects being laid down.
Garmendia says that he found all of the capabilities he needed in the Epson SurePress L-4033AW, which he saw for the first time at Labelexpo Americas 2014 and installed in February of the following year.
Besides its attractive cost of ownership, one of its main advantages was the fact that as an inkjet press, it could print on all the stocks that Graphic Image Label uses without priming or pretreating. Nor were there concerns about heat damage to delicate foils and films—always an issue with toner-based systems like the one that the Epson SurePress L-4033AW replaced. Printing could be done in six colors (CMYK, orange, and green) plus opaque white for a color gamut broad enough to meet the requirements of any job.
Garmendia also liked the idea of eliminating the click charges he incurred on the older press. With the Epson SurePress L-4033AW, all he pays for is the ink. It has also proven to be an easy press to run, even for operators without prior digital press experience.
Graphic Image Label isn't a digital-only business. Garmendia also has letterpress and screen printing capability, and the conventional processes still account for about half of his production. Offline finishing techniques include hot foiling, embossing, laminating, and UV varnishing.
Everything operates in keeping with a strict quality assurance system based on the ISO 9001:2008 specifications for quality management and continuous improvement. Periodic audits by some of Graphic Image Label's larger customers also help to keep standards high and results exceptional.
The company had been in business for about eight years before it began printing labels for Baja California wineries. Today its customer base for labels consists of small businesses as well as multinational enterprises. Garmendia estimates that about 85% of his accounts are small firms, although the bigger customers contribute the bulk of the revenue.
They're all alike in expecting the highest quality reproduction that a label shop can give them—a benchmark that Garmendia says he is confident of meeting with each run on the Epson SurePress L-4033AW.
Most jobs take full advantage of its CMYKOG inkset, and the press handles commonplace and exotic stocks with equal ease. This includes uncoated, textured papers with tricky finishes like linen and eggshell—substrates that the shop's first digital press wasn't up to printing.
Garmendia says that part of his due diligence for the purchase of the Epson SurePress L-4033AW was asking Epson to show that it was able to print on substrates the manufacturer hadn't specifically claimed the press could work with. Having passed that real-world test, the machine also demonstrated that it was an exceptionally stable platform—so much so that Garmendia often runs it unattended overnight.
"Unattended," he explains, means that there's no need for an operator to stand next to the press while it runs as long as someone nearby can respond when it needs a roll splice or sends some other kind of alert. Otherwise, the Epson SurePress L-4033AW carries on printing webs up to 13 inches wide at speeds up to 16 feet per minute. This lets Garmendia set up gang runs of similar labels on common stock and program the press to begin printing them whenever he wants production to start.
The high-resolution output—720 x 720 dpi on paper and 1,440 x 720 dpi on film—comes from Epson's MicroPiezo inkjet technology, which is designed to place variably-sized droplets of water-based, resin-coated pigment inks on gloss, semi-gloss, matte, film, clear, and metallic substrates. As recommended by Epson, the SurePress L-4033AW at Graphic Image Label uses Wasatch SoftRIP as its workflow and color management software.
Garmendia intends to shift 95% of the work that his first-purchased digital press was doing onto the Epson SurePress L-4033AW, which has features and capabilities that the older press cannot match. However, there will still be a role for the original workhorse in printing variable-data jobs, something that the Epson SurePress L-4033AW is also called upon to do.
Garmendia says that like any other printer who ever started a label business, he learned that after the launch comes "the never-ending story of buying equipment." He knows that the story ends well when the equipment is used in a way that assures maximum ROI—a strategy clearly at work behind everything that happens at Graphic Image Label.