A company's brand is so much more than its logo—it encompasses every part of the customer experience, from marketing messages to product quality to how staff members answer the telephone to customers' interactions with employees. Simply put, a brand is a company's promise to its customers. It tells them what they can expect from a company's products and services, and it differentiates an organization's offerings from those of its competitors. The value of a brand is derived from who an organization is, who it wants to be, and how people perceive it. The value of a brand is important to the success of any organization.
InfoTrends and Buyers Laboratory, LLC (BLI) recently unveiled a new branding after a long and thorough process of strategic evaluation and analysis. Many of you likely saw the press release announcing our new name, Keypoint Intelligence. Given the importance of branding to your organization and our recent experience, this article shares the journey that BLI and InfoTrends took to evolve into Keypoint Intelligence. It also outlines the steps that we will be taking to formally establish our combined brand in the market.
Commenting on the rebranding effort, Gerry Stoia, Chief Executive Officer of Keypoint Intelligence, states, "It has always been our mission to help our clients grow their businesses and become more profitable. Together, we are even better positioned to help them make every decision with confidence. Although customers have shown great loyalty to both Buyers Lab and InfoTrends, we felt that the combined company needed a new identity—one that reflects the power of our union and the comprehensive scope of services that we provide."
A year ago, BLI announced its acquisition of InfoTrends. This move was a significant event in the evolution of both companies. The combined business brings together Buyers Lab's expertise in evaluation and testing with InfoTrends' leadership in market research, strategic consulting, training, and education. Over the past several months, our combined organizations have been working diligently to evaluate how we should brand ourselves to permeate the appropriate values across our entire organization while also delivering a clear brand promise to our loyal customer base and prospective clients.
The Branding Journey
Defining a brand, especially after an acquisition, is a process of self-discovery. We took the following key steps to guide our branding journey:
1. Start with Customers
Every branding process should start with reaching out to your customers to determine their thoughts and views about your company. Customers of both Buyers Lab and InfoTrends were asked to describe how they felt about the brands and what they perceived as the bene?ts and challenges of unifying the brands. What we learned is that both companies possessed high level of brand equity. In speaking to our customers, one of the key takeaways was that neither brand should be lost in the process. As a result, the members of senior management decided to establish an overarching brand that captured the essence of the combined companies, but kept the name of each intact as divisions of Keypoint Intelligence.
2. Engage Internal Staff
Successful brands are aligned with their organizations' short- and long-term strategies. Your staff members are a key resource for realistically defining your brand messaging based on your actual capabilities. Keep in mind that your brand promise needs to meet customers' expectations.
For our branding effort, we conducted a workshop with staff from InfoTrends and Buyers Lab. During the event, ideas were freely exchanged, opinions were shared, and insights were gained. This event enabled us to clearly define the following foundational elements to develop our brand:
Our mission
The benefits and features of our products and services
What customers already think about InfoTrends and BLI
The qualities we wanted associated with the combined entity
3. Define the Differentiation
Understanding key points of competitive differentiation is critical to a brand. During this step, organizations must develop an understanding of where they are in relation to their competitors. We spent time developing our unique value proposition during this stage. When it comes to effectively positioning your brand, you must clearly identify what sets you apart from your competitors and use this as a guide for branding, marketing, and messaging.
4. Create a Message Map
An essential step in brand development is creating a message map. For those unfamiliar with message mapping, it is a framework that is used to create compelling, relevant messages for various audience segments and for internal organizational alignment. Whether you are launching your company, rebranding, introducing the next big product/service, or preparing for other major marketing campaigns, messaging mapping is an important step in effective communication.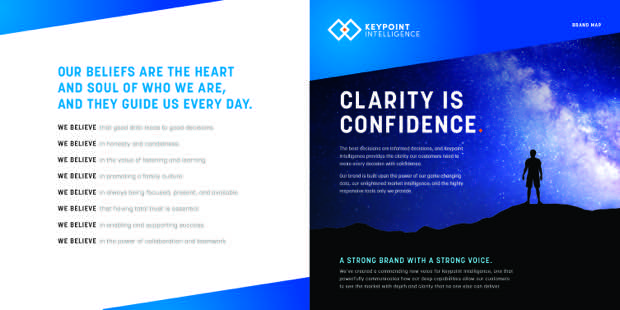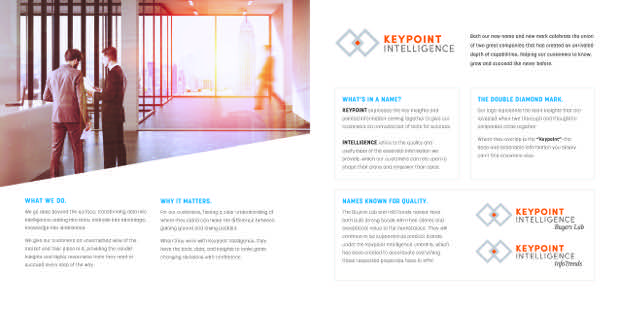 Message Mapping for Keypoint Intelligence
The message map helped our team define the key messages that needed to be communicated to our customer base. The most important component of the message mapping process was determining what our brand meant to us. We viewed this as defining the "soul" of our brand, and it resulted in developing the following fundamental beliefs:
WE BELIEVE that good data leads to good decisions.
WE BELIEVE in honesty and candidness.
WE BELIEVE in the value of listening and learning.
WE BELIEVE in promoting a family culture.
WE BELIEVE in always being focused, present, and available.
WE BELIEVE that having total trust is essential.
WE BELIEVE in enabling and supporting success.
WE BELIEVE in the power of collaboration and teamwork.
In addition, we identified two critical terms that should be associated with Keypoint Intelligence. The first is confidence. As a combined organization, we want our customers to feel like they are working with the most reliable and unbiased information so they can make the best decisions for their businesses. The second is partner. We want our organization to continually convey a deep understanding of our customers, their products, and their business objectives. A sharp focus on these areas establishes us as a true and meaningful PARTNER to our customers in every sense of the word. We want our customers to understand that they can trust us to always tell the truth, even when it's tough to hear.
5. Establish a Clear Brand Strategy
Another important function of the message map is that it establishes a clear brand strategy, which provides the clarity that staff members need to make the brand successful. It tells them how to act, how to win, and how to meet the organization's goals. Our efforts resulted in a decision to brand BLI/InfoTrends under the parent company Keypoint Intelligence. The name captures the following critical messages that we want to convey to the market:
We blend key insights with pointed information to give our customers an unrivaled set of tools for success. We are the best partner to be there at the moment of truth when critical decisions are made.
Our branding messages are built on the premise that the market clarity and insight we provide will give our customer base a greater confidence in the decisions that they make. We want our customers to view us as a partner that goes deep beyond the surface—transforming data into intelligence, and testing into tools to give our clients a competitive advantage in the market.
According to Deanna Flanick, Chief Revenue Officer of Keypoint Intelligence, "Our new brand identity is a strong representation of what sets us apart in the global digital imaging intelligence marketplace. Our new double diamond mark represents the two companies coming together, and the vibrant orange spot where they overlap indicates a 'Keypoint,' one of the many deep insights that only we can provide."

Keypoint Intelligence's Logo
6. Apply and Execute
This step is where the pedal hits the metal in building out and activating your brand. It is the execution phase, and all of us at Keypoint Intelligence are in this phase now. We are currently updating our website, signage, business cards, and deliverable templates. Beyond the cosmetics of a rebranding, though, we are also uniting our strengths across the organization to meet our brand promise to customers and the greater industry that we serve. That means ensuring that we deliver intelligence to you… Keypoint Intelligence!