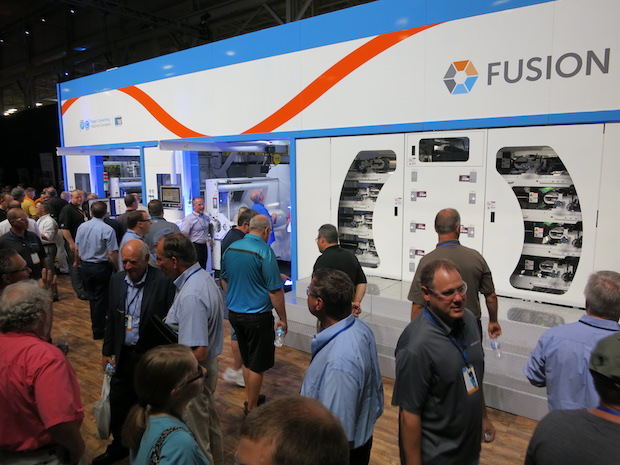 The Fusion C (Compact) central impression (CI) flexographic packaging press in debut at PCMC's main manufacturing plant in Green Bay, WI
It was called PCMC Impact 2016, and it was a proprietary trade show—an in-house, brand-specific event put on by a single vendor to showcase its own wares and those of its sponsoring partners. The mini-expo's primary purpose was to introduce a new piece of equipment, a central impression (CI) flexographic web press for film packaging.
With 250 guests paying close attention throughout the day on August 3, the program in Green Bay, WI, accomplished everything that the Paper Converting Machine Co. (PCMC) and its 41 co-exhibiting sponsors intended it to. But, also on display at PCMC Impact was the hosting company's unique standing among U.S.-based printing equipment manufacturers and the pride that PCMC takes in the transformative way in which it has earned that distinction.
Founded in 1919, PCMC makes converting machinery for the tissue, nonwovens, package printing, and envelope manufacturing industries. The company employs about 850 people in Green Bay and has additional facilities in Italy and England. Since 2005, PCMC has been a part of Barry-Wehmiller, a multinational network of companies supplying equipment and engineering consulting services for packaging, paper processing, and converting.
PCMC's flexo product lines for packaging printing consist of the Fusion, Fusion MAX, and the newly introduced Fusion C series of CI presses; and the inline ELS Max. Also manufactured in Green Bay are various machines for handling, processing, and wrapping tissues, towels, wet wipes, and napkins.
Packaging was in the spotlight at PCMC Impact 2016, which featured Fusion presses in live demonstration runs on flexible film and board. Tabletop exhibits by the sponsors indicated PCMC's broad range of partnerships with suppliers of prepress, consumables, press components, and other supporting technologies for flexo production.
PCMC believes it enjoys a strong competitive advantage in being the only remaining manufacturer of CI flexo presses in North America.
During the event, the company emphasized the fact that 78% of what goes into its presses is manufactured internally—only a few miscellaneous structural items, such as railings, are contracted out. The presses, which can be built to order, are fully assembled and tested in the Green Bay plant prior to shipping and installation. U.S. customers can get 24/7 support for parts and service "in our hemisphere, in our collective time zones," as Chris Batchelder, a PCMC regional sales manager, put it in his introduction to one of the demos
The company's flagship products for packaging are its gearless, wide-format CI web presses, in which sleeve-mounted plates and their flexo printing units are arrayed in satellite fashion around large central impression cylinders. Milled and serviced in the Green Bay plant, the cylinders are massive, wheel-like steel drums that hold packaging substrates firmly in place for tight registration and color accuracy at high running speeds.
First brought to market in 2009, eight- and 10-color Fusion series presses come in 42", 52", 59," 66", and 75" web widths with repeat lengths from 12" to 45". Top printing speed is 1,600 fpm with an option for 2,000 fpm on the Fusion MAX.
Depending on the model, Fusion presses can print film, foil, paper, foam, board stock, and tube stock (the heavy plastic that wraps frozen turkeys). With their multicolor capability and plate screens as high as 175 lpi, PCMC bills the presses as lower-cost, comparable-quality alternatives to offset litho presses for packaging applications.
The presses are engineered for the rapid job changeovers that all packaging printers have to be ready to deal with as run lengths decline and SKUs multiply. In one of the demos, two operators changed plate sleeves on all decks, or printing units, in just a handful of minutes. Press downtime is minimized with a hands-free, fully automatic washup system that cleans all decks simultaneously in four minutes. The CI drum cleaner can do its job during normal press operation in about the same amount of time.
Everything that PCMC has developed for the Fusion series is present in the new Fusion C, but in a compact format scaled for environments where shorter runs are becoming the norm. With a smaller footprint for ease of operation and 58% fewer parts than previous CI models from PCMC, the Fusion C is built for fast setups, quick starts, and the kind of short-run productivity needed "to get more of your customers' jobs to the marketplace faster," said Jason Beauleau, sales engineer.
The 10-color press, revealed to the audience with the dramatic drop of a curtain, is 44' long, 24' wide, and 14' high. At that relatively low height, with the help of a three-step platform, operators can access all of the servo-driven print decks in the CI section without stooping or overextending. Because the press can store and recall job settings and preset register based on repeat size, crews can concentrate on quickly swapping out plate sleeves and doing whatever else is necessary to shrink the intervals between runs.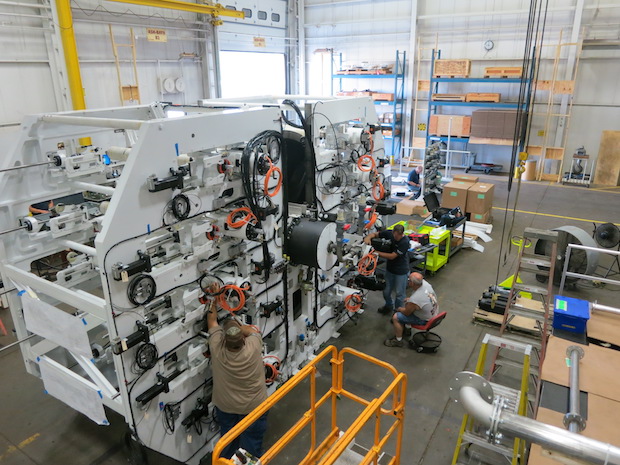 PCMC Fusion presses are fully assembled and tested prior to delivery
The Fusion C prints a 42" wide web with cutoffs from 12" to 30" at a top speed of 1,000 fpm. During the run, an on-board camera inspection system called True Print monitors register and impression by comparing the print to a PDF master.
The press can run with solvent, water-based, and UV inks. Its energy-efficient Flextreme drying system, which is said to use 50% less intake and exhaust air than competitive systems, can reach temperatures up to 400º. An aftercooler lowers the temperature to protect heat-sensitive films.
In its demo, the Fusion C printed jobs in eight colors—CYMKOGV plus opaque white—on 75-gauge OPP film. This demo was complemented by a presentation around another CI machine, a Fusion Board press designed for that type of substrate. (There is a separate model, Fusion Flex, for film.) In web widths of 42", 52", and 59", Fusion Board can print stocks up to 30-pt. thick at a maximum speed of 1,500 fpm.
A larger and faster press than the Fusion C, Fusion Board has the same automation features and the same gearless, servo-driven print decks. Among its options are nonstop autosplicing and adding digital printing modules for variable content. It also has the ability to split the printed web into four separate streams prior to rewinding.
The Fusion press demos, the sponsor tabletops, and the plant tours showed PCMC to be a robust and progressive factory operation that has come a long way from the crisis of confidence it was mired in before its acquisition by Barry-Wehmiller in 2005.
At that time, said Steve Kemp, president of PCMC, the Green Bay company was "a broken business" so badly hammered by competition that it had outsourced some of its manufacturing to Brazil and was on the brink of sending more of it to China.
This began to change when Bob Chapman, chairman and CEO of Barry-Wehmiller, convinced the PCMC management team that it could change—and that for the sake of the people who worked there, it had to. What Chapman brought to PCMC was the same organizational philosophy he has instilled throughout the Barry-Wehmiller network: a set of guiding principles for leadership drawn from the core belief that "Everybody Matters."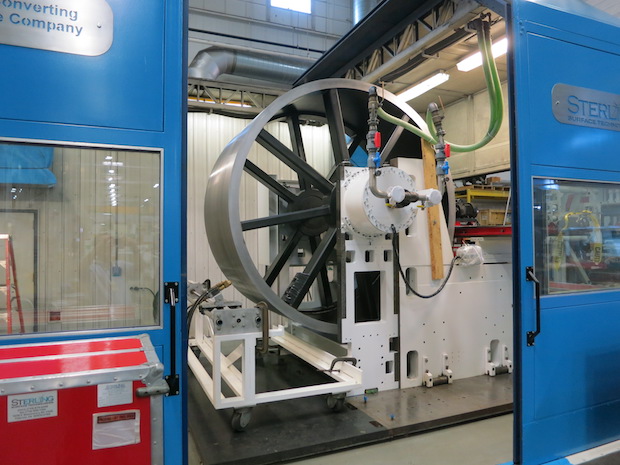 The central impression cylinder of a Fusion press
Chapman tells the story of PCMC's turnaround in the prologue of his book by that title (co-written with Raj Sisodia). Everybody Matters: The Extraordinary Power of Caring for Your People Like Family advocates a humanistic style of leadership that cherishes employees as family members and encourages them to excel at what they do. The tenth of its "10 Commandments of Truly Human Leadership" is, "Always measure success by the way you touch the lives of people!"
Evidence of how PCMC has put Chapman's approach into practice is not hard to find in the Green Bay plant.
A display near the lobby, for example, salutes the current winner in the SSR program, in which employees nominate one of their own to take possession of a Chevrolet SSR convertible sports truck—an automotive cult icon—for a week. In another part of the plant, employees can take inspiration from signage that spells out Chapman's guiding principles and declares the "safety covenant" that protects everyone on the job.
Committing to the idea that everybody matters proved to be the key to getting the business back on track. "Since 2005, the transformation of PCMC has been unbelievable," said Kemp, an executive with the company since 1979.
It's not only about motivational cheerleading. As a maker of converting machinery, PCMC also follows the rules of lean manufacturing—a rigorous methodology focused on waste elimination and continuous process improvement. But even here, Chapman's guiding principles of people-centric leadership make themselves felt.
Lean is effective, but it can also be cold and detached—"sometimes to the detriment of employees," said Mark Zastrow, vice president of sales. "We don't call it that." The preferred expression is "Living Legacy of Leadership," or L3. In Everybody Matters, Chapman and Sisodia write that this version of lean is about "engaging people's head, heart, and hands in creating their own future and actively shaping the business every day."
This lets PCMC be guided by "people trained to think in lean principles" instead of having to focus strictly on numbers, Zastrow said.