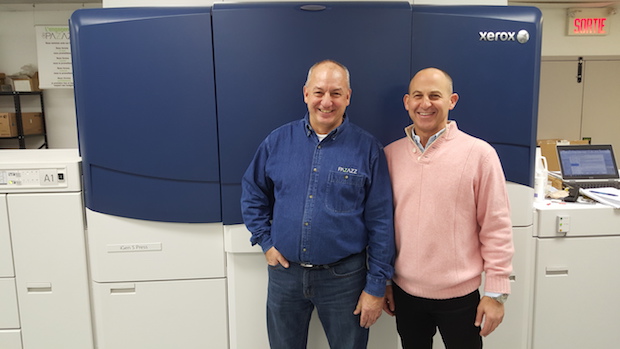 Warren Werbitt (right), "Fondateur & Pêcheur" (Founder & Fisherman), Pazazz, with plant manager Denis Beauchamp at the Xerox iGen 5 digital color press
Everyone who knows Pazazz knows Warren Werbitt, and everyone who knows Warren Werbitt knows that he means business when he declares, "I'm into anything and everything that requires ink, toner, and color of any sort on any type of print medium." Since 1992, that single-minded passion has helped him to build and burnish Pazazz's reputation as one of North America's most progressive commercial printing establishments.
Werbitt focuses a lot of that passion on labels and packaging, applications that produce about 30% of his volume. The beginnings were modest. A few years after he and his brother and co-founder, Shawn Werbitt, started the company in Montreal, QC, as a small-format offset shop, they began reselling labels from trade suppliers as a side business. In 2004, they brought label production in-house as part of a plan to grow Pazazz into the one-stop print services facility that it is today.
Packaging capabilities now include 40" and 56" offset printing with UV in the larger of the two formats. That press, a six-color KBA Rapida 142 hybrid, puts UV-curable inks and coatings on heavy boards and corrugated stocks for packaging. A recently installed Xerox iGen 5 digital press with a thick-stock printing option also is suitable for packaging printing. For labels, Pazazz operates flexographic and digital web presses supported by an ABG Omega Digicon HS finishing system.
With this equipment, there are few label and non-flexible packaging opportunities that Werbitt can't pursue. But, he says, "I only want to grow where margins and profitability will be good." Among the markets currently providing that kind of opportunity for Pazazz are food and beverage, health and beauty, nutraceutical, household, industrial, petrochemical, and paint.
To serve these customers, says Werbitt, Pazazz can make packages "for anything that needs packaging." The mainstay applications are folding cartons, rigid boxes, sleeves, and blister packs printed with multiple colors and finishes on a full range of packaging substrates, supported by scoring, diecutting, and gluing. Freezerboard cartons for food are in heavy demand, as are rigid board and plastic containers for luxury items. None of it, says Werbitt, is commodity printing, a category that the company avoids and that he thinks the industry as a whole has become too dependent upon.
Label printing in 10 colors on a Mark Andy Performance Series P5 flexo press and in up to seven colors on an HP Indigo WS6600 digital press can be augmented with hot or cold stamping, gloss, matte or holographic lamination, UV varnishing, embossing, diecutting, and bar code numbering on the Omega Digicon system. In contrast to packaging, nearly all of which is printed conventionally, more than one-third of the label volume is digital. Pazazz broke into digital labels nearly nine years ago by becoming the first label producer in Canada to install an HP Indigo WS4500, which at that time was HP's premier solution for digital label printing.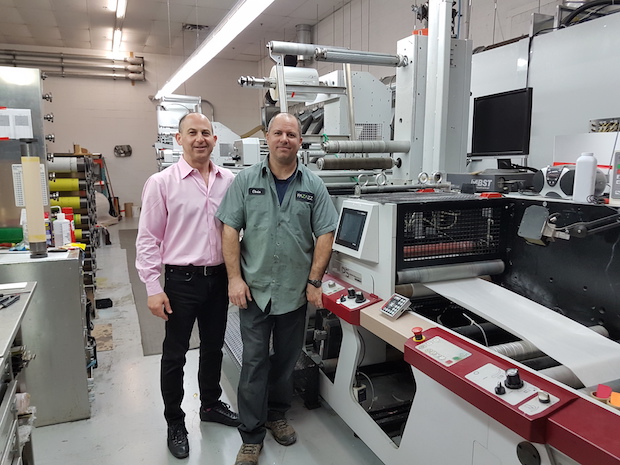 Chris Martinello (right) operates the Mark Andy Performance Series P5 flexo press at Pazazz
More packaging should migrate to digital production as Pazazz gets the full hang of the iGen 5 it installed last November. This 14.33" x 26" device, new from Xerox in mid-2015, has an expanded-gamut option that produces what Werbitt calls "spectacular," offset-competitive color. He adds that because it can print stocks up to 24 points thick, it ought to be able to handle "everything that isn't freezerboard" as a packaging press.
A potential application is small-quantity production for product testing and sampling. Another is customized packaging for private-label brands. Werbitt notes that it will take time to acquaint customers with what short-run digital packaging can do for them and with what they should expect to pay for it. "We have to invest in educating customers," he says.
Werbitt sees demand for variably printed packages and labels as something else that could develop, given sufficient time and awareness. He points out that the numerous SKUs and product variations that have to be accommodated in some label runs bring that kind of production close to being "personalized" printing.
Tying everything together at Pazazz—packaging, label, and commercial printing as well as the company's very extensive capability in grand format output—is Werbitt's insistence on the highest standards of consistent print quality. He says that when customers come to Pazazz with jobs that span multiple processes, they get peace of mind from knowing that the company will nail down the hardest color requirements first and then apply those strict benchmarks to everything else that follows.
This methodical pursuit of quality is what motivated Werbitt to make Pazazz Canada's first PANTONE® Certified Printer, a distinction earned with the help of X-Rite last year. It means that Pazazz can document its adherence to rigorous quality management procedures throughout the entire offset printing sequence—an assurance that many packaging and label customers insist upon. The company is also a G7 Certified Master Printer.
Werbitt puts equal emphasis on job costing, a discipline that he believes gives him an edge over competitors who aren't as careful as he is about keeping track of production expense. Paying scrupulous attention to costing, he says, is the only way a printing company can be sure it isn't taking jobs it can't make money on—the key to staying out of the commodity-pricing trap.
Visitors to drupa 2016 may run into Werbitt as he looks over what the vendors have to offer for labels and packaging and the other kinds of production that take place at Pazazz. He says he'll be thinking about how he can articulate the benefits of what he sees—and possibly decides to invest in—to his customers.
"People don't make money buying print," says Werbitt of the customer mindset that every printer has to overcome. This is why Pazazz works hard to convince them that well-produced print is an investment that can help them become more profitable.
The competition "can only sell what they can do," Werbitt says. "We offer ideas that get customers the ROI they are looking for."