In my first HP article in the production inkjet series, I covered the evolution in thermal inkjet, and its lead up to the HP production inkjet press developments. Since that initial article, there have been some changes at HP. Last November, HP split into two separate companies: HP Enterprise, which sells data center technology and services to businesses; and HP Inc., which focuses on printers from desktop to production inkjet in addition to 3D printing. In conjunction with the split, HP Inc. has also rebranded its inkjet business and production product lines to PageWide Web Press to reflect the underlying PageWide Array inkjet technology. The current PageWide technology is based on HP's 4.25 inch printhead released in 2009 although many of the new drupa introductions will be based on its newer High Definition Nozzle Architecture (HDNA) printhead technology. More on that later.
HP Thermal Inkjet
HP has been producing Drop on Demand Thermal Inkjet technology since the mid- 1970s, and has differentiated itself through the use of this type of technology in its products, while many of its inkjet competitors have relied on Piezoelectric Drop on Demand or Continuous Inkjet (CIJ). Each of these printhead technologies has its advantages, as we have discussed in the past. In an effort to give you a better understanding, I will continue to dig into the underlying technology for each as we cover their respective presses. The following video will provide you with a much better understanding of HP Thermal Inkjet.
PageWide Web Presses
Since the initial demonstration of the T300 at drupa 2008, the HP production inkjet presses have been very productive, and HP estimates that in 2015, its installations produced 50 billion pages or about 24% of the production inkjet market total. HP separates its press line into three main application classes of product: Monochrome, Color Web, and the newest class, Corrugated Packaging. The company addresses each of these with three core hardware series platforms: T200 (up to 20" and 400 fpm), T300 (up to 30" and 600 fpm) and T400 (up to 42" and 600 fpm) which correspond to the width of the web supported in each, with the exception of the Monochrome line. For Monochrome there is also the T260 which supports up to a 26" web width at a speed of up to 800 fpm. Since the introduction of the production color inkjet web press, one of the first production inkjet presses at drupa 2008, HP inkjet technology has continued to evolve. The focus has continued to move from reliability and speed to quality.
PageWide HDNA Presses
In 2015, HP announced its latest generation of printhead technology with HDNA. We covered the HDNA technology in detail almost a year ago. In September of 2015, HP introduced its first two presses incorporating the HDNA technology. And for drupa, three additional new presses will be introduced. As a refresher, the unique HDNA printheads provide a density of 2,400 nozzles per inch per color on a single-color printhead producing dual drop weights. Each print head contains 21,120 nozzles that are divided between two separate chambers, with each chamber supplying the ink to 10,560 nozzles. These heads can be used for two colors, or a single color with even more nozzle redundancy.
The nozzles are divided into two sizes: a high drop weight nozzle and a lower drop weight nozzle, which is actually a tiny low drop weight (LDW) nozzle placed in between the high drop weight (HDW) nozzles. This interesting new head configuration brings with it support for 6 levels of grey per pixel, affording better color addressability throughout the color gamut while using the same HP A50 process inks currently in use today. The HD presses can run in Performance mode for jobs that need high throughput, or Quality mode for jobs that need higher reproduction quality. From the samples I have seen, the blends and flesh tones are exceptional when printed in 'Quality' mode.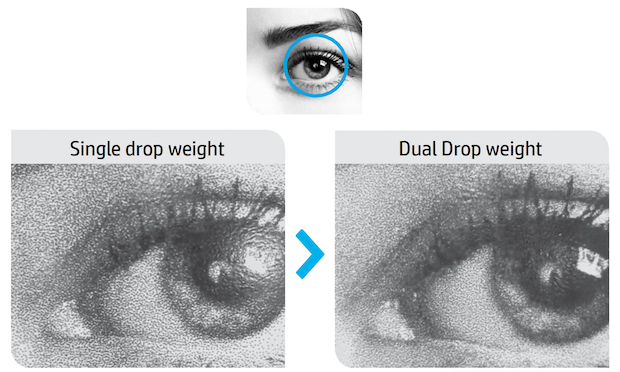 In 2015, HP announced the first two 42" web width HDNA presses, the T470 HD, with a maximum speed of 600 fpm in Performance mode and 400 fpm in Quality mode, and the T480 HD, with a maximum speed of 800 fpm in Performance mode and 400 fpm in Quality mode. Currently, Rotomail Italia, a direct mail and commercial printer in Italy, has been the beta site for the T480 HD, and CPI, one of Europe's largest book printers, will be upgrading their T410 to a T480 HD in May. Additional customers for the HDNA presses will be announced at drupa.
With further advances in the HDNA technology, for drupa 2016, HP added three more presses to this lineup. The 42" web width T490 HD and the monochrome T490M HD, both with a maximum speed of 1000 fpm in Performance mode and 500 fpm in Quality mode. Additionally, HP is releasing the 22" web width T240 HD, which supports 500 fpm in Performance mode and 250 fpm in Quality mode. HP is also boosting the Quality mode speed on the T470 HD and T480 HD presses to 500 fpm. We expect HDNA releases to reach the T300 series by early 2017.
PageWide Corrugated Packaging Presses
As the quality of inkjet printing continues to increase, more press manufacturers are able to start targeting new markets to replace existing print technology. HP has packaging solutions which include printing on corrugated board with its line of HP Scitex Corrugated presses. However, in 2014-2015, HP introduced two high speed inkjet web presses that print corrugated top liners. This method provides a much more productive and cost effective method for producing short to long runs and variable corrugated product.
The HP PageWide Web Press T400S is a simplex color press that supports a web width of up to 42 inches at a speed of 600 fpm. This is built on the basic frame of the HP PageWide Web Press T400 series that has been in the market since 2011. In addition, HP in collaboration with KBA, introduced the HP PageWide Web Press T1100S. This press supports a web width of 110 inches (2.8 meters), and prints at speeds up to 600 fpm. This press is also designed with HP Multi-Lane Print Architecture (MLPA), which supports splitting the web into multiple print lanes, so different boxes and run lengths can be printed together.
Conclusion
While many of the current production inkjet products are primarily targeted at, and replacing both cut sheet and continuous feed liquid and dry electro photographic presses, the HP PageWide Web Press 'T' line of production inkjet presses are designed for offset replacement. The speeds and durability that would enable offset replacement have been there for a while, but the print quality until now has limited the applications that can be targeted. With the new HD presses, the range of target applications has increased beyond Transactional and Books, to high quality Direct Mail, Collateral, Magazines, Catalogs, etc. As I mentioned in the first article of the new Continuing the Story series, I expect the inkjet transition to not only continue but to accelerate as well. The new HDNA technology will help drive that acceleration.
In the next article, I will continue the HP story with HP Indigo, its evolution and what we can expect at drupa. Even though it is not inkjet, a great deal is happening in that space and we want to make sure you stay informed!
I hope to bring you lots more detailed information, as we did in the past, to prepare you for your visit to drupa. Or if you are not going, to prepare you for your investigation into production inkjet and other equipment acquisitions. In advance of the next wave of articles, I would suggest that you do a 'review' of the original production inkjet and workflow series' as a refresher. It not only covers the vendors and machines that have made it to market, but also the driving technology, requirements and impediments.
Stay tuned for lots more in-depth information on other production inkjet solutions as the information becomes available and as we get closer to drupa 2016, as well as after the show.