We know there are microbusinesses out there, and the best way to get a handle on it is an obscure government report called "Nonemployer Statistics." The official definition is "businesses that have no paid employees and are subject to federal income tax." These are most often sole proprietors, but they can be partnerships or S corporations. As long as they have no employees and pay the Federal income tax and their Social Security & Medicare tax as part of their annual tax return, they are counted in this report. A portion are businesses related to hobbies, but others can be independent sales agents or manufacturers representatives. Many are involved in content creation, such as graphic designers, copywriters, freelance writers, photographers, and others. We will detail those at another time. This table (click to enlarge) shows all of the establishments, microbusinesses included, in the US economy for 2013. The table combines nonemployer statistics with the annual County Business Patterns. Microbusinesses are about three quarters of the business entities in the economy and their employment is about one-sixth of the workers. (There is likely a small overcount because of microbusinesses that are part time for people who have another job; the same is true for the other employees who might hold more than one job; more on that later).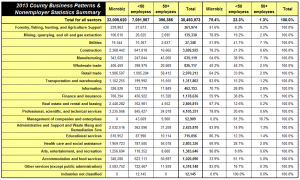 The pie chart (click to enlarge) shows how the microbusinesses alone are segmented.
Nearly 270,000 microbusinesses were added in 2013 compared to 2012, an increase of +1.2%. As part of flexible workforces, companies are using telecommuting strategies, and sometimes having former employees set up as separate businesses in the process. Others are choosing the flexibility of working at home. Now that millenials are the largest portion of the workforce, businesses are catering to one of their biggest work life preferences, which is the ability to be flexible with hours and locations. There are companies who are choosing to use home workers as a means of managing their current and future employment costs, of course. Microbusinesses are increasing their portion of the workforce and the population. In 2002, there were a little more than 17.6 million microbusinesses, and in 2013 that had grown by 30% to 23 million. In that time, population grew by 10%. It is likely that more baby boomers nearing retirement have opted for working at home in combination with millenials seeking these kinds of work arrangements as standalone businesses (and as employees who telecommute). There are businesses that are nonemployers who do not work at home but deliver their services where they are needed. Among these are construction workers, many of whom work on site, and numerous service providers who provide their services in homes (cleaning personnel, nursing and other health practitioners, for example). As long as they do not get a W-2 employee tax statement and get a 1099 income statement instead, they are included in these statistics. Earlier we mentioned the possible overcount of workers. These next two charts eliminate that overcount. The first bar chart shows that the number of microbusinesses are now 7.3% of the population, the highest in years. Note the drop after 2007. Much of that decline was related to the mortgage crisis and affected the number of workers in housing-related industries, such as construction, real estate sales, mortgage banking (mortgage agencies, legal, and others) and professional services (assessors, architects, interior design, and many services).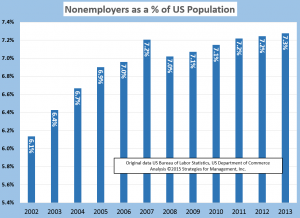 The second bar chart shows that microbusinesses have increased in relation to the labor force to about one in seven workers. Note that the decrease from 2007 to 2008 was not as steep. Because many workers exited the workforce, and a large portion of those have not returned, this measure of microbusinesses has been more stable.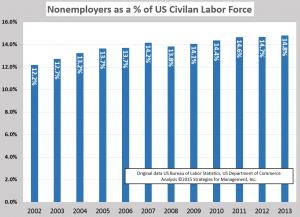 These businesses represent opportunities for many print businesses, well beyond the basic business card. They now have access to an incredible array of computing and communication services at very low cost, such as web sites, e-marketing, and other promotional means. There's even a free service that turns your LinkedIn page into a standalone mobile-ready website, Branded.me. Not all small businesses become big, and that's the case for microbusinesses, too. Not all of these businesses need promotional support (such as freelance construction workers who rely on personal relationships with builders). But many of them do. Most small printers are offering a wider range of services than ever, especially those connected with forward-thinking franchise organizations. Small businesses have always liked the counsel of other successful small business owners. It is worth seeking many of these businesses out in places they will go to socialize and also go to find out about starting businesses. Why can't many of our small printers become the "experts" at starting businesses? Speak at a Chamber meeting or event. Moderate a panel. Host or sponsor "start your own business" events. There is a new work format that is emerging called "co-working." This allows entrepreneurs and microbusinesses to share workspaces at low cost. Rather than being alone at home working, you can be in a workspace where many "alone" workers can have a distinct place to work and have access to services. It might even be wise to locate a printing business inside one of these buildings or nearby. Aside from selling services, many of the participants in co-working spaces are involved in graphic communications and digital media. This can give the printing business access to good talent without having the cost risk of a full-time hire. Alliances with media professionals will be an important aspect of successful print businesses in the future, and this may be a way to start that process.