The latest recovery indicators were mixed, with weaker results in the ISM manufacturing report adding to a growing consensus that Q1-2015 GDP would be close to zero. The non-manufacturing ISM was more positived. The first estimate of GDP will be released at the end of the April. The NASDAQ fell back -1.3% since last month. Proprietors income was revised down slightly from $1,403.1 billion to $1,402.5 billion. (click chart to enlarge)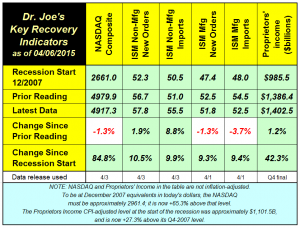 Last week's unemployment report sent things into a tizzy, adding to concerns of an economic slowdown. The payroll report was well below expectations, and the prior two months (which had created much economic bullishness and perhaps even giddiness) were scaled back. As readers know, it is our preference to look at the household survey, which includes self-employment and freelancers. That survey is used to calculate the unemployment rate, which remained at 5.5%. The household survey was up only +34,000 jobs.
Of concern is the continuing low level of the labor participation rate. It came in at 62.7%, and was the lowest since February 1978. Saturday Night Fever's soundtrack was everywhere. Night Fever by the BeeGees was the #1 song. Rockford Files, nearly unwatchable by today's standards, won an Emmy for best TV show that year, and Annie Hall was best picture in 1978.
The only real bright spot in the employment report was that the number of workers with full time jobs increased slightly.
There are serious geopolitical and economic risks which can cause rapid business disruptions; these need to be monitored. While the risk of recession seems to be rising, the more likely outcome is the continuing economic muddle of +2.25 to +2.75% annual GDP growth.
* * *
Q1-2015 GDP will be low; but please don't fall for the harsh winter arguments as the primary cause. First GDP is seasonally adjusted, and winter seems to come around the same time every year, last I checked. Business in general, is far more efficient because of communications and computing, and especially the use of electronic funds payments in banking. Decades ago, weather-related mail slowdowns used to disrupt corporate cash flows; they don't now. Also, a greater percentage of the workforce than ever can get much of their work done through the marvels of modern computing. Even the transportation business, has seen significant efficiencies that allow them to manage weather disruptions better, especially in the post-storm recoveries.
# # #