For many print providers speed and throughput are the keys to success. High volume print environments require fast machines to get all the work out and as offset transfer in black and white printing becomes more commonplace, speed is a big factor. In book publishing, for example, digital printing that can replace offset becomes more attractive as production speed increases. Back during the On Demand show in New York, I wrote about a book production system based on the Delphax CR1300, a 300-feet per minute printer. That machine was part of a production system that cranked out a perfect-bound 200-page book every 5 seconds. At drupa, Delphax has upped the ante with the new CR2000, which runs at 450 feet per minute and churns out a 300-page volume every 5 seconds. Such impressive print speeds drew crowds to the Muller Martini stand where the system was running at full tilt, incorporating a variety of Muller Martini finishing systems.
Another CR2000 was ensconced at the Delphax stand running a pre-printed direct mail piece. The print quality, now at 600 dpi, was very good, and there's little reason to quibble about the halftones, either.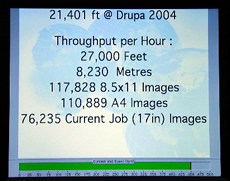 Above each machine were monitors indicating how quickly the machine was running and the resulting throughput over various time periods. The screens each had a green bar across the bottom that indicated speed which remained constant while the display above the bar changed to show throughput per minute, per hour, over an eight hour shift, and for a 30-day month. The numbers were impressive and showed off the industrial-strength capabilities of these big machines. I talked with Bob Vandenboom,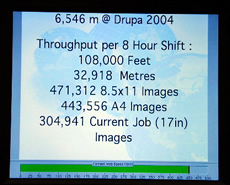 Worldwide Marketing Director who noted that the machines run so quickly that for many applications, pre- and post-processing equipment for offset web presses must be used, because the current state-of-the-art equipment for other digital presses isn't fast enough. As it turns out, this actually makes it easier for these machines to fit into the operations of existing web offset printers. On the other hand, the book production shown in Muller Martini's stand works well because slitters, stackers and conveyors serve as a kind of buffer to the actual binding equipment, which has no trouble keeping up with the steady stream of 300-page book blocks.
Still the numbers are impressive: 450 feet-per-minute translates into 471,312 8.5 x 11 images in an 8-hour shift. By comparison, this speed is 8 percent faster than Nipson's VaryPress 400, which runs at 415 FPM, and substantially faster than other high speed continuous feed digital presses from IBM, Océ and Xerox. Still, while the other firms have less speed they have more thoroughly developed workflow solutions than Delphax--which can aid productivity. But on the types of jobs for which the CR2000 is likely to be used, books, long direct mail and transactional runs, complex workflows may be less critical. And in any event, Delphax is working with partners to fill any gaps in their workflow. When speed is a key requirement, the CR2000 is worth a very close look.
What IBM showedand didn't
Meanwhile, several buildings away in Hall 5, IBM had its own book publishing solution, printing 6 x 9-inch perfect bound books in both German and English on an Infoprint 4100. According to Lyra Research, IBM is presently the industry leader in digital book production, with a high profile presence at book printers like Caragraphics in Columbia, PIMS in the U.K. and Quebecor World in the U.S.
While the book printing took up a quarter of the IBM stand, other applications and technologies were also being demonstrated. The 4100 line has recently been updated with increased media flexibility for commercial printing, a new high-speed MICR capability, and a productivity tracking feature to aid in monitoring production, helping customers control costs. Showing this off was an Infoprint 4100 HD3/4 printing MICR statements at up to 1220 impressions per minute (ipm). IBM also had its cut-sheet machines, the Infoprint 2075ES running PPML, Postscript PDF, and AFP files, and an Infoprint 2090ES, a multifunction production device, demonstrating JDF-compliant job ticketing
Given the software and workflow focus of this drupa, coming enhancements to Infoprint Manager, IBM's print management and integration software solution, were also being demonstrated, along with a variety of process automation capabilities. This was all to showcase the Infoprint Workflow solution, which provides a single point of control for the entire production process, from data creation and print-job acquisition through mailing.
According to Bruce Otte, Worldwide Production Segment Manager of IBM Printing Systems, features in Infoprint Manager are being built on open standards like JDF, PPML and Linux, allowing customers to manage multiple data streams and dynamically match print job requirements to real-time print capacity -- all through one job ticket.
"IBM is committed to driving the print industry to open standards, just as we're committed to helping our customers become on-demand businesses," says Otte. "No matter what types of IBM solutions customers use --hardware, software, services, or any combination of these-- we are well-positioned to help customers respond to unpredictable changes in demand, supply and pricing, all with the help of open standards."
IBM also plans to provide many of the same capabilities that currently exist on Infoprint Manager for AIX in an Infoprint Manager for Windows solution. New features include job submission clients for Windows and Macintosh, RIP-and-store capabilities, support to simplify complex finishing jobs such as booklet production, and the ability to customize halftone settings. The updated Infoprint Manager solution is also being configured to include new color mapping tables, which feature images and halftones, and can print in an unprecedented 256 shades of gray without change to the color application. Which brings us to color and what IBM wasn't showing publicly.
What you see and what you don't
Somewhere in near Messe Dusseldorf, IBM was inviting select customers (but not analyst-journalist types) to see a new color machine that is still under development and some time away from launch. It uses electrophotographic technology, but any speeds and feeds info would be pure conjecture (my conjecture would be in the neighborhood of 1,000 ppm, the better to compete with Kodak Versamark). However, IBM has a long-standing relationship with Hitachi (recently merged with Ricoh) which reportedly has a high-speed color laser engine in the works.
So it may well be that IBM is preparing to roll out a new color box for their core markets of transactional printers and data centers. Given how the company has consistently dodged this topic over the past two or three years, it has been obvious they have something cooking. The only questions are what it is and when they bring it out. I would not be surprised to see IBM roll out a color box this fall--maybe at GraphExpo or Xplor. But we'll see.