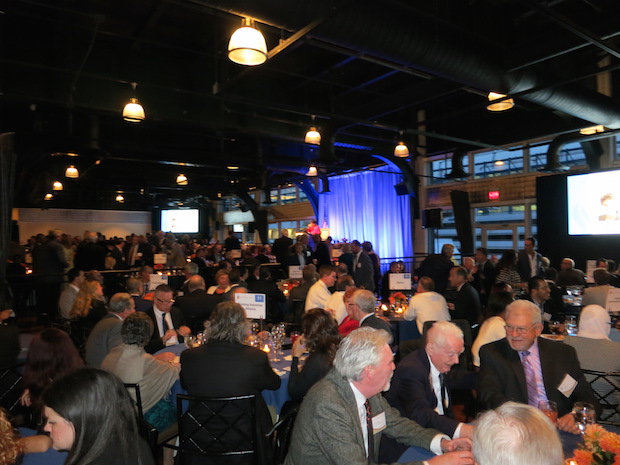 One of the things that keeps this industry going stronger than we sometimes realize is its penchant for bestowing honors and awards. If an industry can be said to have morale, then tributes to the special people in it are expressions of pride that help to keep the collective spirit high. There's also the fact that our industry is filled with nice folks who just enjoy making each other feel appreciated—the most heartfelt reason why we ask friends and colleagues to step forward and be recognized for everything we have come to respect and admire in them.
All of these sentiments were on convivial display at the 2015 edition of one of the industry's longest-running such ceremonies, the Franklin Luminaire Awards in New York City on October 1. The program is a celebration both of the power of graphic communications and of the careers and accomplishments of its leading members. Everything is done in the names and spirits of Benjamin Franklin and John Peter Zenger, twin icons of American printing history.
The tradition has been carried on since 1952 by various trade associations representing printing firms in the New York City metropolitan area. Today Franklin Luminaire is a joint activity of Printing Industries Alliance and IDEAlliance, which have consolidated its awards and sustained its reputation as a major industry occasion.
That reputation was strong enough to draw more than 400 people to The Lighthouse at Chelsea Piers, an event space on the Hudson River where ocean liners used to dock in New York's bygone heyday as a port city. Supporting the ceremony were a record number of corporate sponsors—21 platinum-level and 15 gold—including many of the industry's best-known names in print production and technology. The organization and logistics were handled by a committee of volunteers led this year by Diane Romano (HudsonYards), Donna Georgio (HighRoad Press), and Laura C. Reid (Hearst Magazines).
The centerpiece of Franklin Luminaire is the Franklin Award for Distinguished Service, reserved for public figures of exceptional stature. The award is not specific to printing but calls attention to the industry by linking it to the life stories of the high-profile recipients. The notables have included Harry Truman, Norman Rockwell, Henry Kissinger, and Walter Cronkite.
Emceeing the ceremony, Romano declared that the 2015 award had come home to New York by being conferred upon Kirsten Gillibrand, U.S. Senator for the state since 2009. Timothy Freeman, president of Printing Industries Alliance, said that Gillibrand had been selected in recognition of her legislative achievements and her commitment to open and transparent government.
Senate business kept Gillibrand from attending in person. An aide accepted the token on her behalf after the senator thanked the awards committee in a video clip.
Since 1971, nearly 250 print and media industry professionals have been honored at Franklin events for their outstanding careers and the examples they set for others. Now known as the Luminaire Awards, these recognitions continue to salute those with exemplary records of service as innovators, mentors, and industry advocates.
The 2015 honorees, respectively representing technology, advertising, direct mail, and magazine production, are Charles Blanchard, Jr., president and CEO, Blanchard Systems, Inc.; Meghan Fitzgerald Milkowski, vice president, production and circulation, Prometheus Global Media; Veronica H. Simmons vice president, director of print production, MRM/McCann; and Michael J. Simon, executive vice president, Publishers Press, Inc. (Biographies of all 2015 Franklin Luminaire awardees can be read here.)
The arrest, trial, and acquittal of New York City printer John Peter Zenger in 1735 were seminal events in the establishment of freedom of the press in America. The Franklin Luminaire program commemorates Zenger's legacy with a medal for community service. This tribute is paid to members of the industry who have gone to great lengths in personal quests to make life better for their neighbors.
Selected to receive it this year from a field of 12 nominees was Angelina Killane-Sims, vice president - operations at HighRoad Press. Diagnosed with stage 3 breast cancer at age 39, Killane-Sims underwent multiple surgeries and chemotherapies and now is in her seventh year as a survivor.
Her experience with the disease made her an activist on behalf of women who lack insurance and other financial resources needed to cover the high cost of treating it. She founded AAngelsNJ in Montclair, NJ, four years ago to provide those resources and to raise awareness of breast cancer—a condition predicted to strike one in eight women (and one in 1,000 men) within their lifetimes.
Service and generosity keynote the Franklin Luminaire Awards in other ways, most notably in support of education. Students of graphic communications are always invited to attend free of charge for the networking opportunity. Proceeds from the event are donated to the Graphic Communications Scholarship Foundation (GCSF), a provider of stipends for students enrolled in college-level graphic studies programs.
David Steinhardt, president of IDEAlliance, said that together, his group's DEER (Digital Enterprise Education & Research) Foundation, Printing Industries Alliance, and Franklin Luminaire have contributed more than $70,000 for scholarships since 2010.