Canon makes products, but it sells visual experiences—a panorama of digitally created or captured imagery so vast that the big picture of the company's capabilities can be difficult to take in.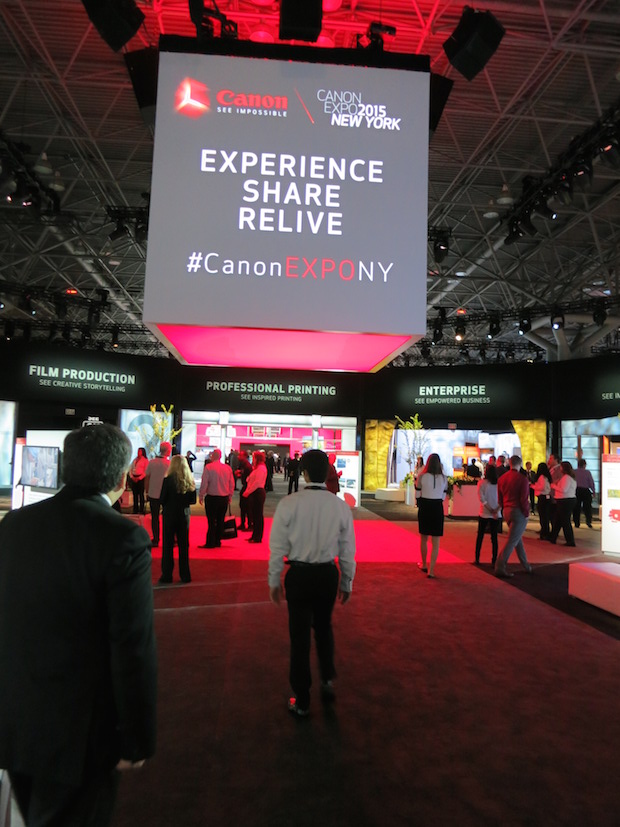 For a solution provider like Canon, the bad news of the good news of extreme technical diversification is that customers in one of its market segments won't necessarily know that advances made there have equally impressive parallels in other segments. They may not even realize that the other segments exist. It's the "I didn't know Company X did that" syndrome that keeps marketers awake at night, and it's an obstacle to brand identity that can't be overcome by ordinary branding and marketing means.
Canon's answer is Canon Expo: an elaborately but meticulously staged presentation of everything it does in a curated physical setting. Canon produces the event every five years in New York City, Paris, Tokyo, and Shanghai to showcase everything it offers or is developing for all of the major markets it serves.
On September 10 and 11, the New York venue was the Jacob K. Javits Convention Center. There, in a 100,000-square foot exhibit that was more theme park than trade show, Canon opened visitors' eyes and minds to the full spectrum of visual technologies it develops for industries and applications where the look of the image—be it on paper, instrument displays, or screens—literally is everything.
The objective, said Canon chairman and CEO Fujio Mitarai during a preview at Javits on September 9, was to demonstrate that the company is "taking risks beyond imagination" in its pursuit of new tools for making or recording visual experiences in almost all spheres of life. Canon's ambition, said Mitarai, is nothing less than to offer a device for "every kind of image in every kind of situation" where Canon customers leave their imprints on the visual world.
A tour of the New York edition of Canon Expo offered many glimpses of the progress the company is making towards that goal. Organized like a science museum, it consisted of 10 different experiences dedicated to the company's main areas of R&D or market focus. The sections formed a circle around a hub called "Central Park" in keeping with the exhibit's New York theme. Visitors could enter any section they wished and then move with ease from one experience to the next for a seamless encounter with Canon as a whole.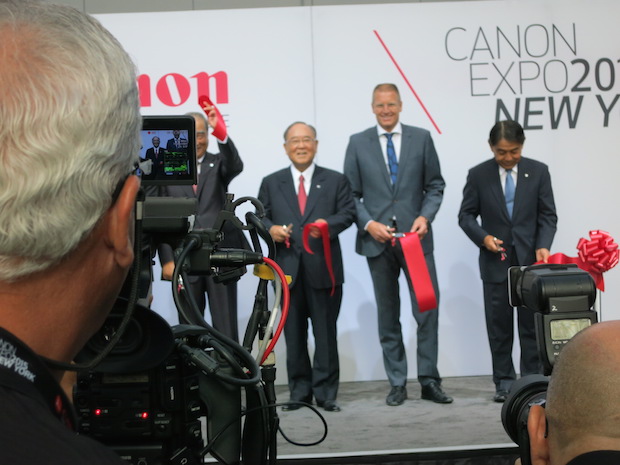 Fujio Mitarai (third from right), chairman and CEO of Canon, cuts the red ribbon to inaugurate Canon Expo 2015 in New York City
Although every section contained an imposing inventory of Canon products, Canon Expo was anything but a products show. In all of the galleries, the emphasis was not on the hardware or software but on the ways in which customers interact with Canon technologies for personal, business, or scientific purposes. Some of the experiences achieved this with straightforward technical presentations; others did it with design creativity and even playfulness. But the keynote everywhere was Mitarai's promise to push the boundaries of imaging technologies wherever Canon can find a customer-advantaging reason to do so.
Most of what was shown is commercially available, but Canon also presented solutions that are months if not years away from market launch. The point of including the nascent products was that eventually, the technologies behind them will become mainstream—and that Canon means to be identified as a leading supplier of them.
The Professional Printing experience was the first stop on our preview tour of Canon Expo 2015. This section was largely the domain of Canon Solutions America, the division that represents the merger of Canon and Océ for high-end digital printing equipment. The division exists to accelerate the transition of page printing from offset to digital, a shift that Canon claims to be driving faster than any other vendor in terms of market share.
The highlights included a static display of the newly launched imagePRESS 10000 VP, a 100-ppm, 13" x 19.2" color toner press built for high-volume production. It prints stocks in weights up to 350 gsm at 2,400 x 2,400 dpi and is available with a variety of inline finishing options. Also prominent was the Océ VarioPrint i300 (formerly known as Niagara), Canon's first sheetfed inkjet printing system. Capable of printing 294 letter-sized pages per minute, the 13.9" x 19.7" (B3) color press has nine installations worldwide, including four in the U.S.
Solutions currently in development also commanded attention in the Professional Printing zone. Samples from what Canon is calling a "super creative print technology" were colorful, deeply textured images with high-touch surfaces and a variety of special effects. They were the products of a UV-cured, piezo inkjet system that Canon is still working on, along with a UV-LED, roll-to-roll wide format printing system built for lights-out operation.
Canon wants the packaging segment to keep an eye on Océ InfiniStream, a press planned for introduction at drupa 2016 and U.S. market availability late in the following year.
The static printing unit shown at Canon Expo 2015 is the basis of what will be a liquid-toner, roll-fed machine that can print folding carton stocks in up to seven colors at a rate equivalent to 14,400 B2 (20" x 28") sheets per hour. It is aimed squarely at packaging run lengths below 5,000 sheets, a range in which Canon says InfiniStream will be more economical than offset. A beta version of the 600 x 600 dpi, variable-imaging press has been at work for about a year at a printing company in Germany.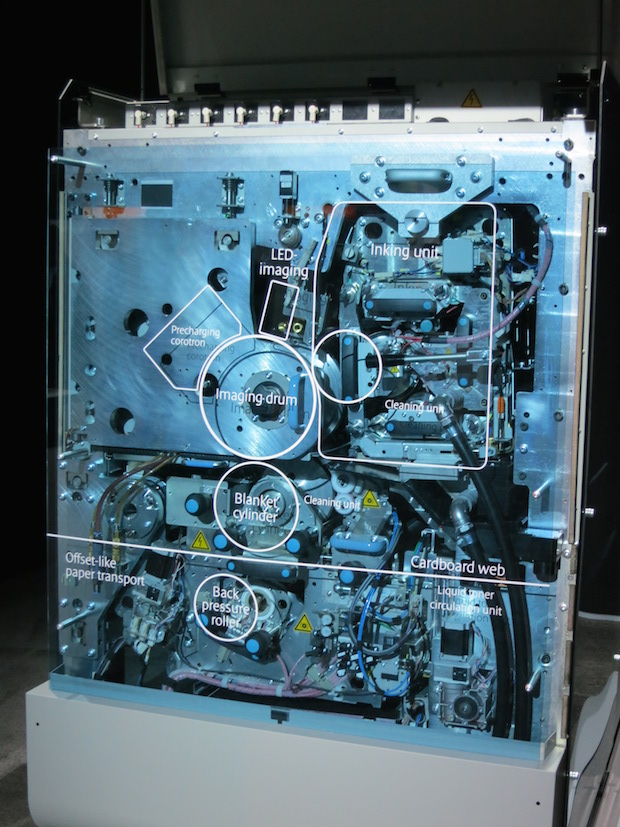 A printing unit from the Océ InfiniStream liquid-toner packaging press, currently in beta testing at a Canon customer in Germany
Walk-throughs of the other zones also revealed much worth seeing—and remembering. The installation as a whole was a large-scale rendering of a similar exhibit at Canon U.S.A.'s corporate headquarters in Melville, NY, where visitors can get a mini- overview of the technologies that Canon has been pursuing over the years. At the Javits Center, the look and feel of the grand presentation stirred memories of the former Seybold San Francisco events and their panoplies of the latest and greatest developments in visual graphic communications.
Canon devoted one of zones to Customer Experience, an overview of its customer support activities. Imaging Technologies showed off Canon's prowess in imaging systems for security and surveillance, including one that can "mask" scenes under observation for privacy so that only persons of interest will be visible in the recording.
Stadium, the most extravagantly produced of the experiences, highlighted Canon camera equipment for professional sports photography. In a mural-decorated space roughly the size of a theatrical stage, Canon created an eye-fooling simulation of a New York Yankees vs. Montreal Expos baseball game in Yankee Stadium—complete with live-action team members, bleachers, and a play-calling announcer.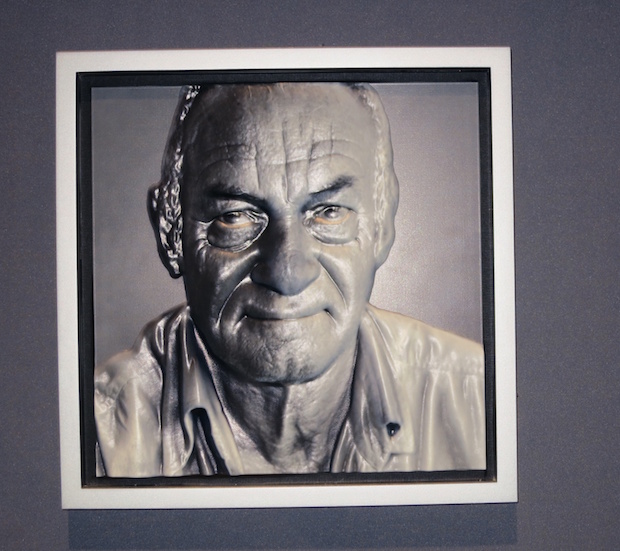 This high-relief image was produced by a technique in development that Canon calls its "super creative print technology"
Big-ticket production values also were on display in Film, where Canon promoted the cinematic cameras and other equipment it makes for film, television, and video. The centerpiece was a realistic-looking jungle movie set with demos that included one of a camera that can capture the action in extreme low-light conditions.
Then on to Advanced Imaging Solutions, styled for the exhibit as "Brooklyn Industrial Park." (The abundance of New York City references may have had something to do with the fact that Mitarai, one of Canon's first representatives in the U.S., spent 23 years of his career in the Big Apple.) Here one of the crowd-pleasers was a headset-wearing demonstration of MREAL, a Canon technology for generating virtual "mixed reality" experiences that intertwine with the physical world. Canon's explorations of nanoprinting technology for semiconductors and machine vision for robotics also could be noted in this zone.
Any visitor not previously acquainted with the size of Canon's footprint in medical imaging found Medical and Wellness a revelation. One can only hope not to be stricken with the number of different ailments for which Canon makes diagnostic instruments. Medical technology also was featured in University, spotlighting Canon's collaborations with learning institutions and hospitals. In one such project, Canon is building mirrors for what, in five years' time, will be the world's largest optical telescope—a 30-meter instrument capable of resolving an object the size of a penny from a distance of 300 miles.
Canon says that in 2014, it ranked third in U.S. patent filings. If the company keeps innovating at its present pace, it may have to consider cutting the five-year interval between Canon Expos. in any event, by the time 2020 gets here, Canon will be what its chairman envisions as a different company.
Familiar elements will remain, Mitarai said, but with new partnerships and product ventures that will redefine Canon for a future it continuously reinvents for itself.
"Keep dreaming with us," he said. "Are you ready?"