Graph Expo 2015 doesn't bill itself as a packaging show, but there's no overlooking its bona fides as a venue of that kind. More than one-quarter of its exhibitors will be there to present solutions for package printing and converting. With these and other features of interest, the four-day (Sept. 13-16) event at Chicago's McCormick Place expo center should have plenty to offer visitors from the package producing segment of the industry.
As last year, some the packaging exhibits—roughly 50—will be concentrated in their own area of the South Hall as part of a co-located event, the Converting & Package Printing Expo (CPP). All told, 122 exhibitors are listed at the CPP web site as participants in the co-located show. As of this writing, the total number of exhibitors listed at the Graph Expo web site was 481, about 60 ahead of the exhibitor roster for Graph Expo 2014. (The 2015 total includes the CPP listings.)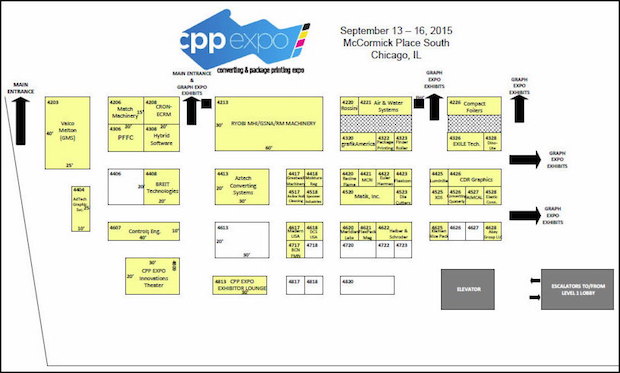 Graph Expo belongs to the Graphic Arts Show Company (GASC). CPP is a property of H.A. Bruno LLC, a trade show producer that also serves the information technology and franchise business industries. CPP's exhibits and conference sessions at Graph Expo will address flexible packaging, folding carton boxmaking, corrugated converting, non-wovens and tissue converting, narrow web tag & label, wide web, and 3D printing technologies.
Augmented by CPP, Graph Expo has gained considerable stature as a packaging show. Within the event as a whole, the category of package printing and converting spans 81 subcategories of machinery, parts, software, services, and supplies. Searching the exhibitor directory for print output equipment (i.e., presses) by application yields a list of specialties including corrugated, film and foil, diecutting and creasing, flexible packaging, folding carton, and label, ticket, and tag.
Covering even a small cross-section of these exhibits will make it a challenge to fit in the educational sessions on packaging that will be presented throughout the show. But, time reserved for any of them should be time well invested.
CPP's educational program follows eight tracks of specific interest to various segments of the packaging audience. The tracks comprise 18 seminars on technical subjects ranging from shrink film, inkjet printing for food packaging, and "intelligent packaging" to UV/EB curing and digital flexo. There will also be "fundamentals seminars" on slitting, rewinding, coating, and drying presented by the Converting Equipment Manufacturers Association (CEMA).
The larger Graph Expo educational lineup includes a packaging graphics and printing track offering 15 sessions on topics of general interest to packagers. More information about new developments in packaging technology are to be found in specialty areas of the show floor such as the Industrial Printing Pavilion and "The Inkjet Candy Store." Look in these areas and in the seminar tracks for presentations about applications in packaging for 3D printing, a market predicted to be worth $6 billion by next year and $10.8 billion in 2021.
To those who want to drill even deeper into packaging industry dynamics, GASC's advice is to leave the South Hall when finished there and to pay a visit to what its says are three related concurrent expositions in the East and North annexes.
The main one is Process Expo 2015, an event that will bring more than 1,000 exhibitors to McCormick Place from September 15 to September 18. The show, owned and organized by the Food Processing Suppliers Association (FPSA), is for providers of processing and packaging solutions to all segments of the food and beverage industry, including meat, seafood, poultry, dairy, bakery, prepared foods, beverage, and confectionery. It represents, says FPSA, the largest collection of equipment manufacturers focused on food and beverage processing and packaging.
Co-located with Process Expo 2015 are two verticals, the International Dairy Show and InterBev Process. According to GASC, there is a natural convergence of interest between this triptych of shows and Graph Expo-CPP, bringing processing, packaging, printing, and converting together in one location. To encourage mutual exploration, the organizers are granting attendees at either event admission to the exhibit halls for both during the two overlapping days (Sept. 15-16).
All in all, it should be no surprise to find packaging professionals well represented among the attendees at Graph Expo 2015. As a reminder to those who enjoy its Chicago setting, bear in mind that the show will temporarily relocate to Orlando, FL, next year.
WhatTheyThink's editorial and video teams will be hard at work in McCormick Place throughout the event. We'll be looking for news about production systems for labels and packaging that can turn out these items quickly, attractively, and above all, cost efficiently.
In reports from the show, we'll look at cross-sections of package- and label-making solutions that address market and manufacturing requirements in innovative ways. We'll also report what we hear about vendor partnerships aimed at bringing new solutions to market in the run-up to announcements at drupa 2016. If you're heading to Chicago, feel free to contact us with suggestions for what you'd like to see us cover while we're there.