I guess the new alignment of Kodak and its respective companies hasn't quite sunk in, because I was initially surprised to find a Nexpress 2100 spotlighted against a light-colored wall in the Kodak Versamark stand in Hall 5. I wasn't alone, as a few KV employees seemed somewhat bemused by its presence, as well, a toner-consuming cream-and-gray interloper in the house of industrial black inkjet machinery. Some of the same people who introduced me to the Nexpress here at drupa 2000 were on hand to explain the latest features, the proof of which was available on a large table on the output end of the big machine.
First was the new Clear coating capability, which lives in the newly activated fifth imaging station inside the minivan-sized machine. The coating system uses what appears to be white toner and can do both spot and flood coatings, the better to provide scratch resistance, especially for direct mail applications. The fifth station can also be also home to blue, green or red toners to add extra "pop" to applications where the regular Nexpress color gamut--already somewhat larger than SWOP--still isn't quite enough. Only one flavor of the four new toners can be used at a time, so planning is essential to getting the results you need. But those results can be quite compelling. The three colored toners do a good job of making their respective colors more powerful and give the extra eye appeal needed for many direct marketing applications. But it was the Clear toner that I like best.
It was a subtle satin finish that definitely added much needed scuff-resistance to the Nexpress-printed pages. I gave a few pages some substantial abuse and the samples stood up well to my torturing. Clear coating--using toner--is a new technology and it will certainly improve, but this new offering from Nexpress is going to make some friends among Nexpress owners. The fifth imaging unit can be retrofitted to existing machines, and the software necessary for its use is part of the upgrade. If you have a Nexpress, you want this. And you might also want the next step.
Among the samples were these stunning glossy images that at first glance I thought were laminated. Then I looked closer and realized the pages had a high-gloss shine that was not plastic but really part of the image. The culprit is the NexGlosser, a near-line glossing device that picks up where the fifth imaging unit leaves off and delivers impressive high gloss coatings. Cards, direct mail, book covers, brochures, whatever you like, Gloss is Good, to paraphrase Gordon Gecko. According to Nexpress, the NexGlosser is able to measure the exact job requirements using barcodes to eliminate manual intervention and largely automate the near-line device.
Four drops make all the difference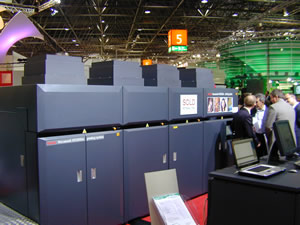 Once I got done looking at that, a Kodak Versamark guy thrust some glossy prints into my hands and asked me what I thought. I was still a little jet-lagged, so it took me a moment to realize what I was seeing. The prints in question were off the 1400 page per minute Kodak Versamark VX5000e. This is the long-awaited "four-drop" machine which uses four 15-picoliter drops of ink in printing an image. By comparison, previous models used fewer drops twice that size (or even larger), and the best quality desktop inkjet printers have drops of about six or seven picoliters.
I have seen various samples from this box as it went though development and each time the prints got better. And since the company was formally rolling out the big machine at drupa, I expected them to be good. But the images I saw were really good. A couple were the typical images you see at shows, selected to show off one set of characteristics while disguising others. So I put those aside. The three remainders, full-face portraits and multi-colored images with varying surfaces and textures were excellent. Especially when you consider they are 300 x 1200 dpi and printed at 1400 pages per minute. Most were a reasonable equivalent of what you get on a typical desktop inkjet printer with good inks--at a pace of about 6 pages per minute.
But these first samples were on heavy, glossy stock--they pretty much have to look great. What about a more ordinary form of dead tree, I asked. I was promptly supplied with samples of the same images on a reasonable quality inkjet paper--not unlike what many Versamark owners run. Naturally they didn't look quite as good, but were still perfectly acceptable for the ways this machine will be used. Detail, colors and skin tones were all very good. The print head technology is part of what's behind the curtain, but it shares space with the CS600 RIP, jointly designed with EFI and Kodak Versamark. It supports a range of PDLs, including VPS, PDF and PPML, and features integrated color management and job management functionality.
Now I'll admit I don't get into all the gory details of image quality. I don't pull out a loupe (as I saw one guy do in the HP booth to look at the dots on an ink jet printed poster) and then criticize the minutia of how ink and toner lie on a page and the mathematical accuracy of a dithering pattern. Let the print head engineers, ink and toner wonks, and color scientists do that. I just look at an image and ask, 'If I'm a printer and am selling this image to my client, are they going to go away happy, pay the bill and come back again?' And for every image I saw off the VX5000e, the answer had to be yes. And when you factor in that the cost per image (less paper) is about 2 cents, Kodak Versamark's argument becomes fairly compelling.
A day later I talked with Homi Shamir, former CEO of Scitex Digtial Printing and now Senior Vice President of Kodak Versamark. The pride of ownership was clear, but Shamir said he was most pleased with the positive reception the machine was getting from drupa attendees and the press alike.
"The new machine has been even better received than we thought," he said, "and I think it is still just the beginning. We are already moving forward to make it better. Being part of Kodak is giving us access to both financial and technical resources that we didn't have as Scitex Digital. This machine is fast now and does a very good job. But I think by the next drupa, you will see a machine that is a very viable alternative to offset printing."
There's no doubt that inkjet is definitely a hot topic--and a rapidly emerging technology. We'll look at some other aspects of it in a day or so.