Editor's Note: Don't miss our exclusive video interview with Symeta's Jasper Wauters, who talks about their transformation from offset to digital.
Selling digital print solutions to marketing executives is no simple task. Your success depends on how well you convey the value of your products and services from the customer's perspective. In what is perceived as a commodity-oriented marketplace, print sales reps struggle to maintain a proper balance between features and benefits. A quick Internet search reveals unlimited examples of print service providers that are still touting their print engines and the feeds and speeds of their devices. Without value-added messaging and services, companies dilute their marketing efforts and leave money on the table.
One of the highlights of the 2015 Inkjet Summit (Ponte Verde Beach, FL) was a presentation by Jo Van De Weghe, Director of Sales & Marketing at Symeta (Brussels, Belgium). The firm, which employs approximately 225 people and has annual revenues of €45 million, has invested in an HP T400 and a T230. Van De Weghe shared how strong sales and marketing and a value-based approach to communications have transformed Symeta's business.
A Five-Step Approach to Communicating Value-Add
Symeta's overarching value proposition to clients is, "We help you take the step toward personalized communication and provide guidance in increasing the impact of your direct mail. The use of client data will make your mailing truly personal, more relevant, and more effective." Van De Weghe outlined a five-step process that his company uses to build value for its customers. He has trained his salespeople on the process to ensure consistent execution with clients and prospects.
Step 1: Inspiration from the Account Manager
Everything starts with inspiration from the account manager. Symeta has six salespeople that have been trained to sell the value of better, more personalized communications with a focus on the retail and fundraising markets. During the first meeting, account managers guide the prospective client through the creative world of personalization, data, and content marketing. They share case histories depicting innovative realizations that have worked well for other clients. This enables the prospect to start envisioning the possibilities.
Step 2: A Strategy that Works
Symeta works with clients to develop a campaign strategy and define the target markets. The company works with the customer to understand what products and services they want to sell, then collaborates to define the right channel choices and messaging for the campaign.
Step 3: Relevant Data
Symeta works with the client to determine the data that will be required to deliver a relevant direct mail campaign. The company has learned that this is not as complex as the customer may think. It asks the following key questions:
Do you have data for all your clients and/or prospective clients? If this data is available, Symeta will work with the client to determine how to make use of it.
Do you have any data yet? If not, Symeta will get you the client data that you need for a successful marketing campaign.
Step 4: A Well-Thought-Out Concept
Symeta then works out a concept based on the customer's strategy and data. The company is also willing to collaborate with the client's advertising agency. The concept is the graphical translation of your Direct Mail. The technical potential for personalized printing is almost unlimited. The end objective is to make the client's dreams concerning layout, format, and image personalization come true.
Step 5: Print and Mailing
The design is then printed using HP's inkjet technology. Each piece is a personalized communication in full color. Symeta also works to give its clients peace of mind by printing, finishing, and mailing from a single location with optimum efficiency.
In the End, It's About Results!
During the course of his presentation, Van De Weghe shared a number of case histories where he delivered the ultimate value to his customers—more revenue and higher profits. Symeta created a new personalized welcome magazine for a Belgian Insurance company called Ethias. Ethias has more than 1 million existing clients and on-boards 2,000 new customers every month. Symeta partnered with communications agency Head Office to create a unique and fully personalized magazine for newly-insured Ethias customers. Just like a personality magazine, the cover features the client's first name. The picture on the cover matches the insurance policy that the client has taken out, and all of the content is mapped to the individual recipient. The magazine also provided information and photos of the staff members at its local offices. Ethias wanted to instill loyalty in its new customers, and believed that this could best be accomplished through face-to-face relationships with local agents. The campaign was a hit. The share of consumers requesting additional quotes rose from 8.6% to 20%, and the purchase of new policies increased tremendously from 1.4% to 4.7%.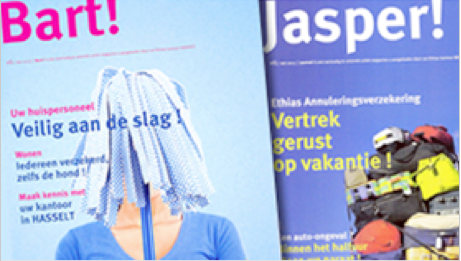 Personalized Welcome Magazines for Ethias Customers
Colruyt, the largest retailer in Belgium, was sending a 32-page coupon book to 2.2 million shoppers twice a month. In partnership with Symeta, the company reengineered this application into a four-page personalized direct mailer. The resulting "Selection for you" leaflet is thinner and more efficient, which is a win-win situation for all parties—customers receive less paper (approximately 1 kilogram less per customer per year) and Colruyt saves on shipping costs. The offers and coupons are based on consumer behaviors, and the discounts are individually tailored to each customer. During the printing process, all of these special offers come together in a leaflet that is hyper-personalized in terms of structure, text, and image. Symeta's inkjet printer produces 2 million unique folders. At the end of the day, however, business results are the most important factor—the company is using less paper, its postal costs are lower, and more households are using coupons.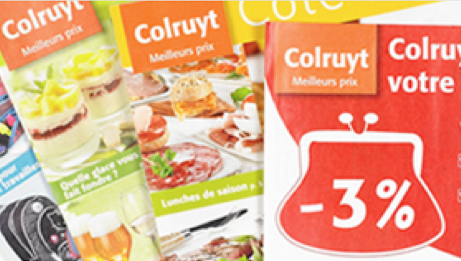 Colruyt's Customized Coupon Leaflets
The Bottom Line
When it comes to selecting a provider, the key criteria for buyers include value-added services, price, quick turnaround, and most importantly return on investment. In an environment where corporate marketing personnel have been cut back, corporations are expecting more from their service providers. They are seeking full-service partners that offer marketing solutions. Symeta established a clear sales process that helps marketing executives realize their dreams. By having a solid business discussion at the beginning of the process, companies like Symeta can truly understand clients' needs and drive the focus on innovation. They are blending a great sales and marketing process with the latest in inkjet technology to help clients deliver a relevant message that yields results.