This article is sponsored by HP's Graphics Solutions Business unit.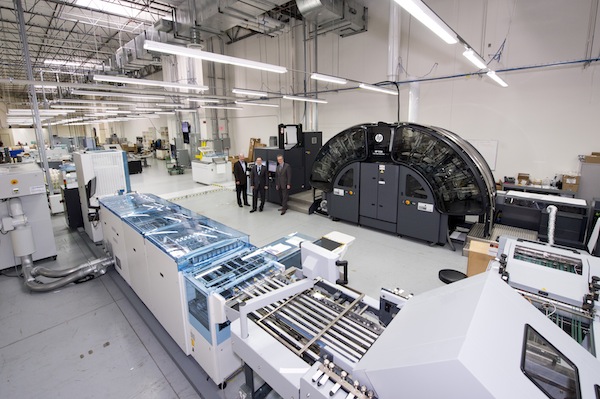 The World Bank Group (WBG) is the largest global multilateral development institution with 188 member countries. It provides financial and technical assistance to developing countries around the world. The Printing & Multimedia services unit supports this mission by providing high quality printing products and digital media services that enhance the institution's communication efforts.
According to Jimmy Vainstein, Senior Project Manager of the WBG's Printing & Multimedia unit, the printing operation has primarily been producing internal operational documents, often requiring a 24-hour turnaround. "With much of this work going to a digital form and with declining run lengths and volumes in our shop, we needed to take a good look at our operation to determine how we could restructure it to better meet the needs of the World Bank community," he said.
Keeping this in mind, the department undertook an internal study. Results revealed that the WBG was producing a significant amount of volume using a large decentralized group of local providers. Vainstein elaborates, "With the toner-based equipment we had," we could not compete in either pricing or service levels. For instance, we could not provide 24-hour turnaround nor could we meet the pricing local printers were providing for any job greater than 50,000 pages. We needed a solution that would enable us to run high-quality work of up to 250,000 pages with fast turnaround and at a competitive price, as well as handle a plethora of smaller and versioned work."
A detailed market study of available printing solutions was also done. This included the issuance of an RFP, and determined that a production inkjet press with an integrated finishing line would be the best investment. In mid-2013, an HP T230 Color Inkjet Web Press with a sophisticated finishing line was installed and revolutionized the process. "The press not only enables us to extend our run lengths to 250,000 pages, but has also enabled to produce work with a 20 percent cost reduction over the previous toner-based process and with a faster turnaround," Vainstein proudly reveals.
He cites the example of a recent job. "This long run of booklets needed to reach all World Bank staff in more than 150 countries on a deadline. We were able to print the booklets in the required variety of languages and deliver them to staff on time. And this is just one example of a job we could not have accomplished in the past."
Another high profile job was an event in which former Secretary of State Hillary Rodham Clinton was participating. The event, "Voice and Agency: Empowering Women and Girls for Shared Prosperity," served as a book launch of the publication of the same name. "The concern was that 500 copies of the 200-page book would not be ready in time for the event," Vainstein explains. "We could never have delivered the book in time with our previous platform, when it would have taken at least 12 hours to print. However, with our new production platform, it took only two hours! We were delighted to be able to deliver on time for this important event."
The shop saw volume declines of about 35 percent between 2010 and 2013. "The press was fully functional in June of 2013, and by the end of the year, we were already up 21 percent, with another 15 percent gain in 2014," he reveals. "This brings us back to 2010 levels, and we see many ongoing growth opportunities as we look toward the future."
Printing & Multimedia Manager David Leonard adds, Without this investment, I think we would have focused on our multimedia business at the expense of print. It also would have been a missed opportunity with regard to the savings we have been able to generate since the new press was installed. Now we have a true multimedia operation with a robust print component, and our designers can create products with a common theme for the many events, conferences and other activities we support, across a variety of output modes, including publications, posters, digital signage, video, and more."
Vainstein points out that with its previous configuration, the department could not produce the commercial books sold by World Bank due to quality and volume requirements. "We are producing those books now," he says. Vainstein is also proud of the recent production of education-oriented books for children in Angola, adding, "This was 200,000 pages that required a certain quality, and it was exciting for us to be able to help with this important field project."
Another area of research for the shop was the availability of paper suitable for inkjet production. "We want to minimize roll changes," Vainstein comments, "so we try to gang like jobs and primarily use 60 pound paper from Rolland (Enviro Jet) and a coated, treated stock from Crown Van Gelder (Letsgo Silk). With these substrates, we have been able to virtually eliminate the need to use a bonding agent, even when using 100 percent recycled stock."
Finishing was another challenge that the department faced. "We implemented a Standard Horizon AFC-744 folder and PSX-56 signature stacker along with Hunkeler roll- and sheet-fed finishing equipment," Vainstein says. "We think through our impositions during the job preparation process to make optimum use of our finishing line and eliminate bottlenecks. And we have clearly made the right decisions, based on our performance. We were also proud to be recognized with the In-Plant Printing and Mailing Association 2014 Innovation Award as an external validation of our work."
Using both in-line and off-line finishing allows the press to operate at maximum capacity based on the job requirements. "We established a U-shaped configuration that is about 50 feet long," Vainstein says. "This allows us to selectively output finished signatures or cut sheets in a highly efficient, end-to-end production process. And we are excited about other advances we expect to achieve moving forward. This reinvention of our printing operation has given us a whole new lease on life."