Part of the marathon that makes up the all-consuming experience called drupa is not just trying to stay on schedule but figuring out where the meeting is. There's this building called Conference Center Dusseldorf, aka CCD Sud (south), in which most of the press conferences take place. While Germans make great cars, printing presses, and have trains that run on time, they don't always have signage that makes the most sense. In CCD, it is rarely clear where the room you need to be in is located and signage seems designed to tell you where the room is not. This lapse extends elsewhere in the fairgrounds, as the accompanying picture shows.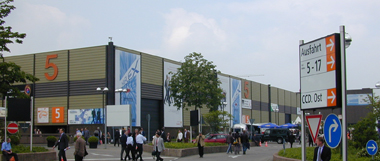 Workflow drupa
Anne Mulcahy, President and CEO of Xerox launched the Xerox press conference noting the differences between drupa 2000--called the "digital drupa"--and drupa 04, which she termed the "workflow drupa." Others have been terming it the "JDF drupa," but the broader term of workflow is a far better description for what companies are rolling out at this show.
Xerox, for example, has been busy building tighter and very visible relationships with its partners to expand its FreeFlow architecture. Some 31 partners have taken the necessary steps to ensure their products are "Optimized for FreeFlow," meaning their products have been fine-tuned to work with FreeFlow components from Xerox and other partners. Another 40 partners are in process, working with Xerox-developed SDKs to enable certification. Xerox has 25 FreeFlow partners in its booth and 30 firms have Xerox equipment or signage in their booths.

Such partnering--especially using it as part of a marketing strategy--is a departure for The Document Company, and Xerox execs acknowledge that the company can serve its customers better by drawing on the technology of other industry leaders and incorporating their products into FreeFlow. It's a solid strategy, in my opinion, and while not every aspect of workflow has been addressed as yet, FreeFlow is still one of the most comprehensive workflow offerings for most types of print providers.
The Nu DocuSomething
There have been DocuTechs, DocuPrints, DocuColors and assorted other DocuSomethings streaming out of Rochester for over a decade. Now, perhaps to the surprise of countless customers and pundits, Xerox has launched the Nuvera line of digital presses. This is new badging for the DocuTech 100/120 Copier-Printer announced in January, a machine aimed at moderate production volume applications. The bigger news is the Nuvera 100/120 Digital Production Press, the first in a coming line of monochrome digital presses targeting print providers who need volumes up to 3 million pages per month. The internals are substantially upgraded to take the higher volumes and Xerox is quick to point to the machine's ability to utilize the various components of FreeFlow. Customers can buy a 100 ppm model and upgrade to the 120 ppm machine as their needs dictate.
Meanwhile over at Océ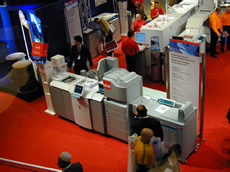 The mid-production space targeted by the new Xerox box is also in the crosshairs of the new VarioPrint 2110. Although it looks much the same as Océ's 2105 and 2090 models, beneath the skins are significant differences in paper handling, more robust components, and a simple but powerful user interface that provides job management that enables multiple jobs to be set up and then run automatically with minimal operator attention. The 2110 runs at its rated speed of 105 ppm regardless of what type of paper is being run, even when a job requires mixed stocks such as tabs, inserts, covers and mixed media.
The 2110 uses Océ's CopyPress technology that actually presses the toner into the paper to provide an offset-like appearance, but doesn't require high fusing temperatures. The scanner uses Océ ImageLogic which analyzes the content of everything on a page at the pixel level and optimizes the printing for text, line drawings or halftones. The machine also features active paper registration that adjusts pages in all directions to ensure tight side-to-side and front-to-back registration.
Océ will begin shipping the VarioPrint 2110 in June for European markets, but it will not be available in North America until later in 2004. Additional features and capabilities will be added to models released later in the year and these will be available as no-charge upgrades for customers acquiring early models.
Coming next: Nipson, Xeikon, HP and more.