When the demand for digitally produced labels and packages climbs out of first gear and begins to gather speed, the digital equipment for getting the work done will be waiting—in abundance. That much was clear last month at Graph Expo 2014 and its dedicated co-event, the Converting and Package Printing Expo.
Immediately apparent was the fact that technological advances in digital systems for label and packaging applications are dramatically expanding both the ranges and the volumes of work that these solutions can handle. As they grow more productive, colorful, versatile, and cost efficient, they will come to be seen as inevitable investments for every printing company that is serious about successfully entering or staying profitably in the label and packaging business.
We couldn't visit every stand with label and packaging products at the show, but the equipment we did manage to see (or were told about in exhibitor briefings) represent what we think is a fair cross-section of the resources Graph Expo/CPP had to offer seekers of information about label and packaging systems. For the complete rundown of suppliers at the show, we recommend searching the print output equipment category of the Graph Expo 2014 exhibitors directory under the subheadings corrugated, flexible packaging, folding carton, label, label & tag, label/roll, and packaging.
We'll begin with an exhibit that was not a part of Graph Expo 2014 per se but was close enough to it in timeframe, territory, and product profile to merit a place in this roundup. Like some other graphic systems manufacturers, Screen USA has trimmed its trade expo schedule by hosting invitation-only presentations at its own well-equipped demo center. Screen USA's headquarters in Rolling Meadow, IL, about 30 minutes away from Chicago's McCormick Place, was the site of a customer event that ran simultaneously with Graph Expo 2014, enabling customers of Screen USA (which did not exhibit at the show) to take part in both.
In Rolling Meadow, visitors witnessed the first North American showing of the Truepress Jet520HD, an advanced inkjet web printing system for high-quality commercial, publication, catalog, and direct-mail applications. Also in debut was the Truepress Jet W3200UV flatbed inkjet printer, a device that can produce exhibition graphics, retail signage, backlit displays, and other large-format items at speeds up to 1,615 square feet per hour.
The main attraction for label and packaging producers, however, were a short- to medium-run inkjet label printer and a newly launched label finishing line. The printer is the Screen Truepress Jet L350UV, a 164-feet-per-minute machine for many kinds of labeling applications on paper, metallic foil, transparent film, polypropylene, and polyethylene. The rollfed Jet L350UV can print media up to 12.6" wide in four colors (plus white as an option) at 600 x 600 dpi.
Screen USA recommends pairing it with the JetConverter L350 digital finishing line, built to process printed label stocks at speeds up to 210 fpm. Integrated with the Jet L350UV, the JetConverter L350 can flexo print and coat, laminate, die-cut, strip, and rewind finished labels in a single pass. Capabilities also include scissor slitting, scoring, and cold foiling.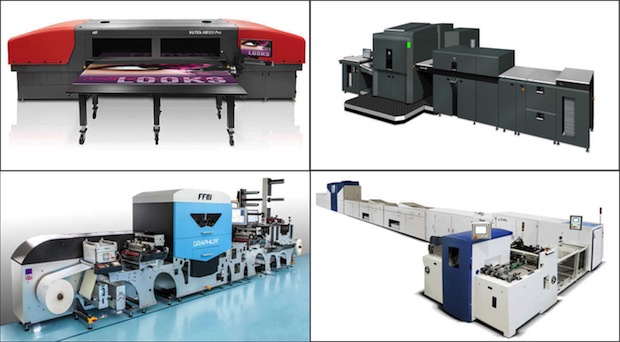 Clockwise from top left: EFI VUTEk HS100 Pro; HP Indigo 30000 Digital Press; Xerox iGen4 Press in a packaging line; Fujifilm Graphium
Among the graphic systems manufacturers that did set up stands at Graph Expo 2014, none displayed loftier ambitions in digital printing for labels and packaging than HP. The company's commercial and industrial press division, focusing on liquid-toner solutions for folding cartons and flexible packaging, also inaugurated a joint venture with an offset press manufacturer in a bid to extend HP's inkjet technology further into the realm of corrugated containers.
HP used the Chicago show as a demonstration venue for the HP Indigo 30000 Digital Press, a packaging-oriented platform that has seen 10 worldwide installations since its commercial launch in July. With its 20" x 29" format, seven-color capability, and 4,600-sph top running speed, the press is engineered to handleall types of paperboard as well as metallized board and microflute top sheets for corrugated in thicknesses from 8 pt. to 24 pt.
At the show, HP claimed that the 30000 can serve more than 80% of the addressable folding carton market and said that its crossover point with offset lithography—the number of impressions below which its static prints are cheaper than offset prints—is between 3,000 and 5,000 sheets.
Visitors to the HP stand also were briefed about the HP Indigo 20000, a press installed at the Labelexpo Americas show earlier in the month. Flexible packaging, sleeves, and labels are the target applications for this 30" rollfed machine, which can print film or paper from 0.4 to 10 pt. in seven colors at up to 137 linear fpm. Image resolution can be as high as 2,438 x 2,438 dpi.
HP has introduced its inkjet printing technologies to high-volume corrugated production in a platform based on its T400 Simplex Inkjet Web Press—the first step in an effort to make inkjet a process of choice for converters in the $2.5 billion market for corrugated packaging. With it, top liners for corrugated substrates (not the fluted stock itself) can be printed in four colors on web widths up to 42" at speeds as high as 600 fpm. Bonding and priming agents applied by the press make it possible to run a wide range of coated and uncoated liners from 60 gsm to 350 gsm.
The next phase of HP's inkjet quest for corrugated will unfold in the joint venture with Koenig & Bauer Group (KBA) that both companies announced at Graph Expo 2014. Breaking the news in a media briefing, KBA said the objective was to develop a roll-to-roll, high volume, thermal inkjet printing solution for corrugated packaging that the partners intend to bring to market late next year. HP, under whose brand the product will be sold, will furnish the inkjet and IT expertise. Paper handling technology and a deep knowledge of packaging markets are to be the main contributions from KBA.
No additional details or technical specifications were disclosed. At the media briefing, KBA said that its collaboration with HP in the project does not imply plans for any further business union between the two companies.
Impika, the French manufacturer of industrial inkjet printing systems that Xerox acquired last year, may eventually furnish its new owner with inkjet presses for labeling and packaging. But for now, Xerox is positioning its redoubtable iGen platform as its flagship press for packaging applications. More than 50 iGens configured for packaging have been installed around the world, including about a dozen in the U.S. At Graph Expo 2014, Xerox emphasized the iGen's integrability with third-party finishing systems and its ability to handle heavy stocks.
Xerox says that users of its iGen4 and iGen 150 presses can build complete inline or offline short-run packaging solutions around them by adding coating, stacking, and die cutting equipment from partners Tresu, Epic, and Kama. The presses are Pantone-certified for color accuracy, and the FreeFlow server software that drives them supports Esko, Xerox XMPie, and Chili Publish solutions for variable data and versioning.
Both presses are built to handle board stocks up to 18 pt. for folding cartons. The weight limit can be raised for the iGen4 with an optional thick-stock configuration that enables the press to print stocks up to 24 pt. in formats as large as 14.3" x 24".
Soon, Fujifilm will be doing much of its hands-on equipment demonstration in the technology center it is renovating and expanding at its headquarters in Hanover Park, IL. At Graph Expo 2014, the company's lineup of solutions—represented not by hardware but by printed samples—included the Graphium UV inkjet press, aimed at label and packaging applications traditionally produced on flexo and screen printing systems. Available in 13.8" and 16.9" web widths, Graphium prints paper, film, and metallized stocks with Fujifilm Uvijet UV-curable inks, including white, at resolutions up 1,080 dpi and at speeds as high as 164 ppm. The press can be extensively customized with inline flexo units, coating stations, and finishing options.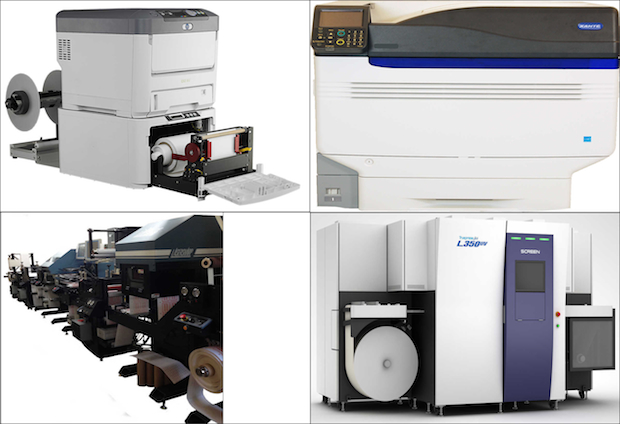 Clockwise from top left: iSys Label IntoPrint EDGE 850; Xanté Illumina Heavyweight Champion; Screen Truepress Jet L350UV; Colordyne Technologies 1600PC
The focal point for packaging in a wide-ranging exhibit of MIS/ERP workflow software, wide- and superwide-format inkjet printers, and color digital front ends by EFI was its VUTEk HS100 Pro high-speed digital UV inkjet press. This device now can be specially enabled for packaging with a material edge guide (MEG) feeder accessory that lets it handle corrugated plastic, corrugated board, and other rigid and flexible substrates up to 2" thick at press-rated speeds. The 3.2 meters-wide press, which also can be enhanced with fully automatic loading and unloading, prints up to 100 boards per hour in eight colors of ink including multi-layer white.
Canadian manufacturer iSys Label will help Konica Minolta gain a profile in the label equipment market by authorizing the latter to add iSys solutions to its portfolio. The agreement, announced at Graph Expo 2014, lets Konica Minolta distribute iSys Label's IntoPrint EDGE 850 digital label and its IntoPrint Eclipse LF3 label finishing system. The products, both of which are entry-level systems designed for low-volume, on-demand label production, could be seen at the Konica Minolta stand during the show.
The desktop-sized, EDGE 850 prints variable data in CMYK on diecut or roll substrates in four colors at speeds up to 30 fpm. According to the manufacturer, that can work out to 2,000 ready-to-finish labels in less than 20 minutes on self-adhesive label stock, tag stock, approved films, and synthetics. The Eclipse LF3 digital cutter is said to be capable of accurate, single point registration cutting with lamination, waste matrix removal, slitting and rewind. It complements the EDGE 850 in a complete solution for in-house label printing and other short-run production, according to the manufacturer.
Another compact but capable solution for packaging could be seen in a visit to the Xanté stand, where the prepress, workflow, and digital printer company's Illumina Heavyweight Champion heavy-stock digital printing system was on display. This four-color, LED-imaging, toner-based device can run stocks up to 24 pt. through a straight-feeding media path for printing in formats as large as 13" x 52". Maximum output resolution is up to 1,200 x 1,200 dpi. Applications for the Illumina, says Xanté, include short-run packaging, POP displays, table tents, and door hangers.
The Aztech Converting Systems stand presented the Colordyne Technologies 1600PC inkjet system for integrated label printing and finishing. Aztech makes the web handling and inline finishing components of the 1600PC, which can be configured to offer flexo printing and coating, lamination, diecutting, and slitting in addition to five-color, 1,600 x 1,200 dpi inkjet printing at 160 fpm. The unit is intended to be cost-competitive with stand-alone flexo printing for small to medium runs. The 1600PC's variable-print capability equips it for versioning, SKU identification, barcoding, serialization, personalization, private branding, and other necessities of on-demand label production.
Next: Innovations in finishing and software for label and packaging production promoted at Graph Expo.