Mobile Has Won… How Will You Respond?
There is a relentless parade of new technologies unfolding on many fronts. Not every emerging technology will alter the business or social landscape—but some truly do have the potential to disrupt the status quo, alter the way people live and work, and rearrange value pools. When making his predictions for 2014, Google CEO Eric Schmidt stated, "The trend has been that mobile was winning, and it has now won." Mobile is a technology that is disrupting the role of traditional communications.
Service providers must assess the role that they want to play in today's increasingly mobile world. The statistics speak for themselves. Some of the latest available data points are provided below:
· eMarketer reports that the number of people using smartphones around the globe will continue to accelerate. It is expected to reach 1.76 billion people in 2014, which is up over 25% in relation to 2013. By 2017, more than a third of all people around the globe will be smartphone users.
· IDC predicts that smartphone sales will continue to grow, reaching 1.2 billion in 2014 and 1.7 billion in 2018.
· IDC also stated that 227.3 million tablets were sold in 2013, which surpasses the number of portable PCs sold (180.9 million)
· According to the Pew Research Center, 55% of American adults had smartphones and 42% had tablets as of January 2014.
· In January 2014, Americans used smartphone and tablet apps more than PCs to access the Internet. This was the very first time that this had ever happened.
Over the next two weeks, we will explore how service providers can make mobile technologies work for them.
Print Remains a Cornerstone in the New Media World
Although print is still integral to the marketing mix, it is sharing the spotlight with other media forms in today's world. InfoTrends' 2012 study entitled Understanding Vertical Markets: Enterprise Communication Requirements surveyed more than 1,000 enterprises with 500+ employees across 10 vertical markets (automotive, education, financial services, insurance, government, healthcare, hospitality, retail, manufacturing, utilities). Because the enterprise market invests heavily in communication products, it is a market to watch. According to InfoTrends' research, enterprises spend an average of $26 million annually on communications, with an average of $8 million directed at print.
Print accounted for over a third of communication spending in 2102. Respondents expect print's share of communications spending to decline by -6.2% by the end of 2014, but it will still account for almost 30% of spending. Across all enterprise markets evaluated, mobile will experience the highest growth, with expenditures expected to increase 8.8% overall. Meanwhile, online/Web communication spending is expected to increase by 4.9%.
Figure 1: How is/will your company's total spending (be) distributed by the following types of communication?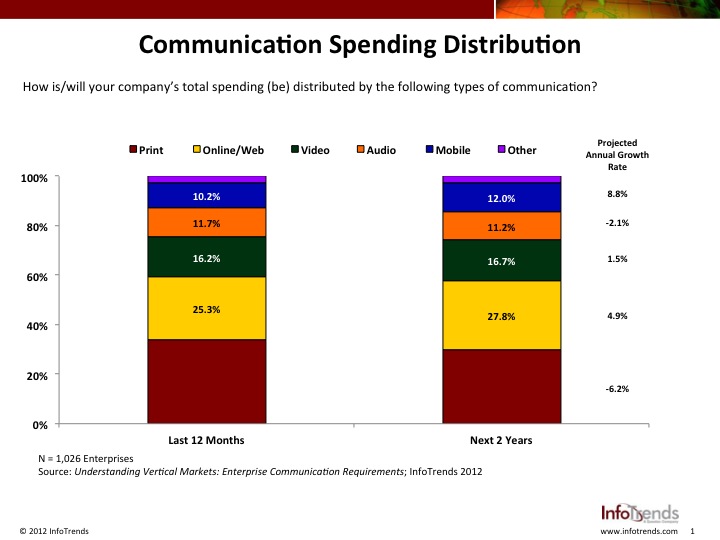 The Changing Role of Print Providers
One of the more surprising findings in InfoTrends' study of the enterprise communication market was the key role that print providers are playing in firms' multi-channel integrated marketing needs. Marketers and communication decision-makers report high use of print providers in supporting emerging digital media services and multi-channel communications efforts.
Figure 2: How frequently do you use a print services vendor to provide these services?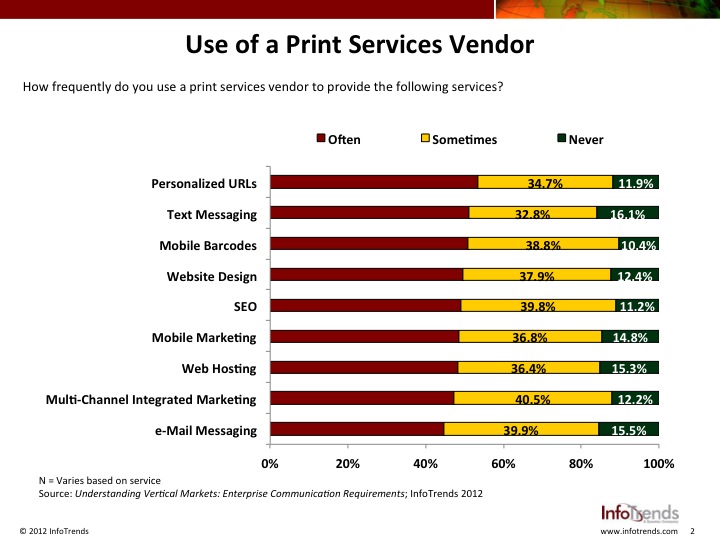 More than 85% of those surveyed were working with print service providers on mobile marketing initiatives. Success in the new media world demands that firms transition their businesses beyond offering only print services to providing cross-media marketing services. Mobile is a critical component of this transition, and service providers must decide what role to play.
How Will You Play to Win?
A number of mobile alternatives are currently taking hold, and service providers must evaluate all the options and alternatives. They also need to assess the skills and infrastructure required for success. Although some of the mobile implementation scenarios are familiar, others are less understood. It's time to get serious about your role in today's increasingly mobile world. This week, we will look at mobile barcodes and near-field communications (NFCs). Next week's article will cover augmented reality.
Mobile Barcodes
Printed mobile codes (e.g., QR codes, data matrices, Microsoft Tags) that can be scanned with a smartphone to display additional content have seen rapid adoption in recent years. Their main goal is to provide interactivity to the recipient of a printed piece. This interactivity might involve offering additional product information, providing a link to a video, extending an invitation to complete a survey, or providing a discount coupon. QR codes are the most popular type of mobile code. They are most commonly used in brochures, direct mail, and magazines.
Mobile Barcode Use
Marketers' use of mobile barcodes in print products has grown as technology has matured and consumer awareness has increased. The adoption of smartphones, camera phones, and other mobile devices has been increasing, and decoding applications are more readily available. A number of mobile devices are capable of handling rich media application experiences, prompting an even greater interest in engaging with people in a cross-channel fashion. According to InfoTrends' research, 43% of consumers reported interacting with mobile barcodes in 2013, up from 23% in 2011. Respondents were most commonly using these codes to learn about products/services, take advantage of discounts, and test codes.
Figure 3: Mobile Barcode Use among Consumers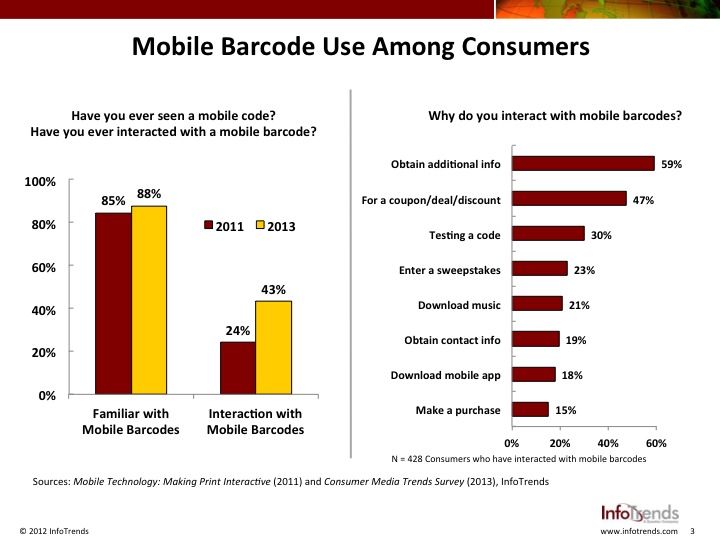 In one of the more novel applications, Heinz Corporation is using QR codes to thank veterans and simultaneously make a donation to the Wounded Warrior Project. When users scan the QR code on a specially designated Heinz Ketchup bottle, they are taken to a page where they can choose one of four different cards. The user can personalize the card with their name, home state, and a personal message of up to 250 characters. Heinz requests an e-mail address (which it promises not to share) so the user can "opt-in" to receive news from Heinz, including product updates, recipes, and special offers. Users can also choose a retired veteran to thank. Participants are then allowed to preview the card and share it on Facebook. Participants feel good about thanking a veteran while Heinz donates money to a worthy cause.
Figure 4: Heinz Uses QR Codes to Help Wounded Warriors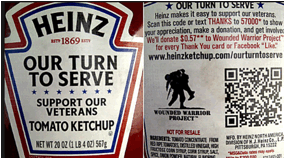 Digital Watermarking
While less prevalent, some marketers are using digital watermarking. Spearheaded by Digimarc and its Discover technology, digital watermarking uses digital signals or visual cues that are invisible to the human senses to prompt an interaction. Digital watermarks can be embedded in images, audio, or even video to enable interaction and engagement that leads to a variety of content types. A unique digital ID can also be applied to each watermark, making it possible to track interaction as well as the effectiveness of a campaign. Consumers typically need a special mobile application to interact with digital watermarks.
Near-Field Communications
Overview
Because so many of today's mobile devices are NFC-enabled, more and more marketers are embracing NFC applications. NFC is now supported by 90% of the leading mobile manufacturers, including Samsung, Nokia, Sony, Blackberry, Google, and HTC. Although Apple's iPhone does not support NFC, there are a variety of third-party accessories available (including streamlined iPhone cases) to bring NFC to the iPhone ecosystem.
According to a number of industry analysts, more than 70% of U.S. consumers will have smartphones by 2014. What's more, over 50% of these devices will be NFC-enabled. Statistics on NFC-enabled smartphones vary, but the overall consensus is that growth will continue in this area. Here is a compilation of statistics from analyst firms that track shipments of NFC-enabled mobile devices:
· ABI Research: 125 million NFC-enabled handsets shipped in 2012, 285 million shipped in 2013, and 500 million will ship in 2014. NFC-enabled smartphone shipments are projected to increase by 481% between 2012 and 2015.
· Deloitte: As many as 300 million NFC-enabled smartphones, tablets, and e-readers were sold in 2013.
· Frost & Sullivan: NFC will be the most-used solution for mobile payments by 2015, enabling worldwide transactions totaling about $151.7 billion.
· Gartner: 50% of smartphones will be NFC-enabled by 2015.
· Juniper Research: By 2017, 1 in 4 U.S. consumers will use NFC-enabled devices to pay for goods in-store.
The adoption of NFC-enabled phones is increasing rapidly, and this technology is poised to have a huge impact on consumer behavior. In relation to other mobile technologies that help bridge the gap between print and online, NFC technologies offer a key benefit—ease of use. NFC-enabled phones automatically receive the signal from tag, so an app is not required. The Table below provides a comparison of NFC and other interactive print technologies.
Table 1: Comparison of Interactive Print Technologies
| | | | |
| --- | --- | --- | --- |
| | NFC | QR Code | Image Recognition (Augmented Reality) |
| Time required to read | 1 second | 15+ seconds | 15+ seconds |
| Lighting and line-of-sight restrictions | No | Yes | Yes |
| Outside app required to read | No | Yes | Yes |
| Standardized & interoperable | Yes | Yes | No, proprietary |
| Graphic design integration | Invisible or sticker | Visible, should be as large as possible | Invisible |
Source: NFC Forum
An NFC tag is a small passive device (no battery required) that contains a tiny microchip attached to a small loop antenna. When an NFC reader such as a mobile phone scans the tag, it powers up and wirelessly transfers information such as a Web address, text, or a command for an app. The NFC tag can be locked so the data on the tag cannot be changed, or left unlocked so the data can be changed again and again. NFC tags are typically printed stickers or plain stickers, but they can be also enclosed in a wide variety of products, including key fobs, wristbands, and hangtags. Tags need to be "programmed" or "encoded" with an action or Web destination. For firms that are interested in obtaining assistance, some manufacturers will handle the programming while others specialize in adding NFC encoding.
NFCs Are a Key Ingredient in Kraft's In-Store Marketing
Kraft Foods featured an in-store promotion using NFCs in five Safeway grocery stores throughout the San Francisco Bay area. The food manufacturer was conducting a pilot study to compare engagement levels between NFC tags and QR codes. Placed side-by-side in shelf talkers, the NFC tags and QR codes invited consumers to use their smartphones to access dynamic recipe content, download the i-Food Assistant app, and/or share materials on Facebook.
The pilot, which ran for a month, was designed to explore the "tap and engage" experience offered by NFC. The results from the pilot indicated that the overall NFC "tap" engagement level was 12 times higher than the engagement with the QR codes that also appeared on the signs. When NFC was involved, consumers' engagement time at the shelf increased from 5-10 seconds to 48 seconds. Additionally, more than 36% of shoppers who tapped the NFC-enhanced shelf talker ultimately performed an action (e.g., saved a recipe, downloaded the Kraft app, shared with friends).
Figure 5: Kraft Foods' In-Store NFC Promotion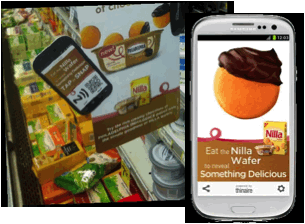 Mobile Has Won…You Can Win Too!
Mobile is a disruptive technology that is here to stay, so print service providers need to harness it. The winners in the printing industry will leverage today's technologies to build a strategy that combines print and mobile. Service providers need to:
· Understand the technologies and how consumers are using them
· Continually assess software tools that will provide mobile infrastructure
· Develop the right talent (technical and sales) that can make blending print and mobile a reality
Marketers and communication decision-makers are pursuing media strategies that unite print and mobile channels (e.g., online, mobile, social, video) to deliver interactive multi-channel communications that drive results. Uniting print and mobile enables print providers to increase the value of print by enhancing its ability to engage and interact with customers. Stay tuned next week for a review of the implications of augmented reality in today's increasingly mobile world!