There are various ways to attend briefings on subjects like imaging, screening, proofing, and color management. One is to hunker down in a windowless room of a convention center during a trade show or a technical conference, often with a bottle of tepid spring water and a half-eaten granola bar close at hand. This is how many of us gain our knowledge of advances in digital prepress.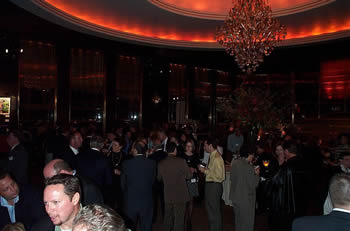 On Oct. 22. more than 300 print buyers, graphic designers, ad agency personnel, and corporate communicators attended a technical seminar presented by Sandy Alexander Inc. in the Rainbow Room at Rockefeller Center, New York City.

But on Oct. 22, a lucky fewa relative term, obviously, for the more than 300 people who attendedgot their education in the lavish surroundings of the famous Rainbow Room, 64 stories above Rockefeller Center in New York City. They were guests at a customer seminar hosted by Sandy Alexander Inc., a commercial printer serving an international clientele from its headquarters in Clifton, NJ. The seminar was the third such event staged by Sandy Alexander, one of the NY-NJ metro area's largest printers and a company well known for being an early adopter of the kinds of technology that evening's panel of experts detailed for the crowd.
A sumptuous buffet followed the two-hour briefing in the Rainbow Room, a legendary night spot that offers spectacular aerial vistas of the Manhattan skyline. But the lure of the surroundings, noted Sandy Alexander executives, only partly explained the strong turnout by print buyers, graphic designers, advertising agency personnel, and other invitees (including a delegation from a Sandy customer in Sweden). They said that clients are interested as never before in technologies that can increase the effectiveness of their printing, and that printers are obliged as never before to share that information with them.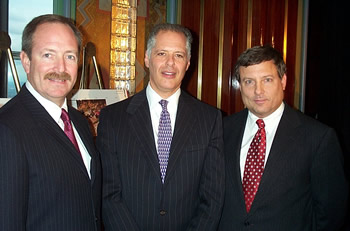 Sandy Alexander Inc. is a commercial lithographer with plants in Clifton, NJ, and St. Petersburg, FL. Hosting the affair on Oct. 22 were, from left, Mike Graff, executive vice president; Roy Grossman, president and CEO; and Jon Fogel, senior vice president and director of marketing.
Defending Our Turf
You can never do enough, said Roy Grossman, president and CEO, who also hosts on-site seminars at his plant as another element of the company's customer education program. Grossman, who is a founding member of The Print Council, a new industry alliance formed to promote the use of print, added that in this respect, most printers have some catching up to do.
Printers have been pretty lousy marketers, but there's nothing more important than defending our turf, he said. According to Grossman, printer-sponsored technical briefings are vital to keeping customers' faith in the medium strong. Talking about technology in a directed, focused manner drives home the point, he said.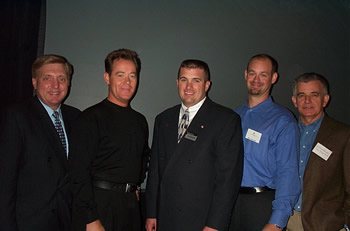 Five experts in imaging, proofing, and color management conducted the technical briefing. From left, Nick Patrissi, director of market relations, Creo Americas Inc.; Matt Young, principal, Chung Design; Don Schroeder, group manager, color products, Enovation Graphic Systems Inc.; Will Holland, Graphic Intelligence Agency; and Don Hutcheson, Hutcheson Consulting.
For Mike Graff, executive vice president, the blowout attendance was proof that customers are eager for information about new solutions from printers who are equipped to provide them. According to Graff, the seminar drew 160 people the first time, 190 the following year, and at least another 100 on top of that this yeara clear indication that the buzz among print buyers about technology is real. In every year that we've done it, we've gotten more people, so that's our measure of success, Graff said.
Jonathan Fogel, senior vice president and director of marketing, noted that the attendees spanned the entire gamut of experience and knowledge on the buyers' side. The roomful of customers ran, he said, from newcomers more familiar with digital than with conventional technologies to the real pros of the business who know nearly everything that their printers know.
Scholastic Meets Stochastic
Also in the room were seven novices whose conspicuous displays of talent marked them as rising stars in the application of digital prepress to graphic design. Candidates for BFA degrees from the Parsons School of Design at New School University, the seven students were recipients of honors in a competition sponsored by Sandy Alexander, International Paper, and Creo. Their objective was to design printed pieces demonstrating the benefits of Staccato, Creo's stochastic screening technology. Students from New York City College of Technology also took part in the competition, which will reward first-place winner Hiroiyi Sugie (Parsons) with the use of her design in a national direct-mail campaign.

These seven students from the Parsons School of Design at New School University took honors in a design competition that challenged them to use Creo's Staccato stochastic screening technology in the design of a printed piece. The creation of the first-place winner, Hiroiyi Sugie (left), will be used in a national direct-mail campaign. Ms. Sugie accepted her award at the Sandy Alexander seminar with fellow student winners Melanie Abramov, Seung Eun Amy Hong, Blue Davis, Brian P. Flynn, Meredith Ware, and Arthur Frick.
In the technical briefings, a panel of five speakers saluted Sandy Alexander for its leadership in demonstrating the successful use of advanced graphic technologies. For example, in a presentation on color management, Don Hutcheson (Hutcheson Consulting), declared, There is not one single printer in America, if not in the whole world, that has gone as far with color management as Sandy Alexander.
The briefings focused on how designers and other print specifiers can use technology to get the results they want from the print projects they create.
Matt Young, principal of Chung Design, said that the question of what makes a great image is emotional, but it's also technical. The only concrete way to know if a design is good, according to Young, is to subject it to the process of prepress and printing. Only then will you know if it's successful, he said. Young also urged fellow designers to acknowledge their responsibility to manage the image all the way through the process.
Your printers are begging you to let them help you, he said.
No Reason for Surprise
Creo's Nick Patrissi said that because of progress in technology, it should not be a surprise when we get an award-winning print. Digital workflows, he added have enabled solutions like Staccato and Creo's SQUAREspot dot-imaging technology to come into their own in a way that was not possible in film-based production.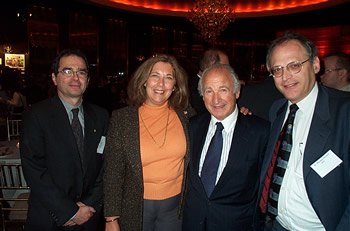 Frank Stillo (third from left), chairman of Sandy Alexander Inc., with guests Joel P. Mason, director of the Department of Graphic Arts and Advertising Design, New York City College of Technology; Susie Greenwood, president of the Association of Graphic Communications (AGC); and Marshall Mermell, principal of MarketingWorks and a member of AGC's Executive Committee.
Don Schroeder of Enovation Graphic Systems Inc. had his own compliment for Sandy Alexander with respect to proofing. When you get a proof from Sandy Alexander, he said, you're going to get a flexible, accurate proof every time. This also was a compliment to Fujifilm, Enovation's parent company, and to the proofing material that it distributes through Enovation to Sandy and many other printers. Schroeder said that one result of Fujifilm's investment of $3.5 million per day in R&D was ATOMM, a thermal-transfer proofing method that can deposit a layer of emulsion on the receiver stock that is as thin as the film of ink on the printed sheet.
In his overview of inkjet proofing technologies in development by Hewlett Packard, trainer Will Holland (Graphic Intelligence Agency) spoke of the perfect proof as something that is perfectly achievable by inkjet systems, dots or no dots. Claiming that inkjet proofers can do everything that other kinds of proofers can do with the sole exception of reproducing halftone dots, Holland predicted that in a couple of years, inkjet will make its way into the contract proofing world.
Hutcheson offered a concise definition of color managementpreserving color appearance regardless of image source or destinationand explained how CIE l*a*b colorimetry, ICC device profiles, calibrated monitors, and other CM tools can assure color consistency from creation to press. A color-managed workflow can mean less makeready on press and less frustration and expense for print buyers, Hutcheson said.