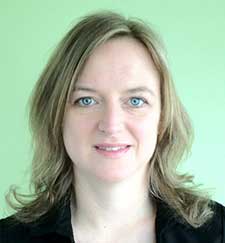 Elli Cloots has been involved in product marketing at Enfocus for many years and through a number of organizational changes, including the departure of Enfocus principals to form Gradual Software in 2004, and its re-acquisition by Esko, folding the group back into Enfocus, which EskoArtwork had previously acquired. She is now the Senior Product Marketing Manager for EFI EPS Europe which includes all of EFI's print MIS, web-to-print and other workflow and automation software.
WTT: Elli, what interested you about the position at EFI and what are your primary responsibilities?
EC: It's a mixed function, technical and marketing. You need to understand the products well, but it is also tied to the business side of things. And that's what I found attractive. It's also exciting for me because it is a new function in the company and I can really fill in the blanks and create something. It is also a new set of products for me. So I am learning all of the products, and that is exciting. I will be responsible for translating what is coming from U.S. Product Marketing to ensure that it is relevant to the European market and be a more direct link between the U.S. and Europe. I will primarily be working in the German, UK and Benelux markets. While I have not had a deep level of exposure to the product set that EFI offers, it is still heavily related to the automation movement that I was already preaching at Enfocus.
WTT: I know you have been an automation evangelist for years. Perhaps you could talk a little about why you believe automation is so important for the graphic arts industry.
EC: Automation is something that people just cannot ignore anymore. Runs are shorter, the volume of jobs is up, and they need to do it for less money. Either you work really fast and risk careless mistakes, losing money, or you automate. There is no other way people can cope. And their competitors are automating. So either they get organized or they have a problem. That is how the world ticks.
WTT: Do you see a relationship between what you did at Enfocus with Switch and what you are doing now?
EC: With Switch, it was about automating repetitive tasks, but to do that, you have to have information and data available. Every job has some level of metadata that causes it to go in one direction or another. If you don't have that information easily accessible, you are limited as to how much you can automate. That is where the EPS branch of EFI comes in with its software solutions that include MIS, web-to-print and more. By having all of that information in a print MIS solution, you can really fine-tune automation and increase efficiency drastically.
WTT: And how does web-to-print fit into the picture, in your opinion?
EC: It's critical. The time for a person to drive to the print shop to talk about what they want to have printed, or even pick up the phone to discuss it, is going away. There is a lot of C2B activity happening in the world. End customers are increasingly ordering directly from the printer where they might have gone through an intermediary before, such as a designer or agency. They want to do it online, and in a manner that is comparable to online shopping. They expect the process to be similar to ordering clothes or shoes or books. Shoes and clothes are a great example because in the past, you would think people would want to try them on before they purchased them. Now they do it in the convenience of their home and send them back if they need to. Print, of course, is a bit more complicated than a pair of shoes. Nonetheless, web-to-print is an answer to that C2B demand that is building.
WTT: In the States, we see a number of very successful online-only printers, such as Vistaprint or PrintingForLess. I assume you see the same thing in Europe.
EC: Yes. Good examples are FlyerAlarm and Flyer.EU. They do a good business with a thin margin. And they take a lot of jobs away from traditional printers, and will do more if printers don't address web-to-print. Having a web portal is becoming the norm for printers. It comes back to automation. If you can get the customer to upload the file, fill in the information, proof the job, and then have it go right into the MIS which is used for the rest of the production workflow, it is faster and without errors. If there are errors, it is clear who is liable. For the printer, the file gets fed through the portal, gets preflighted and information is provided back to the customer. The most important aspect is getting the right metadata to go with the file, the number of pages, number of copies, colors, anything that influences the price will be there, and it goes into the MIS for calculation of costs, scheduling and invoicing. The printer is doing exception management and not touching every aspect of every job. Everything is optimized and there are modules for every step of the process on both the business and production fronts.
WTT: Any last thoughts before we close?
EC: The real value for printers lies in using an end-to-end workflow and keeping it updated. It can be the difference between making and losing money. It's also crazy to invest in these systems and not keep them updated. And the real-time access to business data is also quite important. I look at the MIS as the brain and production workflow as the heart. Production workflow pumps all the stuff through, but you need the brain to make sure you are moving in the right direction and have everything.