At the beginning of day one of the SGIA Expo, SGIA President Michael Robertson had announced a pre-registered attendee count of around 21,000. By Friday morning, the third and final day of the Expo, the count had topped 22,400. U.S.-based attendees came from as far away as California, and international visitors came largely from Latin America and China. As I had reported in my day one coverage, 49% of this year's attendees had never been to an SGIA Expo before. Additionally, 45% of this year's attendees came from sign and display companies, and 13% from offset/lithographic shops.
On the show floor, it was SRO—shambling room only—as dense traffic made dashing from appointment to appointment a challenge. Not that anyone was complaining about that.
The White Stuff
The SGIA Expo marked the worldwide debut of Inca Digital's Onset S406i with White, bringing white ink printing to Inca's grand-format roll printer. Fujifilm, Inca's distribution partner, was also showing its relatively new Acuity Advance Select HS flatbed printer, as well as the Acuity LED 1600 hybrid device. For the Inca Onset S406i, this is the first time that users have had the ability to print in six colors, plus dual white channels, for eight channels in all. Printing with white—and quality white at that—has become increasingly a necessity, especially when printing on backlit films and three-dimensional objects. The challenge, said Terry Mitchell, Fujifilm's VP of marketing, "is that the more opaque the white, the harder it is to jet."
Inca Digital CEO John Mills announced the third Inca Digital Excellence Awards (IDEAs), a contest designed to demonstrate how a digital press can be used to print things that haven't been done before. He showed examples from the 2012 IDEAs competition that included a printed and assembled motorcycle, and a printed pizza box containing actual pizza dough on which had been printed the sauce, cheese, and toppings. It wasn't edible (you do not want to ingest UV inks, but then I think I've had worse pizza), but it was an impressive—and actually rather appetizing—example of what these printers are capable of. The deadline for entries for the 2014 competition is January 17, 2014. More information, and an entry form, can be found at www.incadigital.com/ideas.
Part of the 2012 Inca IDEAs Competition: both box and actual pizza dough were printed on an Inca wide-format press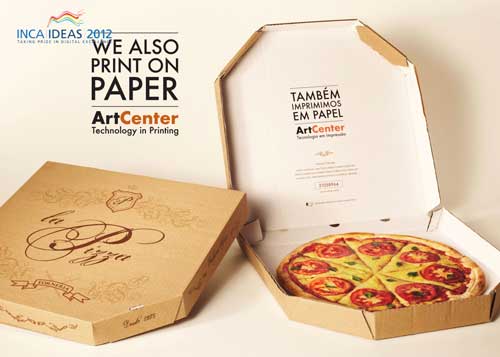 Fujifilm had a press event Thursday afternoon that featured a round table panel discussion with four Fujifilm and Inca customers, including Ford Bowers, VP and General Manager of the Graphics Center at Miller Zell; Ron Gizzo, COO, and Dolf Kahle, CEO, of Visual Marking Systems; and Mark Taylor, COO, of GFX International. The panelists discussed the transition their companies were making from analog technologies—primarily screen—to digital, and that it hasn't always been an easy road, especially when dealing with resistance from customers who even today balk at digital printing. "You have to sell the technology," said GFX's Taylor. Especially, added Visual Marking Systems' Gizzo, "if a customer had a digital failure." Some customers will even choose a more expensive analog technology like screen over digital if they are not sold on the print quality or, perhaps more importantly, the durability of digital printing.
At the same time, said Miller Zell's Bowers, whose clients include WalMart, "retailers are looking to differentiate themselves in terms of substrates." The panelists also concurred about the need to print white, especially on unique substrates such as, said Gizzo, a crossbow. Which is not your everyday substrate, unless you're Ted Nugent.
On and Off the Wall
On the show floor, HP was showing for the first time anywhere the Scitex FB10000 Industrial Press, which prints rigid and flexible sheets up to 63 x 126 inches at speeds of up to 6,727 square feet per hour (or 625 square meters per hour), depending on print mode, application, etc. The FB10000 also introduces HP's HDR (High Dynamic Range) Printing Technology, a combination of new printhead design, inks, and software algorithms that carefully vary the dot size and placement in shadows, highlights, and mid-tones to boost the quality and resolution of fine detail and eliminate issues such as banding. The emphasis on textile printing at the Expo was good news for HP, as the Latex 3000, the latest in the Latex line, is well-suited for printing soft signage and other fabric-based applications. The Latex 3000 was also honored with an SGIA Product of the Year award in the "Grand Format Roll-to-Roll Solvent & Latex Inks" category.
Other HP offerings at the show included the addition of canvas applications to its WallArt solution, a cloud-based system that allows print service providers to create customized interior décor applications—now including mounted canvas prints and wallcoverings. HP also announced that it has achieved the American Society for Testing Materials (ASTM) F793-Type II classification for wallcoverings using HP Latex 792 or 610 Inks with the company's DreamScape Matte Wallcovering and Marabu ClearShield Satin LL Liquid Clear Coat.
HP also introduced a new inkset, the HP FB225 Scitex Varnish Ink for the HP Scitex FB7500 and 7600 industrial wide-format presses. The new varnish ink lets users add spot or full varnish, create embossed text and images (and layer the varnish to vary the thickness and add a 3D effect), and expand color gamut.
The SGIA Expo marked the first-ever public showing of HP's Scitex FB10000 Industrial Press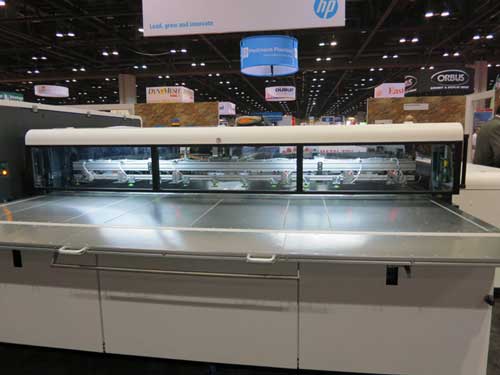 Do You Believe In Magic?
Roland introduced two new products at the SGIA Expo, the VersaCAMM VSi Series of wide-format printers/cutters, and the VersaUV LEF-20 UV Flatbed Printer. The new VersaCAMM, available in 64-, 54-, or 30-inch models, uses a faster-drying formulation of Roland's Greenguard Gold-certified Eco-Sol MAX 2 inks in CMYKLcLm, white metallic, and a new light black. The VSi also includes such "traditional" VersaCAMM features as contour cutting, and is designed for a wide range of applications such as signs, banners, vehicle graphics and wraps, fine-art posters, packaging prototypes, labels, decals, POP displays, and heat transfer for apparel printing.
The new LEF-20 UV printer can print directly on a wide array of substrates and three-dimensional objects up to 20 x 13 inches and nearly four inches thick—pens, smartphone covers, golf balls, awards, giftware, laptop covers, guitar bodies, and numerous other promotional items. The LEF-12 offers a print area of 12 x 11 inches. The VersaUV models utilize Roland's ECO-UV inks in CMYK, white, and clear. The clear ink can be printed and layered to add embossing and 3D effects.
In keeping with Roland's slogan at the show—"Believe in Magic"—a strolling magician in the Roland booth wowed folks with some pretty impressive card tricks (sorry, I mean "illusions").
Roland also gave a tantalizing teaser of a revamped version of its dynamic digital signage solution it had initially announced at ISA earlier this year. An official announcement is said to be forthcoming in Q1 of 2014. Stay tuned.
Roland is touting the ability of its printers to print on virtually any surface or object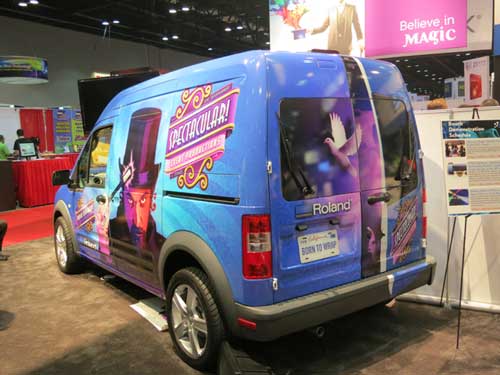 Suit to a Tee
Epson had rolled out its new PrecisionCore technology and SureColor F series of printers at Print 13 in September, and had their various solutions on display at the SGIA Expo. In keeping with the textile-printing theme of this year's show, Epson was showing a variety of its fabric-printing systems, including the PrecisionCore-based SureColor F2000 direct-to-garment printer utilizing Epson's new UltraChrome DG inks. Unlike most textile printing solutions that require polyester substrates, the F2000 works best on 100% cotton and up to 50/50 cotton/polyester blends. If you're printing on dark colors—like a black concert tee, for example—a slightly modified model (The SureColor F2000 White Edition) is required, which adds white ink. The SureColor F2000 prints directly onto not just T-shirts, but also hoodies, jackets, tote bags, and other items of apparel. A post-printing heat treatment fuses the ink onto the fibers, and the resulting garment is said to withstand up to about 50 or 60 washes before fading appreciably. The F2000 will start shipping in January.
The Epson SureColor F2000 Direct-to-Garment Printer can print on light and (with a modified White Edition) dark fabrics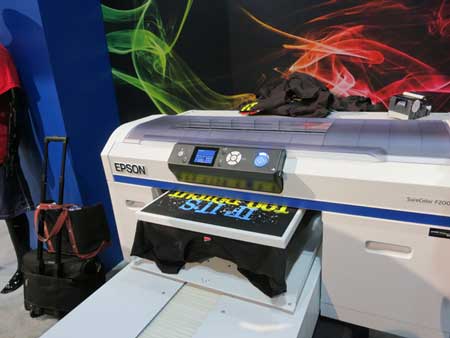 More Fabric
Kornit Digital hails from Israel and announced at the show that they have their first Kornit Avalanche Hexa direct-to-garment printer install in the U.S. Kornit recently introduced its Avalanche Hexa, a six-color-plus-white 23.5 x 35-inch textile printer. It prints on cotton, polyester, cotton-polyester blends, Lycra, viscose (aka rayon), linen, leather, denim, silk, wool, and more. The Avalanche Hexa prints using Kornit's aqueous pigment-based NeoPigment inks, with throughput in the range of up to 250 shirts per hour (for light garments) and up to 140 per hour for darker garments. The NeoPigment inks offer a wide gamut of bright colors, durability, and ability to withstand fading from washing. They print on a wide variety of fabrics which do not require offline pretreatment. As for the installation, Top Promotions, a producer of promotional products, is the first U.S. customer for the Avalanche Hexa. The Alexandra Hexa sits alongside the company's also recently introduced Avalanche 1000 mass production garment printer. (It is also worth pointing out that Kornit was giving out pastel sunglasses which were quite a hit, especially with the WhatTheyThink staff. Alas, they didn't have my prescription.)
Poles Apart
My first question for Visual Magnetics was, with all the magnetic festoonery, do people's watches stop when they walk into the booth? Well, no, but it can seem like time stands still, contemplating the variety of magnet-based options for wall décor. The big news was that the company's VM-ECOten not only earned a Greenguard Gold certification (actually it was the cellulose base used in the ECOten magnetic-receptive print substrates), but also an SGIA Product of the Year award in the "Media-Paper" category.
Visual Magnetics' magnetic materials are designed to create a platform for décor that is frequently replaced or switched around. The company's ActiveWall Micro-Iron paint contains iron particles. The paint is applied to a wall or other surface as a primer and effectively turns the wall into a giant refrigerator. This primer can be overcoated with any other type of paint, if desired, and an InvisiLock magnetic sheet is applied to the ActiveWall primer, where it will stick magnetically. (Alternatively, the InvisiLock can be adhesively applied to a surface without using the primer.) Then, the graphics to be installed are printed—using primarily UV wide-format systems—on the company's MagnaMedia which contains the same Micro-Iron as the ActiveWall. The final print is then layered on top of the InvisiLock. The MagnaMedia is available in many different varieties, from films and plastics, to canvas, to bamboo, to faux wood veneers.
Visual Magnetics takes magnetic media to new heights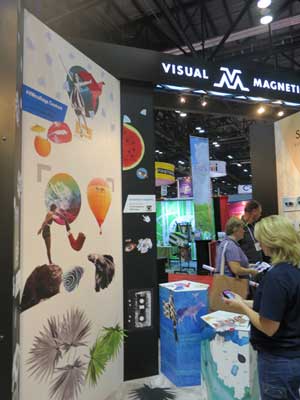 Out of the Pool
Lest the rising tide of excitement carry anyone away, there were lifeguards on duty (I am not making that up). At the end of the day, as the show closed, they would stand at the entrance and shout "Everyone out of the water." It was perhaps a testament to the level of interest amongst the attendees that even with these shouts and flickering lights, it was difficult to disgorge people from the show floor.
Lifeguards on Duty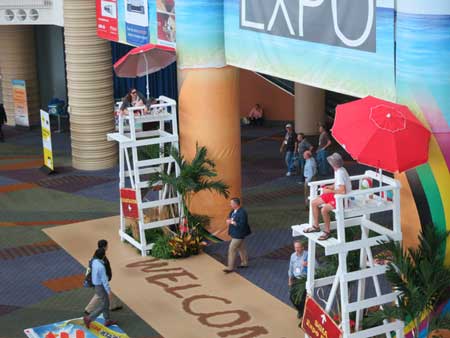 Next year's SGIA Expo moves back to Las Vegas.